From working in nutrition or health policy to supporting Indigenous health outcomes—let's look at six health science careers that could be a great fit for you.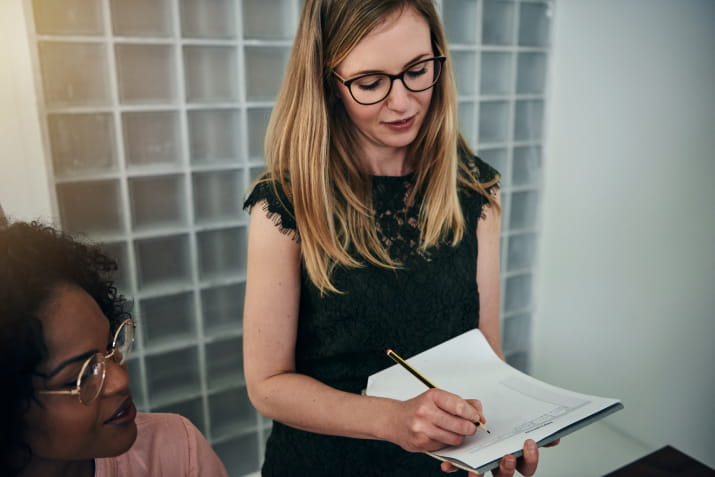 If you have a broad interest in health but aren't exactly sure which career path you want to take, health science could be the ideal degree. It can open a wide range of doors—from jobs in nutrition to exercise or public health policy.
Some people opt for a health science degree as a stepping stone to further study in areas like nursing or medicine, while others go on to a rewarding career straight after completing their course.
Here are a few ways you can put your health science degree to good use after you graduate.
What are the health sciences?
Firstly, what are we talking about when we talk about the health sciences? It's quite a broad field and, as such, a really flexible degree. In your course, you'll likely cover aspects of health, biology and the healthcare system.
Specific subjects may include everything from nutrition to epidemiology to healthcare management. Gaining this fundamental understanding of a wide range of areas will set you up well for a career in health.
Health science jobs
With a health science course under your belt, here are a few careers in health science you may like to aim for. Just keep in mind the major you choose may influence your options.
Health promotion officer
You could apply your health knowledge in a role with a local council or an organisation that aims to foster greater health and wellbeing in the community. As a health promotion officer, you'll have a hand in developing materials that communicate important health and wellbeing messages. You may also design programs, do research into the issues facing your local population and give talks to the community.
Exercise physiologist
If your health science degree allows you to major in exercise science, you could explore a job as an exercise physiologist. In this role, you'll use your expert knowledge of the human body to help people exercise more effectively and safely. You may work with older people or people with chronic conditions or disabilities, tailoring your services to their specific requirements.
Indigenous health officer
As an Indigenous health officer, you'll provide culturally sensitive care and health advice to Aboriginal and Torres Strait Islander peoples. You might liaise with other healthcare professionals to make sure patients are receiving appropriate services and treatment.
Your role might also involve health promotion, which will see you creating materials or giving talks to community on relevant health issues. Note that some positions are identified as only available for Aboriginal and Torres Strait Islander applicants, but this is not always the case.
Health policy officer
As a health policy officer, you'll work within an organisation or government agency to prepare policy drafts, submissions and discussion papers on health-related topics. You'll keep an eye on trends in the health sector, conduct research and collect evidence, and prepare advice on how to impact the strategic direction of your organisation.
Food and nutrition policy developer
If you major in nutrition in your health science degree, you could end up having a say on important food-related policies. Perhaps working in government, you could combine your knowledge of public health and nutrition to create strong policy that helps people make healthy food and drink choices.
Health and wellbeing manager
If you want to help people achieve their best, you might like to consider a role as a health and wellbeing manager. A relatively new job title, health and wellbeing managers work within an organisation to enhance the wellbeing of employees. You'll collect data to gauge the health and wellbeing within a workforce and develop and run programs that can help to improve it.
Degrees in health science
You have a range of options when it comes to courses in health science. Depending on your ambitions and timeline, you might like to start with an Undergraduate Certificate, a Diploma, or a Bachelor of Health Science.
They all provide a solid foundation in health science, though the bachelor degree will give you the most holistic understanding of health, human biology and the healthcare system.
You may enjoy gaining a broad knowledge base in your health science degree. However, if there's a specific area of interest you want to explore, you can choose a health science bachelor that specialises in areas such as naturopathy, Chinese medicine, Western herbal medicine and clinical nutrition.

Want to see more of your study options? Browse online health science courses available through Open Universities Australia.