The title 'lawyer' has long been coveted—but there are a lot of hoops to jump through to get there. If that's not for you, know that you can still pursue a career in the wider legal industry.
The title 'lawyer' has long been coveted. It's the respect, the earning potential, and the opportunity to fight on behalf of vulnerable people that continues to inspire pursuit of the role.
A law degree is the first step, but even then, nothing is guaranteed. The prerequisites for employment can be intimidating, and hunt for employment can be competitive – it's enough to turn any aspiring law professional off.
What many people don't realise is the breadth of roles suited to a law graduate, aside from the role of lawyer, barrister, or solicitor. Whatever your career destination, law can set a strong foundation, and offer the versatility to work across industries in a range of high-impact roles.
Working as a lawyer
As an experienced criminal defence lawyer working in Melbourne, Damian McNally was the perfect person to chat to about a career in law. Damian takes care of cases big and small, from minor traffic offences, to serious cases like fraud, assault and murder. While having a high IQ will get you far, strong interpersonal skills may take you further.
"You need to be able to deal with a judge who may sit in their ivory tower, but also deal with a client who's sitting in a prison cell who has absolutely nothing to their name."
Lawyers come into contact with people from all walks of life, and to be able to relate and empathise with them is the mark of a good lawyer.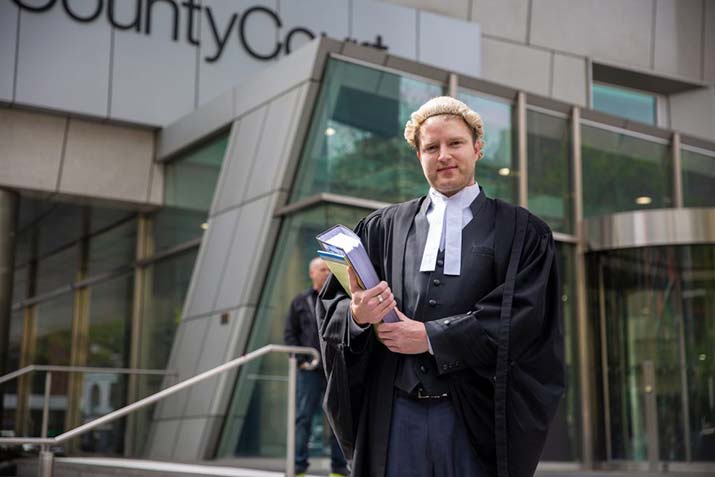 With a law degree, you unlock the door to a large range of different industries. Every organisation in every field of work must abide by the law, so there's never a shortage of career paths for a law graduate.
"Law is not for the faint-hearted, but there's so many different avenues that you can go down, that – if you are passionate and willing to work hard – you'll truly be rewarded".
Working as a law professional
While law can be competitive, those who have a law degree are often sought after in a range of industries.
Law graduates can find freedom in choosing to put their skills to use in various areas of work, depending on what aligns with their values. Across their career span, they also also have a variety of roles to choose and shift between. It's an enviable position when you think about it.
A law degree provides graduates with highly transferable skills, honing their ability to:
Think and write analytically
Confidently present in public
Develop opinions and communicate persuasively
Conduct research and compile reports
Simplify complex theories
Apply strategic thinking to reach an outcome
Teach, counsel and work in collaboration with others
Study law online
While law is an age-old occupation, the study of law doesn't have to take that same traditional form. With courses available completely online, you've got the flexibility to earn a qualification on your own terms.
These courses with leading universities, available through Open Universities Australia, are designed to bring you closer to the law-based role of your dreams:
Bachelor of Laws – University of New England
Master of Laws (International Law and International Relations) – Flinders University
Bachelor of Criminology and Criminal Justice– Griffith University
Bachelor of Criminal Justice– University of South Australia
Juris Doctor– RMIT University
Juris Doctor – Flinders University
Master of International Law– Griffith University
Master of Criminology– Macquarie University
Master of Australian Migration Law and Practice – Griffith University
Browse  thousands of courses from leading Australian universities.
Or complete the form on this page to chat to an advisor about study options.
Explore courses