Decades ago, no qualification was no big deal—but to compete in today's world, Jordan decided to enrol in his first degree.
It was 10 years after high school when Jordan decided that he needed a degree under his belt to step up in his career. He'd already landed a job in HR, which was not an easy feat without that crucial piece of paper.
"I think in today's business landscape, not having a degree is a real limitation" says Jordan.
"lt's not like it was 20 or 30 years ago. More and more entry-level positions require a degree to get you in the door".
Jordan realised that the perseverance (and touch of luck) that got him in the door the first time, could only get him so far up the ladder. With his sights set on a more senior position in HR, or related industries, Jordan turned to OUA, and enrolled in Curtin University's Bachelor of Commerce (Business Law).
"I procrastinated for about 6 months before I enrolled. At the end of it I thought, I'm just going to have a go."
"It was a bit of a nervous time, and a real jump into the unknown" Jordan recalls, as he describes his initial encounters with online study.
However, after 6 weeks or so, Jordan's anxieties melted away.
"Everything started to click, and it all started to make sense" he says.
For Jordan, what made OUA unique was the flexibility to mix and match units from different leading Australian universities, including Griffith, Swinburne and UniSA. This allowed him to essentially design his ideal degree.
As someone who thrives on variety, he's also enjoyed receiving the advice and opinions of many different tutors across different universities.
"I think mixing it up is a really good thing, rather than getting railroaded into just one offering from one university," he smiles.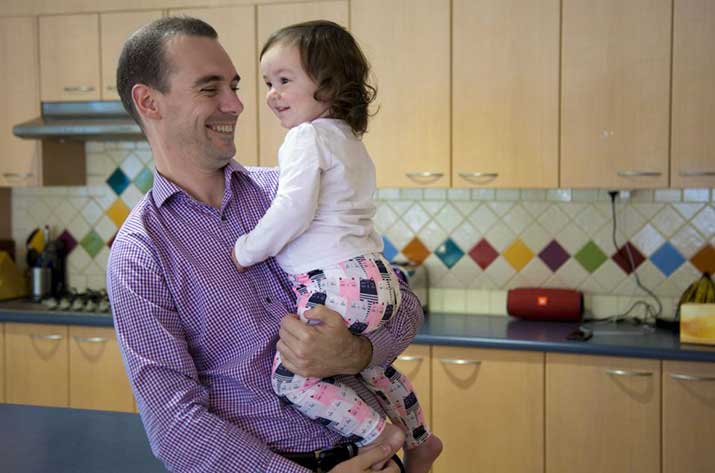 It's not easy being a father of three little girls, working full time in HR, and fitting in university-level study. So, Jordan has limited himself to one unit per study period, to ensure he can keep on top of his responsibilities, and get the most out of his learning experience.
"I keep motivated by taking little tiny bites out of the unit. It's just a matter of breaking it down, and saying in my own mind that I've got an hour to do tonight" Jordan explains.
"If I let it all snowball and get ahead of me, then quickly it's too much, and motivation wanes. It's a bit more difficult to handle."
Jordan is nearing the end of his degree after 5 years, and plans to take it to the finish line, ­with his family cheering him on.
"I want my kids to be able to see me study. They like to come sit up at the bench with me, and do a bit of study as well," Jordan smiles.
He holds the education in high regard, and hopes his girls will develop a love for learning too.
"I think that sets them up really well to be able to take that lesson away, and apply it to their lives."
Study online through OUA
Studying through OUA puts you within reach of your dream – offering access to thousands of courses from leading Australian universities. You'll graduate with the exact same qualification as on-campus students. The key difference? You get to study when, where, and how you choose.
Regardless of whether or not you finished high school or received an ATAR score, we'll provide you with a stepping stones to achieve your goals. In fact, many subjects available through OUA have no entry requirements. What's more, you don't have to pay upfront to get started, as OUA offers access to government loans for eligible students.
So, what are you waiting for?
Browse  thousands of courses from leading Australian universities.
Or complete the form on this page to chat to an advisor about study options.
Explore courses