Meet Megan (Meg) Xavier, the PX (People Experience) Advisor at Open Universities Australia. She sat down with us this month to chat about how she worked her way up in the career ladder at our organisation.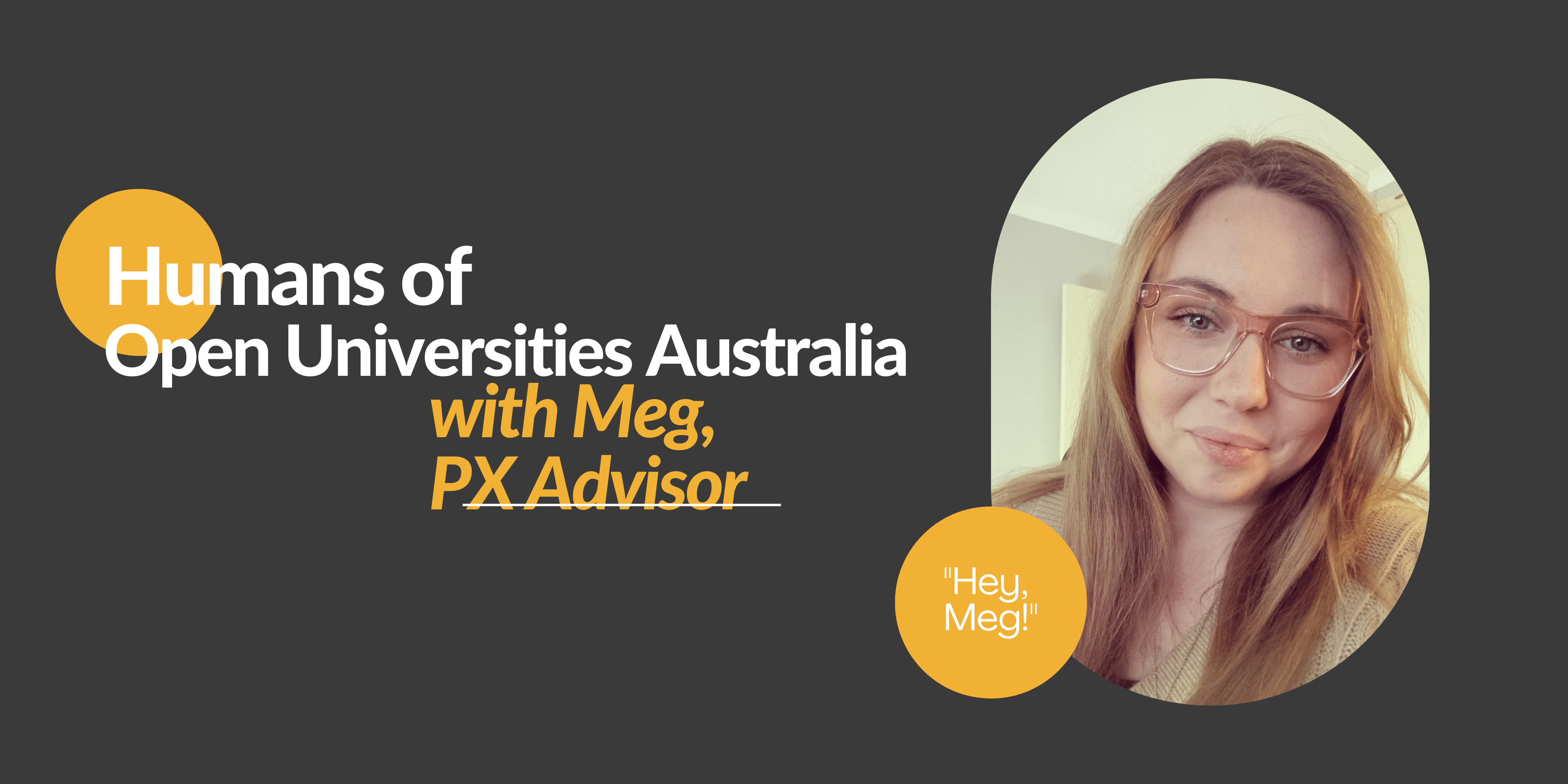 Tell us your name and your role at Open Universities Australia
I'm Meg Xavier and I am the People Experience (PX) Advisor here!
What was your role when you started and how has it changed?
I was the workforce planner in the Student Advisory when I first started, 6 years ago. Over time I expressed an interest to work in HR (Human Resources) and an opportunity came up to work in the People Experience team doing administration work. Fast forward a couple years and I am now the advisor in the team.
What led you to a career with Open Universities Australia?
I have always been passionate about working somewhere that helps people but I was unsure whether I wanted to leave the comfort of my previous company. I went to the interview with Open Universities Australia and instantly felt like it was the place I wanted to be. Everyone was so lovely and genuinely enjoyed helping people find their passion through study.
What do you do every day to transform lives through education?
I help our employees to be their best and happiest at work so they can help our students.
What is your favourite part of your role?
I absolutely love that my role gets me interacting with so many people across our company.
What is your proudest moment or career highlight during your time at Open Universities Australia?
The moment I was able to undertake my Graduate Certificate in Human Resources whilst working and getting the support from my team and Open Universities Australia, which helped me to graduate. I was always proud to work for the organisation, but it made me that bit prouder, because I got to experience the impact we have on our students every day through study myself, and it was great.
What would you say to students thinking about taking the leap into online study?
Do it! You won't regret it. The valuable resources that were available when studying through Open Universities Australia were incredible and really helped me during my studies.You really have nothing to lose and everything to gain.
What would you say to someone thinking about working for Open Universities Australia?
Working for Open Universities Australia is fantastic. I've been here 6 years now and have no intention of leaving because the people I work with and the work we do is the best I have experienced out of anywhere I have worked before.
What do you do when you're not working behind the scenes at Open Universities Australia? How does this make you a better employee?
When I'm not working, I'm usually planning or going on my next adventure with my husband, 9-month-old daughter and our golden retriever and border collie. Spending time with my little family rejuvenates my soul, making me refreshed and ready to take on the working week!
Finally, tell us a fun fact about you!
My mum is one of 15 kids, those kids went on to have lots and lots of kids of their own, making me a part of one very large family. Yes, it's as crazy and chaotic as it sounds, but it's the best!
Want a career like Meg's?
Learn what it takes to kick-off a career in HR, or start by exploring the courses below:
Browse  thousands of courses from leading Australian universities.
Or complete the form on this page to chat to an advisor about study options.
Explore courses