Are you thinking about becoming an influencer? We asked Instagram personality Ethically Kate what an influencer really does. Plus, we found out how much money you can make in Australia.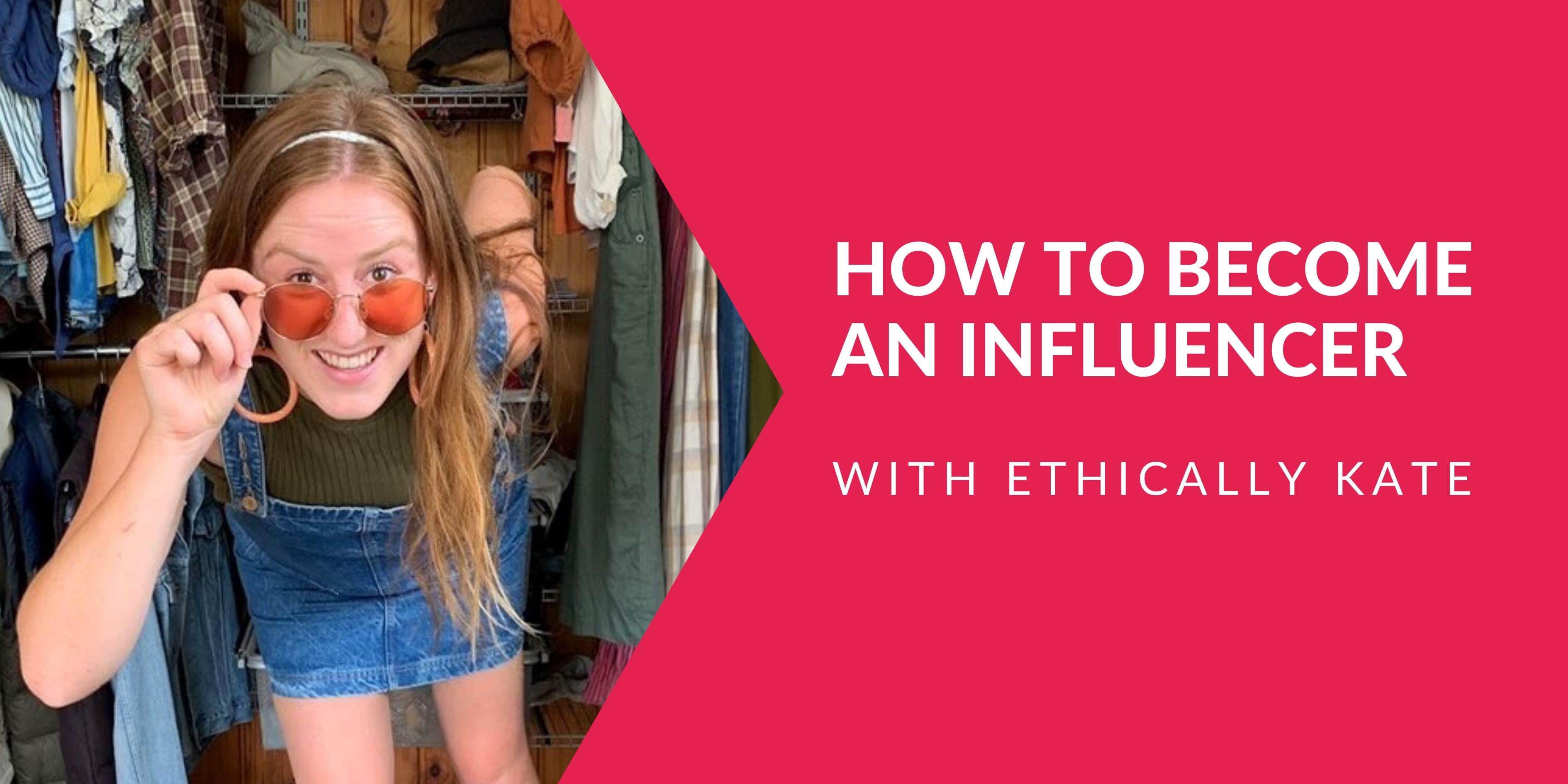 The role of 'social media influencer' is becoming a popular career choice. And given the industry is estimated to grow to $16.4 billion in 2022, it has a lot of potential for success. If you're thinking about influencing professionally, we're here to help you decide if it's right for you.
What is a social media influencer?
Simply put, an influencer is a person who is trusted by their followers on one or more social media channels. According to Indeed.com, they're individuals who've "gained popularity among a growing audience of online followers by becoming an early adopter, innovator or niche expert in a specific area of interest."
Many influencers form partnerships with brands, and are paid to recommend their products or experiences. This has become an important marketing strategy for businesses, with reports showing that more than 75% of brand marketers intend to engage with influencer marketing in 2022.
Types of social media influencers
It's generally agreed that social media influencers can be divided into these categories, according to their follower count:
Nano and micro-influencers may have the smallest number of followers, but they tend to have the highest engagement rate on Instagram, because it's easier for them to interact with their audience one-on-one. So don't count yourself out if you have a low follower count—you can still be useful for brands to work with. Larger influencers, on the other hand, attract higher engagement rates on video platforms like TikTok and YouTube.
What does a social media influencer do?
We asked Kate Hall, better known as Ethically Kate, about what she does. Kate calls herself a 'sustainability inspirer' and she's doing extremely well on social media for her niche, with over 35,000 followers on Instagram and almost 5,000 on Facebook.
Kate started posting about sustainable fashion in 2016 because she was passionate about it. "I only started sharing and becoming an online presence when I had a purpose," she explains. "And that's led to the success of people wanting to listen, because I'm not just there aimlessly sharing my life or wanting gratification." She then established her online education and activism business in 2018, and has focused on it full-time for the past two years.
And it is a full-time job for Kate, who only takes one day off social media per week. She's primarily a content creator: "content creation is my main revenue stream and what I spend most of my time doing." This includes strategising, planning, taking photos and videos, writing posts, monitoring statistics, and communicating with her manager and brand representatives.
I only started sharing and becoming an online presence when I had a purpose… and that's led to the success of people wanting to listen, because I'm not just there aimlessly sharing my life.
Brands that Kate works with pay her to create content about their product or service. She has strict requirements for partnerships and only works with brands that are ethical and honest.
Kate says the best business decision she's made was hiring a manager, who now takes care of all partnership administration, contract agreements, and vetting potential new collaborations. This has saved Kate 15 to 20 hours of work per week, and ensures she is paid more and has concrete contracts in place.
Other ways that Kate earns money include some sustainability consulting work, events and affiliate partnerships. She's also just released her first book called Better, Bolder, Different.
What is a typical influencer salary?
Another key to Kate's success is her integrity. Her posts are genuine, which is vital according to Harley from The Influencer Agency. He says "if you're genuine, you're consistent" with your message, and an audience will engage more with consistent influencers.
Harley reports than an influencer with 50,000 followers on Instagram can earn above $80,000 per year. "An influencer's salary will depend on their size, the campaign, and how active they are," he explains. "Also the right match of influencer and brand is very important." This is because an influencer who is perceived to really love a product will receive higher payments, but an influencer who works with too many brands will lose their followers' trust.
According to Harley, other factors that affect an influencer's success include their experience level, and how well they know their community. Kate is a perfect example of this—she slowly built her business as she gained experience, and completed online courses to upskill along the way. She also connects with her followers as much she can, responding to comments and hundreds of messages each week.
What should you study if you want to be an influencer?
Some short courses that will help you become an influencer are:
Some certificates and degrees you can study online include:
Both Kate and Harley emphasise the importance of being genuine as an influencer. Knowing your audience and being useful to them is also vital, and having a purpose and good communication skills will help you come across consistently.
If you've been thinking about becoming an influencer, start by getting some experience on your favourite platform and helping your followers. It's a great career choice if you love social media and sharing your unique knowledge and experiences.
Browse  thousands of courses from leading Australian universities.
Or complete the form on this page to chat to an advisor about study options.
Explore courses