With Australians still working from home, are work placements and internships for students worth it when the networking and learning you've longed for is done from home?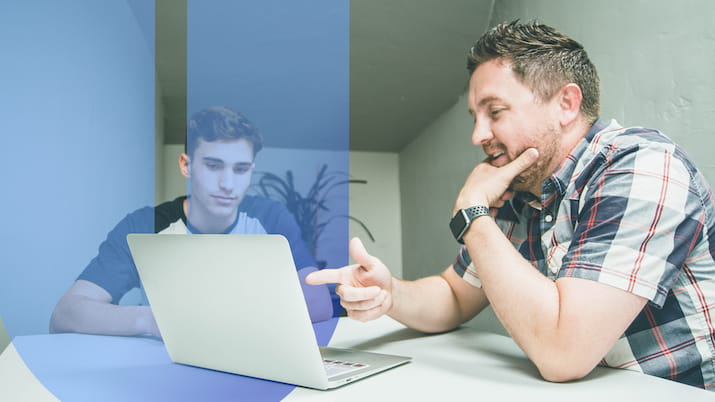 With so many of us learning and working from the very place we rest and reprieve in, the idea of a work placement or internship may have fallen to the wayside. Can you really gain more than what you learn in lectures and tutorials, particularly if you have to complete the internship from home?
As it turns out, work placements and internships are still increasingly important in securing employment, ensuring you know the industry you're getting into, and establishing connections. Even if you do have to partake in them through remote working.
The benefits of a remote work placement or internship
Make industry connections
Perhaps the most beneficial aspect of taking on a work placement or internship in the area you're studying is the connections you'll make while working. The people you meet are potential future employers, colleagues and mentors.
Those connections are still available via Zoom, FaceTime, Microsoft Teams—or whichever online platform your potential employer uses.
Once you graduate, you may be able to leverage on these connections to check your CV, give you advice or even apply for a position.
Try before you buy (in)
So you've always had your heart set on working at that one organisation for years. In fact, you have plans to approach them once you graduate.
But what is it really like to work there? A work placement or internship, even one taken remotely, will allow you to see whether the employer you've held so highly in your mind is actually somewhere you want to work.
In fact, sometimes the best thing about an internship is the fact that you get to step back and decide whether it's a place you'd like to continue working, without contractual obligations.
Get a feel for different sized organisations
Will you prefer small scale operations, such as start-ups and the like? Or will you be the type that enjoys working for a big corporation—perhaps a very well-known brand name? There's only one way to find out. And that's by trialling them both.
By taking on work placements and internships at a range of different sized organisations, you can experience the pros and cons of working in a close-knit team, compared to a large-scale operation.
Even if your internship is one taken via home conference calls, you'll get a feel for whether your new workplace's values align with yours.
Put your knowledge to the test
Assignments, exams and pop quizzes are beneficial in the pursuit of knowledge. But there's nothing like learning on the job—even when it's done via Wi-Fi. Much like using a newly learned language while travelling, putting your skills to the test on the job is the fastest way to commit new skills to memory and grow through experience.
Just think about driving. Could you ever have learned without actually getting in the car?
How to do a work placement or internship during COVID-19 lockdowns
Now that you're convinced that a work placement or internship is something you actually should do, how do you go about securing one from the confines of your home? Do workplaces even do internships anymore?
The answer is yes. And depending on your industry, employers will be able to support you in connecting, learning, sharing and growing from your laptop.
For front line workers and healthcare professionals, employees remain out on the job—providing a mix of face-to-face and remote services. If this is an area you'd like to pursue, face-to-face internships may even still be an option.
How do I get a work placement or internship?
Speak to your university lecturers and tutors about contacts they might have in the industry. Is there anyone they know of who might need the assistance of an intern? Some university courses even provide internships as a core subject, placing you with an organisation for the length of a study period. This may be worth exploring before you compare courses.
Another avenue is LinkedIn. While you may not have experience in the field to add to your profile yet, you can set up your profile to show that you're open to internships.
Once you've done this, try joining groups within the field, and start chatting to like-minded professionals. You never know who may need your help, and who you can learn from in return.
To express your interest in any of the courses on offer through OUA, fill out the form on this page and an expert student advisor will get in contact. Otherwise, start browsing thousands of courses from leading Australian universities right now.