Need advice on courses? We've got you. Our new book a consultation service is changing the game for students looking for unbiased uni advice.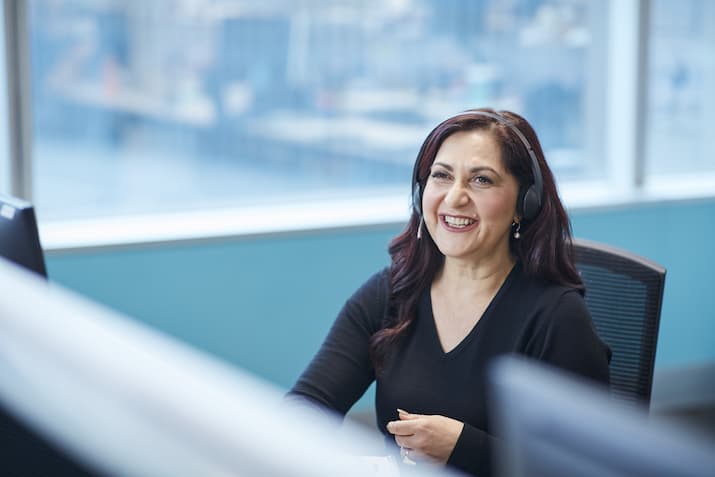 Considering online study? You might be feeling excited, uncertain, scared, dizzy, thrilled, calm, or a delightfully dizzying combination of all these emotions.
That's why its important to speak with someone, other than family and friends, who can help you navigate the unknown with objective advice. Enter: our friendly student advisors and the new book a consultation feature.
Your consultation on your terms
Launched in September 2022, the book a consultation feature puts the power into your hands as to when you'd like to get unbiased advice for comparing thousands of university courses.
Visit the bookings page, and you can select an exact date and time for your call. It's that easy.
Cover the topics you can't stop thinking about
During your Open Universities Australia phone consultation, you can cover topics such as:
Choosing a course
Weigh up your options—whether that means deciding on the right study area for your interests, or comparing similar courses offered by different universities.
Eligibility and applying
Understand the eligibility criteria for the courses you're considering and finish the call knowing exactly how to enrol or apply. Better yet, we can do it over the phone with you.
Funding options
Get to know how you're best placed to pay for study. We can help you understand whether you might be eligible for a Commonwealth Supported Place (CSP).
Recognition of prior learning or experience
See whether you can carve time off your desired course using the work or study experience you already have.
A word from Mabel at Open Universities Australia
Mabel is an Associate Product Manager at Open Universities Australia. She helped the new book a consultation function come to life and knows exactly why it's so exciting for those looking for guidance when it comes to study.
"The book a consultation feature gives potential students the ability to schedule time with a pool of expert student advisors who are knowledgeable, friendly and readily available to guide them through any questions or concerns," she says.
"We believe that the time of our students and the time of our advisors should be equally respected. We wanted to make sure potential students were more ready to have a conversation about their future by the time we got in touch with them. This tool allows us to do just that!"
Thinking about booking in?
There's never a better time to schedule a call for tomorrow than today. Book your consultation now.
Browse  thousands of courses from leading Australian universities.
Or complete the form on this page to chat to an advisor about study options.
Explore courses