There's so much more to it than putting on a white lab coat and filling a bottle with pills! Read our overview of the plethora of pharmacy jobs available.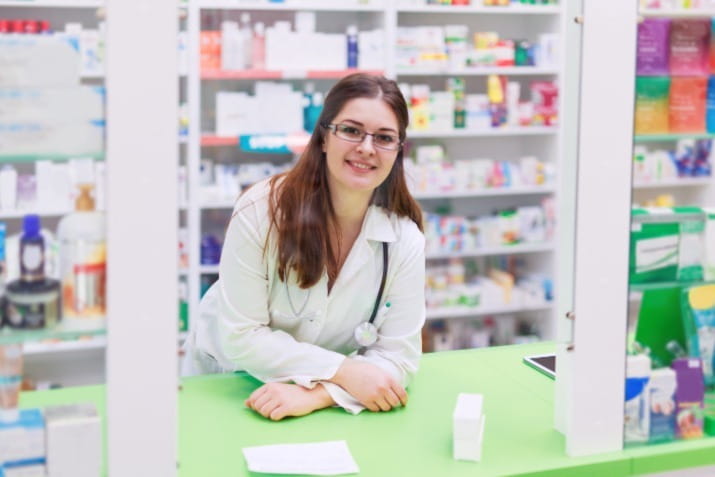 What is a pharmacist?
You're probably thinking, that's easy—pharmacists are the people at Chemist Warehouse who fill my prescriptions. And you'd be correct. But that's just one aspect of what they do.
They're the first line of defence between you and harmful drug interactions. The average pharmacist knows more about medications and how they affect your body than the average doctor.
Working as a pharmacist is very much about educating patients and customers, promoting health awareness and disease prevention, and contributing to a community's overall wellbeing. In doing their jobs, pharmacists can dramatically improve lives.
To find out more about the duties of a pharmacist, let's break it down by some common pharmacist roles:
Community pharmacist
These are pharmacists who work in retail pharmacies on high streets. They dispense prescriptions, provide primary healthcare and support, including on matters like vaccinations, blood pressure, smoking cessation, cholesterol monitoring and diabetes screening.
They're also often involved in managing the overall pharmacy and dealing with finances and budgets.
Since they're the most accessible health professional in the community (where else can you walk in for general medical advice?), they play an important role in triaging customers and referring them to other doctors or health services.
Hospital pharmacist
Patients in hospital usually require extensive, complex and specialised medication regimes that are not used by outpatients. A hospital pharmacist ensures that patients' medication routines are safe, effective and optimised for each individual.
They do this by carrying out medicine reconciliation on admissions and during changes in the level of care, for example, from the intensive care unit to a regular ward.
Hospital pharmacists work in multidisciplinary teams to provide the best patient-centred care possible. They conduct medication chart reviews, monitor a patient's response to a drug and manage adverse effects. They also educate healthcare staff and patients on medication management, drug interactions and best methods of medication administration.
Hospital pharmacists have a further opportunity to specialise in areas such as nuclear/radiopharmacy, paediatrics, critical care and oncology.The latter involves designing, administering and monitoring chemotherapy treatments.
Clinical trials pharmacist and research pharmacist
These pharmacists work at the forefront of innovative and experimental care by working in a team of investigators conducting clinical trials.
Research pharmacist duties include ordering supplies, handling, storage, dispensing, maintaining records and destruction of trial medications or therapies, following the approved trial protocols.
Some are also involved in studying a drug's molecular, biochemical and physiologic effects (pharmacodynamics) or how a person's genes affect how they respond to medications (pharmacogenomics).
Pharmacy technician and pharmacy assistant
Australian hospital pharmacists are shouldering an increasing burden of non-clinical work. To best use their expertise and allow them to focus on clinical and patient-centred work, pharmacy technicians are being brought in to take over non-clinical dispensing and medicine supply tasks.
Technicians are responsible for the delivery and distribution of medicines across the hospital and preparing discharge prescriptions for checking by hospital pharmacists. In retail pharmacies, they are qualified to prepare certain prescription medications for customers.
Pharmacy assistants mainly perform administrative and clerical duties,such as placing orders for pharmaceuticals, working the cash register and arranging for customers to speak with the pharmacist.
Are pharmacists in demand?
At the time of writing, there are over 2,003 pharmacy job opportunities being advertised, with an expected 9% growth in roles by 2026.
So, is being a pharmacist a good career in Australia? Most definitely! It's a super rewarding career path, where you'll help people recover from or manage illness, or maintain their health.
Like other jobs in healthcare, there will always be demand for pharmacists. And, as one, you can work in a diverse variety of settings—urban or rural communities, retail, hospitals, GP clinics, aged care, research and development, the defence force and more.
What skills should a pharmacist have?
Skills needed for pharmacy fall into technical, interpersonal, analytical and management buckets. Here's a non-exhaustive list of what's expected of pharmacists:
Sound knowledge in maths, science (especially biology and chemistry) to understand medications and their effects on the body
Empathy and an awareness for patient-centric care
Communication and teamwork skills for interacting with patients and other health and medical professionals
A curious mind, to interpret observations and patient history, solve problems and apply evidence-based solutions
High attention to detail and dedication to accuracy
Ability to lead and teach others
What should I study to become a pharmacist?
As a start, you'll spend a minimum of 4 years in undergraduate pharmacy study or 2–3 years completing a graduate-entry program. If you're worried that you haven't met the entry requirements for a Bachelor of Pharmacy, how about starting out with a course such as a Diploma of Pharmacy Studies?
Once you've obtained your bachelor, you'll complete a year-long internship concurrently with the Intern Training Program (ITP). Finally, you'll have to pass an exam to gain general registration as a pharmacist.
To work as a registered pharmacist, you will also be required to take Continuing Professional Development (CPD) annually.
Should you want to pursue a career in clinical trials, research or any hospital pharmacy specialisation, you'll need a bachelor degree as well as additional postgraduate study, training and experience in your desired focus area. Online courses you could consider include a graduate certificate, graduate diploma or masters degree in clinical pharmacy.
No formal qualifications are necessary to become a pharmacy assistant, but you will be viewed favourably if you complete a certificate II, certificate III or diploma in pharmacy.
Pharmacy technicians require a certificate III, certificate IV or diploma in pharmacy.
How much does a pharmacist earn?
A pharmacist's earnings depend on the amount of training and experience they have accrued.
A pharmacist's salary
A fully-fledged pharmacist with general registration gets an average annual salary of between $80,000–$100,000 at the time of publishing. With seniority, this increases to $100,000–$120,000, and can go as high as $140,000 or more.
Pre-registration pharmacists in urban centres earn an average of $66,883 in their internship year. In areas beyond the metropolitan east coast of Australia, salaries are higher. For example, in Darwin, pharmacy intern salaries are just over $75,000.
A pharmacy technician's salary
Pharmacy technicians earn on average $55,000–$65,000 at the time of publishing. This can go as high as $75,000, depending on employer and location.
A pharmacy assistant's salary
Most pharmacy assistants earn between $35,000–$45,000 at the time of publishing. Some can earn as much as $65,000.
Already picturing yourself in a hospital, behind the pharmacy counter or in a research lab? Get step-by-step details on how to begin your pharmacist career. Still wondering about the difference between chemists and pharmacists? We untangle that here
Browse  thousands of courses from leading Australian universities.
Or complete the form on this page to chat to an advisor about study options.
Explore courses