An honours degree will prepare you for a range of research careers—or set you on a path towards a PhD. Learn more about how this qualification can take you further than a bachelor degree.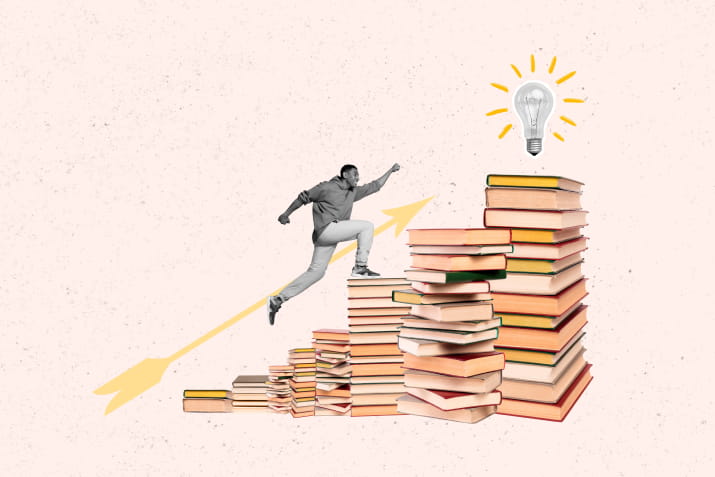 Should you study a straight bachelor degree, or a bachelor with honours? The short answer is: it depends! If you're keen to head straight into the workforce after your undergrad, then it's probably not necessary. But if you're interested in a research heavy role or a career in academia, then an honours degree can be all but essential.
To help you decide, let's explore what an honours degree is, exactly, and which industries value graduates with that mysterious 'Hons' post-nominal.
Definite it for me first: What is an honours degree?
An honours degree is an optional fourth year of study you can complete as an extension of your bachelor degree. It's a chance to deepen your knowledge in your field of interest.
During an honours year, you work on an independent research project known as a thesis under the mentorship of an academic supervisor. You divide your time between advanced coursework, writing your thesis, and attending regular meetings with your supervisor to discuss your project.
At the conclusion of the year, you're awarded first class, second class or third class honours, depending on your final grades. If you graduate with first class honours, it means you're at the top of your class and you achieved outstanding results—which can be vital when applying for a PhD (more on this below).
What are the biggest differences between an honours degree vs a bachelor degree?
A bachelor degree helps you build foundational knowledge in your field, while an honours degree lets you investigate a niche aspect of that field and develop a unique stance on it.
You walk away with advanced research, writing and communication skills, which can set you up for success in academia and certain roles within the workplace.
What are the benefits of an honours degree?
It's an opportunity to hone your expertise on a topic
As an honours student, you get to dive deeper into an area you're passionate about, develop specialist research skills, and share an original piece of work with faculty you admire. That can be an incredibly rewarding and satisfying achievement. Some honours students are even encouraged to present at conferences or submit their thesis to an academic journal, which means their hard work is seen and appreciated by the wider industry.
It's a pathway into postgraduate research
If you have your heart set on a higher degree by research, it's worth considering an honours year. The 15,000 to 20,000-word thesis you're required to write will give you a taste for what it's like to complete a masters by research or a PhD, which both involve even lengthier projects.
You can apply directly for a PhD and skip your masters if you have at least a second class honours degree, though it's a competitive process. A first class honours degree will increase your chances of receiving a PhD living stipend scholarship.
It's necessary for accreditation in certain fields
An honours degree is viewed as valuable additional training in fields where complex analytical thinking is required, like science, engineering and history.
In some instances, honours is compulsory to progress in an industry. For example, you need an honours degree (or an equivalent fourth year of undergraduate study) to apply for provisional registration as a psychologist in Australia. You also generally need an honours degree if you want to get ahead in economics. The Reserve Bank of Australia and Australian Competition and Consumer Commission's graduate programs prefer applicants to have an honours-level qualification.
How to get an honours degree
There are two ways to get an honours degree:
You can apply for a 4-year bachelor degree that incorporates an honours year (which means you don't need to worry about 'getting in' to the honours year)
You can apply for a 1-year standalone honours degree after completing your bachelor degree
You generally need strong academic results to be eligible for a standalone honours year. Most universities prefer you to have marks in the 65-75% range during the second and third year of your bachelor degree. There also needs to be an available supervisor in your field of interest, whereas in an embedded honours degree, one will be found for you.
Can you do honours at a different university?
Yes. You don't have to complete your honours year with the university where you completed your bachelor degree.
You can apply for a 1-year standalone honours program with another university if you prefer, though be aware that you will need to meet their entry requirements.
Many students choose to study honours with their existing university because they already have relationships with the academic staff. But others prefer to widen their network and choose a thesis topic that another university is better equipped to handle. It's entirely up to you.
Can you earn an honours degree online?
Since it's a research-centric course that involves a lot of uninterrupted downtime, you may benefit more from studying your honours degree online.
On-campus honours students have to attend some timetabled classes, whereas online students can complete their coursework at times of their choosing.
As an online student, you can also study with whatever university appeals to you the most, including unis outside of your home state. That gives you more freedom to work with a thesis supervisor you really admire.
Through Open Universities Australia, you can compare and enrol in select online honours degrees with different universities. See what's available now.
How to decide if an honours degree is right for you
An honours degree will push you to challenge yourself even more a bachelor degree. If you're excited by the idea of learning from an experienced mentor, contributing fresh research to your field, and becoming a future subject-matter expert, then it could be a leap worth taking—and we'll help you do it.
Reach out to an Open Universities Australia student advisor to chat about whether honours is right for you. They'll give you unbiased advice on your study choices.
Or browse online honours degrees available with leading Australian universities.