Most people have heard of architects, but what exactly do they do? And where do they fit in the construction process? Let's take a look at this rewarding profession.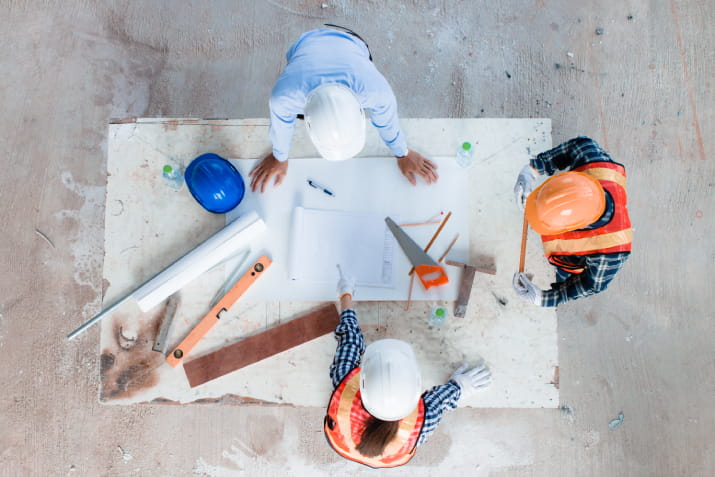 Without architects, we wouldn't have iconic spaces like the Sydney Opera House, Federation Square, the Bell Tower or Cowra Japanese Garden. Architects are conduits of creativity who allow themselves to think big, while working within (and sometimes pushing the boundaries of) the construction industry.
What is architecture?
Architecture involves planning and designing buildings and spaces. Since these structures have to meet safety standards and construction building regulations, architects are experts at finding a balance between aesthetics and functionality.
What do architects do?
Architects work with their clients during all stages of construction. On a day-to-day basis they present ideas, help evaluable the feasibility of construction sites, draw up plans, problem solve planning and building issues with contractors, and manage aspects of the construction process.
They can work for large firms or within small businesses. Depending on their area of interest, they can also choose to specialise in a single area of architecture, like residential design, commercial design, interiors or public spaces
The different types of architecture
Here are some of the most common architecture specialisations. Your choice could see you working side by side with clients on passion projects, spending time outside, or making positive changes for the environment.
Residential architecture
Residential architects help homeowners design their ideal home—whether that be a house, unit, townhouse or mansion. They also help contractors with multi-storey apartment complexes. If you choose this specialisation, you'll work with emotionally invested clients who won't always know how to articulate their wants, so you'll need plenty of patience, finesse and creativity. You may be hired to design a home from scratch or update an existing living space, but if one thing's certain, no two days will be the same.
Landscape architecture
As a landscape architect you'll be designing environments, like parks, backyards, playgrounds, waterfronts, transport networks, and national parks. You'll be considering things like biodiversity, sustainability, restoration, conservation, and sociology, so it's a broad and interesting specialisation, especially if you enjoy creating beautiful outdoor spaces.
Interior architecture
Where general architects design buildings, interior architects plan and design inside spaces. They come up with smart layouts and consider how lighting, ventilation, materials, acoustics, and furniture will work within a space. If you love creating interiors to be well lived in, or perhaps enjoy the flow of shop fitouts, you can specialise further in interior architecture for residential, hospitality or commercial spaces.
Sustainable architecture
Passionate about the planet and making some real change? You may find sustainable architecture rewarding. As a sustainability consultant, you get to educate clients on designing green spaces that are future proof and protect the environment. Using your technical knowledge, you'll improve building efficiency, conduct audits, and ensure construction meets green building standards.
Commercial architecture
If you want to make your mark on the community and design a building that dominates the skyline, then this could be the specialisation for you. Commercial architects design buildings for business or public use, like hotels, retail centres, hospitals, schools and office high rises. If you take this path, you'll be presented with plenty of creative challenges, because you'll need to plan cost-effective structures that cater to a multitude of business needs.
What skills do you need to be an architect?
Architecture is a creative profession, and although you might assume being good with a pencil is a main requirement, it isn't a determining factor. There are lots of skills you will need before you put pencil to paper and start designing.
You'll need to wrap your head around certain industry software to bring your ideas to life. You'll be designing using programs like AutoCAD, Adobe Photoshop, and 3D rendering software. That means you'll need to adapt well to new technology, which you will learn to use as part of your study.
Interpersonal and people-management skills are key, as a great deal of architecture involves liaising with clients, builders, and local government. You'll have to manage different viewpoints and expectations, so it's important that you're good at developing and maintaining relationships.
A flair for innovation will also take you far, as finding creative solutions for designs that follow strict regulatory requirements while balancing client expectations is something you'll come across frequently.
Love solving equations? An aptitude for mathematics will come in handy in your career as an architect. Finally, you'll be putting those algebra, trigonometry, and geometry lessons to good use. Optimising acoustics, calculating load capacities, working out ratios and understanding build costs are just some of the ways that architects use these formulas and skills.
If the above is putting knots in your stomach, take a breath—you're not expected to know everything right away. You'll learn and develop these skills during your undergraduate and postgraduate degrees. The important thing is to be open to learning so you can progress your career without all that extra pressure on yourself.
Is it possible to study architecture online?
Studying your architecture course online is absolutely possible. Thanks to the rise of technology, it's easier to view your classes, participate in projects and access key architectural software remotely.
In fact, since your career as an architect will involve its share of video conferencing and collaborating with virtual teams, learning to present your projects this way will give you an edge when you graduate.
Sometimes study can feel out of reach, especially if you're trying to juggle kids, a job or other big commitments. Studying online allows you to learn at your own pace and better manage your time.
You can even start slowly and dip your toe in the water with a few short architecture courses to see if it's something you want to pursue.
Is studying architecture hard?
Studying architecture is a long, challenging pathway, but it is rewarding.
To become a registered architect, you'll need an accredited architectural Bachelor Degree, a Master of Architecture, and then two years' practical work experience in an architectural firm. After that you'll need to pass the Architectural Practice Exam, and register with your state or territory's Architects Registration Board.
While the path to becoming an architect does involve a few steps, plus years of study and hard work, there are ways to make it manageable.
Firstly, make sure you create a good network by regularly engaging with your classmates and tutors. Input from others is invaluable to broaden your knowledge.
Find a schedule that works for you and stick to it. Good time management and discipline will make a world of difference to how the workload affects you.
Stay inspired by subscribing to architecture journals like Architecture Australia and Architectural Digest. They'll help broaden your knowledge and enrich your own projects. They don't have to break the bank either, as you can take advantage of your student status and get good discounts on subscriptions.
How much does an architect make?
Architects are on good wickets. The average base registered architect salary is $131,000 per year, with entry-level positions starting at $110,000, and more senior roles netting up to $178,257.
Your chosen specialisation, where you choose to practice, and the size of the company you work at will all have a part to play in how much you will earn as an architect in Australia.
Ready to launch headfirst into your architecture career? Check out the online courses available through Open Universities Australia to get started.