What are you passionate about? We're asked this question from childhood, but as Tristan has realised, sometimes it's a case of passion finding you.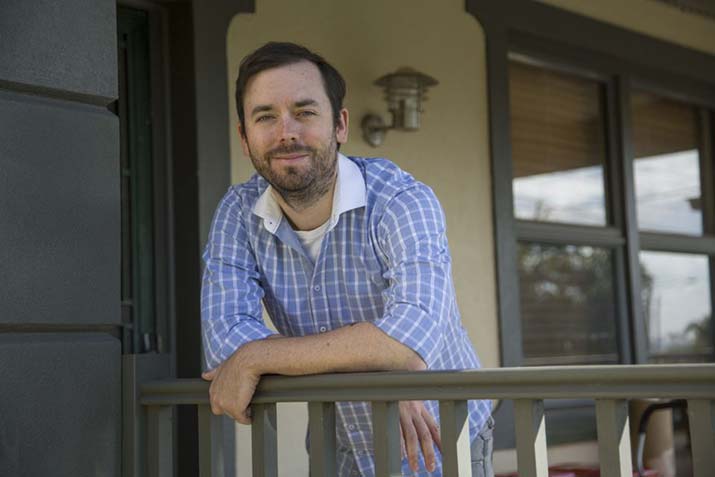 Politics was a career avenue that Tristan never expected – he fell into it by chance, loved it and made it his career. He worked in the sector for around eight years and enjoyed a number of roles in government and the opposition. After high school Tristan did a short stint at uni, but decided that an adventurous life of travel was more attractive than study. After years of putting his degree off and regretting it, he decided to take a break from work, become a stay at home Dad, and focus on completing a qualification. He wanted to continue down the avenue that he'd been working in, so he chose Macquarie University's Bachelor of Arts (majoring in Politics), through Open Universities Australia.
'At the time I started studying I was working in politics. I travelled between Adelaide and Canberra almost every week. OUA allows me to study where and when I want, whether that's at home on a weekend, after a busy day in Canberra or anywhere in between. Since the last federal election my wife and I have essentially swapped roles. She's now in a very busy position while I am a stay at home dad with our three year old son. Studying through OUA meant I had the flexibility to make this change. I can also take on or off additional units to best suit my changing circumstances. I know this will come in handy again when I choose to go back to work.'
Since Tristan had completed some university study in the past, plus had relevant work experience, he could apply for credit for his Arts degree. However he chose to start from the beginning and complete some pathway units to refresh his memory. With OUA offering degrees from 10 leading unis, he has had the flexibility to study units from Griffith and Curtin University to build his Arts degree based on his interests. Maintaining his current study load, Tristan plans to graduate in 2019. He looks forward to proudly hanging his qualification from Macquarie on the wall and encouraging his son to invest time in education.
What is Open Universities Australia (OUA)?
Studying through OUA puts you within reach of your dream degree – offering access to over hundreds of courses from leading Australian universities. These degrees are offered to both on-campus and online students, under the guidance of the university's tutors. The key difference is, you get to study when, where, and how you choose.
Regardless of whether you finished high school or received an ATAR score, we'll provide you with a study pathway into your chosen degree. As for affordability, OUA offers access to government loans, so you don't have to pay upfront to get started.
Browse  thousands of courses from leading Australian universities.
Or complete the form on this page to chat to an advisor about study options.
Explore courses