There are 52 weeks in a year—how many of them do you spend enjoying freedom? Perhaps it's time for a change.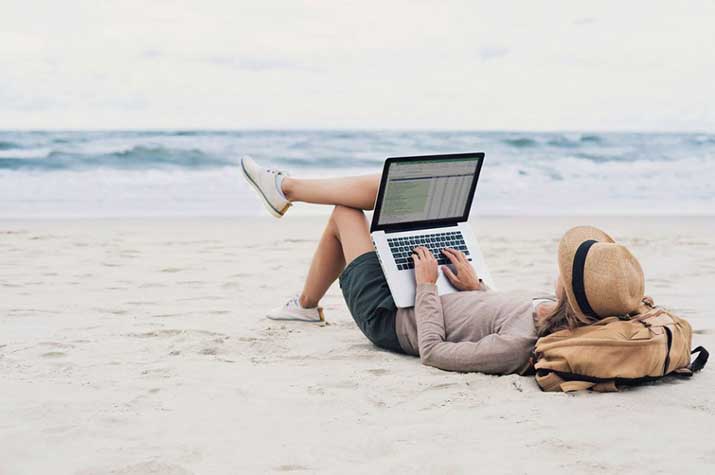 Most working professionals spend only 4 out of 52 weeks enjoying their freedom. It feels almost criminal. It's no surprise that time moves past in the blink of an eye. If you can't afford to reduce your work hours to do more of what you love, there's still a way to take back control, and live life on your terms. Ever heard the expression 'digital nomad'?
What's a digital nomad?
Digital nomads are people who use local internet connections to work from diverse locations around the world. Their work is often freelance or remote (meaning that the company allows staff to work off-site) and the workload can vary from project-based contracts to full time hours.
From Bali to Budapest, there are many cities around the world, renowned for their affordability, great climate and proximity to incredible sights and experiences. While not every job aligns with a nomadic lifestyle, the creative and web-based industries in particular are a great fit for a digital nomad. Writers, web designers, software developers, business owners, social media managers – just to name a few – can be just as effective (if not more so) when working remotely.
If you've been itching to see the sights of the world, and to get a few more stamps in your passport, working as a digital nomad is one of the quickest ways to inject more adventure into your life.
Itching for adventure
Sometimes the best way to figure out how to do something new is to ask someone who's already done it.
Finance writer, professional traveller and long-term nomad, Brendan Lee, is one of many digital nomads, who provide practical advice on how to get started making money while on troad. Bren writes in his guide to making money while travelling, that having a set of skills you can use from anywhere in the world, "means you can now earn money with nothing more than your laptop and wi-fi. It may take a while before you even land your first job… However, the reality is, the amount of hours you work are completely up to you."
Bren shares his journey, going from working as an office-based accountant, to now living on the road in many different parts of the world – demonstrating how the nomadic work life is possible, and how enriching it can be. Life is yours to live at your own pace, and to revolve around your own priorities.
Finding remote work
One of the easiest ways to search for the perfect job to fund your nomadic lifestyle (or simply allow you to work from home, if that's more your style), is by looking at the remote and freelance job listings found on websites dedicated to remote work. Platforms that can offer these opportunities include:
But first, skill up!
If your current skill set doesn't lend itself to a life on the road, it's not too late to up-skill, or move to a completely different field. Companies are starting to embrace the idea of employees working remotely, and the benefits that go hand-in-hand, such as greater motivation, and more lateral thinking. Experts estimate that remote work will be the norm for up to 50 percent of workers by 2020.
You don't have to wait to go exploring either. Studying online means you could travel while still completing study – giving you the right tools for your industry, while also allowing you to gain life experience while you do it. Open Universities Australia has a huge number of degrees and single subjects, covering a wide range of study areas.
If you weren't limited to four weeks holidays a year, where would you go? How would you spend your free time if you weren't riding to work in an over-packed train? The possibilities are endless!
Browse  thousands of courses from leading Australian universities.
Or complete the form on this page to chat to an advisor about study options.
Explore courses