Do you want to make a positive impact on the world through the lives of today's young people? Discover whether primary or secondary teaching is right for you.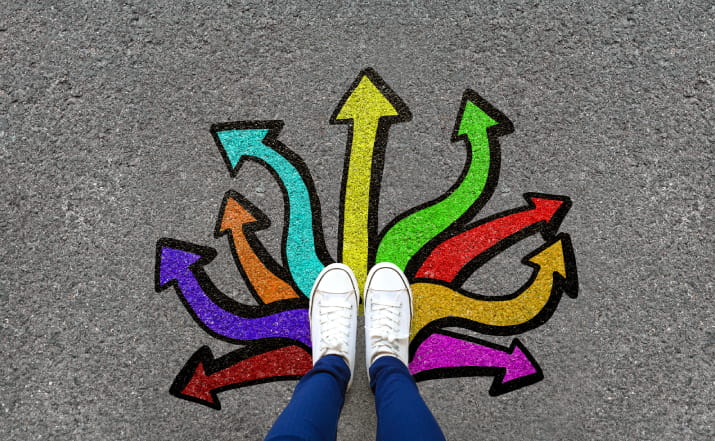 Everybody remembers their favourite teacher. There's something special about the way they delivered lessons within lessons, shaping our passions long after we left their classrooms. Teaching is challenging, rewarding and essential. Although teachers follow a syllabus of topics and approved lesson plans, there's more to this respected career than simply standing at a smart board.
You'll do a lot of learning, talking and exploring in this career. And while studying teaching may start with brushing up on fractions, revising standard grammar, and working on your listen-to-me-now voice, you'll soon grow in so many more ways...
But what age of learners should you target? What's involved in teaching little kids? Do you need different skills to teach teenagers? And can you swap if you change your mind?
What is teaching?
Teaching is the act of sharing information, knowledge or skills with a group of people and developing their understanding of a specific subject or subjects. In Australia, teachers generally work from a set curriculum, helping students grow their minds through lessons, resources and excursions. While most of these lessons are based on academic topics, as a teacher you'll also be a source of social, emotional and occasionally physical support, lending an ear or hand when required.
Australian schools are commonly divided into primary or secondary, with kindergarten to Year 6 comprising the former and Year 7 to 12 defining the latter. There are exceptions and varying state rules (and names), but most kids start primary school between the ages of five and six and graduate high school around 17 or 18. Let's look at the two pathways in more detail.
What is primary teaching?

What is secondary teaching?

Primary teaching is the first step students take in their formal education following the preschool years. Primary classrooms are often more structured than play-based centres. emphasising intellectual development and social skills (sitting still, listening, turn taking etc). Teachers educate one class, or a composite class comprising consecutive years, ranging from Prep to Year 6 on a wide range of subjects.

Primary teachers educate the one group of students on a range of subjects. Positions are often allocated by the student grade or year you will teach (e.g. Year 6 teacher).

To become a primary teacher, you'll need to study an approved primary education degree.


What does a primary teacher do?

Prepare lesson plans for a specific age level to a set curriculum.
Use creative activities to encourage and engage primary students and help develop their creativity.
Assess and evaluate student progress.
Create productive working habits and discipline when necessary.
Discuss students' progress with parents and guardians.
Supervise students both in the classroom and outside during breaks.
Organise and participate in school activities like excursions and camps.
Undertake professional development and network with other teachers who teach the same age range.

Secondary teaching (or high school teaching) challenges educators to communicate one or more subjects to a broad range of age groups (e.g. you may teach science to Year 7, Year 8 and Year 9). By high school, students are accustomed to the social expectations of being in a classroom (although some may need the occasional reminder), but teachers remain instrumental in guiding young students through the highs and lows of growing up.

Secondary teachers are experts in their chosen field, providing lessons for that subject alone.

To become a high school teacher, you'll need to undertake an approved secondary education degree



What does a high school teacher do?

Prepare a range of lessons on one specific subject or more for different ages and abilities to a set curriculum.
Use various methods including practical activities and assessments to enhance the learning experience.
Prepare and mark assessments and provide feedback to students on areas they can improve.
Assess, evaluate and deliver reports on student development.
Monitor and maintain classroom behaviour management.
Supervise students outside the classroom.
Participate in school activities like excursions and camps.
Undertake professional development and network with other teachers who teach the same subjects.
How long is a teaching degree?
The time you'll spend studying teaching depends on a variety of factors, including whether you have completed a degree before, and whether you choose to fast-track your course by taking on extra subjects or studying over summer. You can expect to spend somewhere between two and four years studying teaching.

While some degrees vary, up-and-coming teachers studying either primary or secondary education are expected to complete:
Placements. This can involve a range of schools and year levels. The length of your placement will also increase as you progress further into your degree.
Theory. Classes offer insight into teaching practices and develop skills that students need before starting their teaching careers.
After graduating with a recognised teaching degree, you must apply for your teaching registration to become an employable teacher. Australian teachers are expected and required to register in their state:

Teacher registration - VIC
Teacher registration - QLD
Teacher registration - NSW
Teacher registration - ACT
Teacher registration - SA
Teacher registration - WA
Teacher registration - TAS
Teacher registration - NT
What ATAR is needed for teaching?
Through Open Universities Australia, you don't necessarily need an ATAR to enter a teaching degree. While an ATAR of between 65-70 is one way you can get into teaching, we have an open-door policy when it comes to most degrees thanks to what we call open enrolment subjects. These are subjects that you can start studying without entry requirements. Once you have completed them successfully, you can use your success to gain entry into a teaching degree, depending on your selected course.

Don't be limited by a number—explore a broad range of education courses from leading Australian universities, without worrying about how well you did in your exams!
How much do teachers earn in Australia?
Primary teacher salary

Secondary teacher salary

As of 2022, the average salary of a primary school teacher is $68,400 per year.
The average base starting salary is approximately $50,200.

As of 2022, the average secondary school teacher salary is $73,800 per year.
The average base starting salary is approximately $51,200.
Data sourced from Jobted and is correct as of 24/02/2022
Why is teaching a good career choice?
Teaching is a great career choice for those looking to enrich young people's lives. While it can certainly be a challenge to manage kids or teenagers all day, a career in education means you'll make a genuine difference in people's lives. Teaching also presents you the opportunity to:
Enter a high-demand workforce. There is a strong demand for new teaching graduates. According to Labour Market Insights, teaching roles are expected to experience moderate, strong and very strong future growth depending on the role. As a result, teaching offers excellent job security with a range of vacancies in schools across the country.
Help students reach their potential. Many of us have a favourite teacher and helped shape our future careers. The lessons you teach your students can help guide them to achieve their own goals.
Enjoy endless career opportunities. With further study you can explore a range of opportunities like a head of a department and even principal.
How to change from secondary to primary teaching
Transitioning into another field of teaching can be relatively straightforward, especially going from secondary to primary school teaching assome secondary teachers may have the appropriate knowledge and skills already to teach at primary schools—especially older years like Year 5 and 6.
Depending on the state in which you are registered to teach, you may already have the knowledge required. If not, upskilling and reskilling is always an option—made all the more simple through online study.
Contact your state's teaching registry to find out the specifics required for your region and then browse the variety of upskilling courses on offer.
How to become a teacher if you already have a degree
If you already have a degree in a specific field like Science or English and want to become a teacher, you will need to complete additional studies. However, it's important to note that in many cases you can receive recognition of prior learning—which is just a fancy way of saying credit for your past studies. This can shave time off your education degree.
If you have already completed a Bachelor Degree, there are a range of postgraduate options such as a Master of Teaching which can be completed at either a primary or secondary level.
Caught the teaching bug? Explore a range of primary and secondary teaching courses, and start working towards your dream of shaping the minds of young Australians today.
Browse  thousands of courses from leading Australian universities.
Or complete the form on this page to chat to an advisor about study options.
Explore courses