Actor and content creator Tristan finds that with online study, he's able to squeeze the most out of every moment.
Tristan leads an exciting life – sometimes he has to pinch himself to make sure it's reality. He's graced the small screen in dozens of TV commercials for big Australian brands. He's a video blogger, who tests and reviews the latest remote control cars. He even has his own production company, where he gets to step behind the camera to produce fresh and exciting content for brands. Whatever his day throws at him, Tristan feels confident that he can still fit study in. Everyday he moves closer to gaining his Bachelor of Communication (Screen Studies major) from Griffith University, through OUA.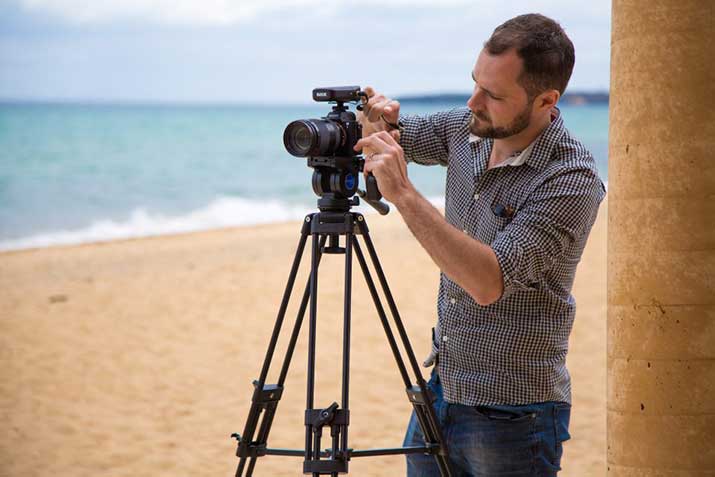 With two young children and a home by the sea, Tristan sees online study as a necessity. Avoiding the commute is one upside, but in particular, Tristan has loved the ability to scale his study load up and down. He's found this useful on many occasions, including the birth of his youngest child, Agnes, where he was able to put his study on hold completely. As a bonus, Tristan has been one subject closer to the finish line, right from enrolment. He received a credit transfer for some previous study he completed in the US, which has been helpful considering that, as a young father, any extra time is worth cheering about.
Tristan sees OUA as the perfect option for anyone who wants to squeeze the most out of life. It's not always easy, but with enough drive and passion, you too can have it all.
Online study – the ultimate flexibility
Through OUA you can study online, at your own pace, from wherever you are. With everything you need, provided in your university's online Learning Management System (LMS), you'll experience uni just like an on-campus student, except you'll have more flexibility to personalise your studies. While you'll be studying in your own time and space, you'll never be studying alone – OUA has a passionate community of online students, and a team of experts to help find the right study option for you, and assist you to manage your studies from start to finish.
Browse  thousands of courses from leading Australian universities.
Or complete the form on this page to chat to an advisor about study options.
Explore courses