Simon needed to breathe new life into his career, so he let go of his previous successes, and is now flourishing in a new way.
When it comes to careers, many of us are guilty of playing it safe. We box ourselves into a certain area, knowing how much time and energy we've already invested—so why start again? For Simon, he knew he needed change, and that it would be well worth the risk.
For 17 years, Simon was a successful chef, who worked for restaurants, events and catering companies. He even cooked on luxury yachts. It was 10 years ago that he decided to take a sharp direction change, and embark on a career in financial planning. Simon liked the practicality of it, and the fact that it was a great life skill that he could take with him throughout his career. It was a big decision, but Simon took the leap and enrolled in RMIT's Bachelor of Business (Financial Planning) through OUA.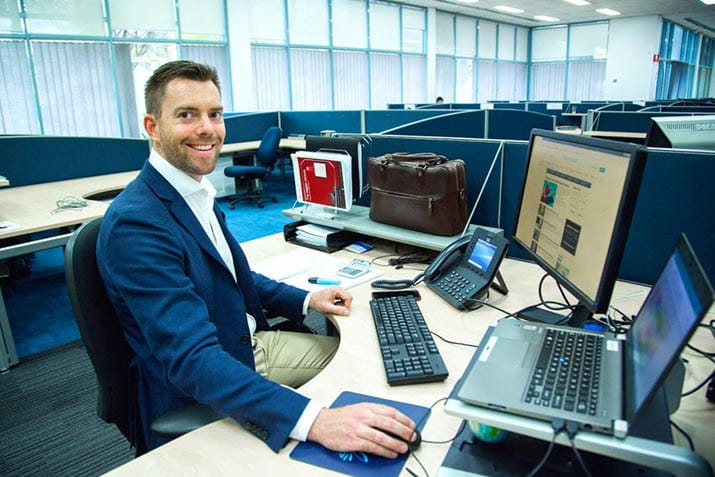 Today, Simon is now the proud recipient of a Financial Planning degree, and is working for leading financial planning company, AMP. He spends his day having conversations with clients about their financial goals, and doing the research and strategic planning to get them there. It's the perfect environment to extend upon his academic learnings, and really hone his skills, with the ultimate goal of running his own financial planning business. Simon is on his way to becoming his own boss, and he feels that in a sense, OUA's flexible approach to study has made this all possible for him. "I don't think it matters what you do" insists Simon, "If you're doing it right, you're putting in the hard yards—but then you get the rewards as well".
Give your career new life
Through OUA you can study online, at your own pace, from wherever you are. With everything you need, provided in your university's online learning management system (LMS), you'll experience uni just like an on-campus student, except you'll have more flexibility to personalise your studies. While you'll be studying in your own time and space, you'll never be studying alone. OUA has a passionate community of online students, and a team of experts, who can help find the right study option for you, and help you manage your studies from start to finish.
Browse  thousands of courses from leading Australian universities.
Or complete the form on this page to chat to an advisor about study options.
Explore courses