Want to make a difference in higher education? As universities continue to adapt to the new norm brought on by COVID-19, discover how you can make a difference in the uni experience for future students.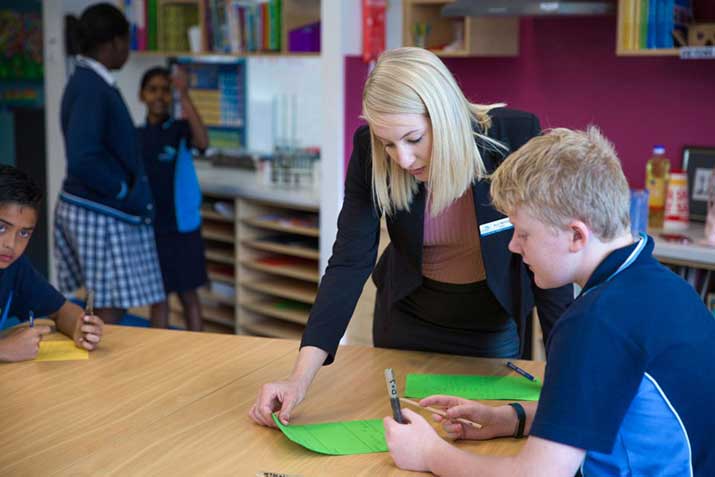 The recent impact of COVID-19 has forced almost all industries to adapt to a new norm, including the higher education sector. Universities have had to quickly shift classes online, with students and teachers alike required to learn and utilise new technologies.
If you're ready for a career change, a role in education can be exciting, rewarding and filled with growth. Make a difference in the university experience for future students as learning environments are reshaped post-pandemic, and challenge yourself in an exciting and dynamic industry.
We take a look at some of the career opportunities available in the higher education sector, and some of the different types of higher education degrees available through Open Universities Australia (OUA) to get you there.
Careers in education
When we think of jobs in education, we normally think of teachers. However, there are many other roles, some behind the scenes, that can see you shift into the education sector.
Teacher
It's almost a given that teaching styles vary depending on the demographic of your class. When it comes to higher education, teachers take on a more encouraging approach, aiming to challenge their students' thought processes, actions, and build on their analytical skills. With almost all levels of schooling - including primary and secondary - utilising technology, you can get a head start on working with an online learning environment by completing your own studies online.
Curtin University's Master of Teaching (Primary Education) can prepare you for working with younger learners. You'll draw upon theories and research to be able to work with students from diverse backgrounds, and learn how to create and manage a positive learning environment.
Principal or Chancellor
This head position requires strong leadership skills, in addition to administrative knowledge, organisational skills, and an understanding of the learning environment. If you've worked in a supervisory role or management position previously, or you're looking for a new challenge, you may be able to upskill to give yourself a chance at securing this executive role in the education sector.
Curtin University's Master of Education can help increase your education leadership potential. With many of the skills gained throughout this course being transferable, you'll acquire invaluable knowledge that can help you shift seamlessly into the education sector from your current role.
Curriculum Developer or Information Technology Specialist
With an increase of educational online learning tools due to COVID-19 comes an increase in demand for trained professionals to help us make the shift. Curriculum developers and information technology professionals play a key role in the higher education sector by designing, implementing and providing support for online learning environments. If you're IT-savvy or more interested in the digital side of learning, this may be a great option to get your foot in the door of the education sector.
Curtin University's Graduate Certificate in Higher Education Innovative Learning and Teaching can equip you with the skills to apply new and innovative practices to tertiary education. Not only will you graduate with a tertiary educator's qualification, but you'll have first-hand experience in online learning, so you'll be ready to tackle the challenge right away!
Education industry FAQs
What career opportunities are there in education?
Education is a flexible industry, where, with a bit of upskilling, you can tailor your existing knowledge and apply it to various roles. While a teacher is the most common role, strong leadership skills may land you a principal position, or an understanding of technology and digital environments could see you developing online curriculums and providing support. The great thing about education is that you can browse hundreds of courses to find one to suit your interests and goals.
How do I get my Masters in Teaching?
There are a range of courses you can take through OUA if you'd like to pursue a Masters in Teaching. By studying online, you can continue to work while completing your studies in preparation for your career change to education.
Can I upskill and become a teacher?
Of course! Through OUA, you can access hundreds of short courses with leading universities that run from a few weeks to several months. A short course is a great way to upskill, and you may even be able to use it as credit towards a full degree later on.
Study education through OUA
Through us, you can access hundreds of courses in education with leading universities across Australia. With flexible study options available, including part-time, you can complete your studies online alongside your job or other commitments. To find out more about studying through OUA, give our friendly student advisors a call on 13 OPEN or enquire online.