Nykkea climbed to where she is today without a degree, but to propel her career to the next level, she decided to knuckle down and study.
Originally from Brisbane, Nykkea moved to Melbourne in search of a job that would bring together her creative vision and business acumen. She landed herself a job in marketing, working for one of Australia's leading brands.
Today, you'll find her making big decisions in her bustling Melbourne office; on set overseeing the latest TV commercial; or at home, studying towards her Bachelor of Business through Swinburne, via Open Universities Australia.
While Nykkea loves what she does for work, she's always looking ahead into the future.
"When I go up against other people for jobs in 5 years time, everyone's going to have a degree, and I need one too" she explains.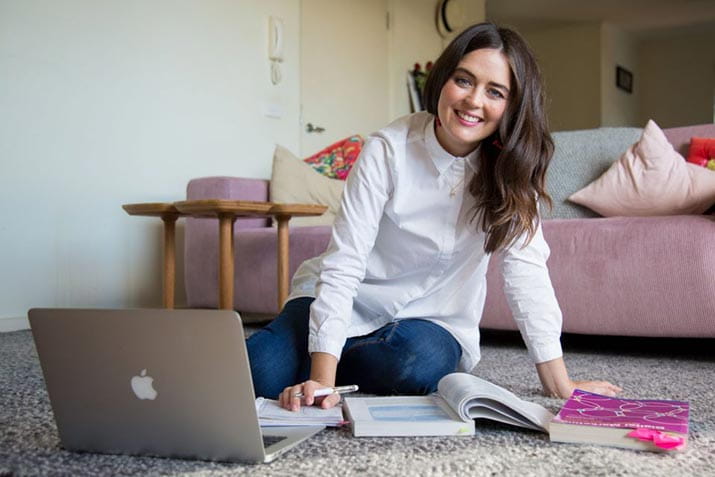 Nykkea was at first hesitant about studying online.
"I'm not straight out of high school anymore – I'm a mature aged student, I like to say experienced" Nykkea laughs.
But it wasn't long until she realised the flexibility it could offer her – not only schedule-wise, but also in choice of units.
"My Bachelor of Business degree is through Swinburne, but I can pick and choose electives from various other unis" explains Nykkea.
"So I've done [units] from Griffith, University of South Australia, there's some at Curtin… and I like that."
Nykkea looks forward to getting up on stage at her graduation ceremony, and being handed the piece of paper she's worked so hard for.
"I know I'm going places," smiles Nykkea, "So stay tuned".
Why study with OUA?
Find the right degree for you – We can help you choose from thousands of courses. All in one place
No barriers to study – We offer open enrolment subjects. Once successfully completed, these can be used to get into some full degrees without any entry requirements.
Gain credit towards your degree – Apply for credit for past study, or your work experience, and finish faster.
Graduate with a degree from a leading uni – Study through us, but graduate with exactly the same university degree as on-campus students.
Support from start to finish – Our student advisors can guide you in the right direction and help with your enrolment.
Browse  thousands of courses from leading Australian universities.
Or complete the form on this page to chat to an advisor about study options.
Explore courses