If you're one of many Australians self-isolating with a significant other, chances are you're feeling a little… on edge. So, how can you keep your relationship alive during COVID-19?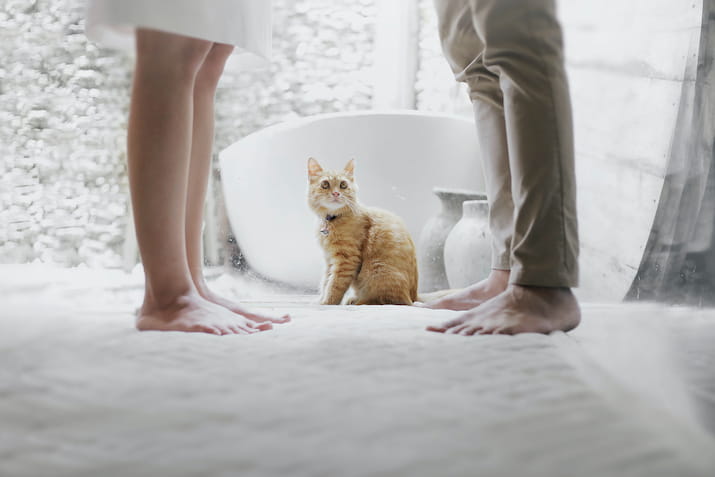 For many of us, the rise of coronavirus has resulted in a downturn in work. But not for divorce lawyers, who are predicting an influx in requests from once-happy-couples whose relationships were damaged beyond repair during self-isolation.
So, if you're currently coupled-up while bunkered-down, what can you do to ensure you return to the outside world as a pair?


1. Listen to each other
It sounds pretty basic. But now that you've got the extra time at home, why not use it to talk and listen to your partner? There's never been a better opportunity.

Set yourself a night once every week where you remove distractions – Netflix, puzzles, gaming (and kids if you can put them to bed early) – and talk to each other without judgement.

Make a night of it. Cook some good food, put on some music and get comfortable. Why not ask some questions you've never asked before?
If you want to use these conversations as an opportunity to ask your partner to change their behaviour, try to ask without criticism.


2. Take care of yourself
Chances are that prior to COVID-19, you were taking better care of yourself. With life as we know it turned on its head, simple wellbeing routines have gone out the window for many of us.
Now, we could tell you to eat healthy, drink and smoke less, and get more sleep – but this point in particular is about scrubbing up.

One day or night, give yourself a home mani-pedi (yes, guys can do this too), have a long bath or shower and put on your best-looking outfit. Dress as though you're heading out for a date night. Chances are, you'll feel better and your partner will thank you for it.
3. Be gracious
Do you feel grateful towards your partner? If so, when is the last time you told them? This is something we tend to forget to acknowledge in our loved ones. And even more so when we're around them 24-7.

But taking a moment to mention what you appreciate in your partner can really improve the dynamic of your relationship.
You don't even need to call out anything in particular – whether that be them cooking dinner, washing the dishes or doing the laundry. You can simply tell them that you're grateful to have them in your life.

Remember, we're all going through a tough time and chances are if you're in a relationship, one of you will be feeling the heat.
Go easy on yourselves, look out for each other and try to be patient. These hardships will pass, but if you put in the effort now, your relationship can last a lifetime.
Browse  thousands of courses from leading Australian universities.
Or complete the form on this page to chat to an advisor about study options.
Explore courses