Into interiors but trying to distinguish the difference between interior design and interior architecture? We compare these two creative and innovative careers (and get some expert advice on the matter).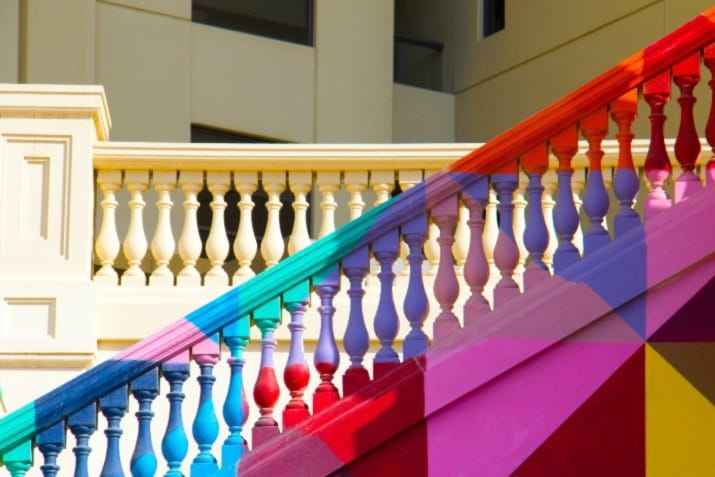 While both interior architecture and interior design focus on designing interior spaces that transform the way we live, work, and play, they are fundamentally different in practice.
Put simply, interior architecture focuses on the functionality, structure and space-planning of interior spaces. Whereas interior design focuses more on the aesthetics of these spaces (things like finishes, fixtures, and decorative lighting).
As businesses continue to adapt to flexible and hybrid working, both professions are in demand and are expected to grow between 11-19% by 2026. Maybe it's time to transform the way you live, work and play?
What is interior architecture?
We asked Studio ESTETA Director and Architect Felicity Slattery to weigh in on the topic. As a director of her own architecture practice, she frequently works with both professions.
"Interior architecture is the design of an interior space that considers both the aesthetic and structural (architectural) elements of the space," she says.
"An interior architect is trained in understanding and considering all the elements of the interior space including structural, architectural, electrical, plumbing, and more," says Felicity.
An interior architect will produce detailed architectural drawings, schedules, material specifications and project budgets. They need to know local building codes and regulations. Plus, they need to be able to manage a project, contractors, budgets and orders from the beginning to the very end.
Why not everyone can call themselves an 'architect'
The term architect is not to be thrown around lightly. A bit like 'champagne', it's a word with rules attached to its use.
"You can only use the title 'architect' if you've studied architecture and have then gone on to complete your architect registration course with your state governing body," says Felicity. That means completing a bachelor degree (in architecture or a related field) plus a masters degree in architecture, followed by registration.
In other words, studying a bachelor degree in interior architecture does not qualify you to call yourself an interior 'architect'. Nor can you say 'graduate architect' or even 'student architect'. In fact, it's illegal.
Architects work with structures and therefore need to be more highly regulated. Instead, you're technically an interior designer until you complete your Master of Architecture and successfully register as an architect. So, wait until the time is right before you use that brag-worthy title!
An interior architect will tend to work in tandem with an architect. Sometimes, creating a space from scratch. Other times, transforming one space into another (known as 'adaptive reuse'). Former prison? Now a posh penthouse. Tired office building? Now affordable housing. So, they're kind of magicians. (If only it were as simple as 'hey presto'.)
What is interior design?
Interior design is also the design of an interior space, but there are stark differences with interior architecture.
"An interior designer is typically only trained in the aesthetic qualities and their training or knowledge may be limited when considering the architectural, structural, electrical, and plumbing aspects of an interior space or building," says Felicity.
Because of this, interior designers cannot work on any structural elements of an interior space. Instead, they work to enhance the look and function of an architecturally-designed space.
An interior designer helps to create mood, atmosphere, and functionality through things like lighting design, evocative textures, textiles, colour palettes, furniture placements, and even designs for custom storage, kitchens, bathrooms, furniture, bedrooms and more.
The interior designer must have knowledge on the history of the interior (Egypt is said to be the birthplace of interior design) and lives to boost sensory delight and make people feel comfortable in their interior environment.
Interior design involves research, analysis and integration of technical knowledge into the creative process. Interior designers need to communicate ideas, work with Computer-Aided Design (CAD) programs, and effectively produce and implement detailed 2D and 3D illustrations and working drawings, specifications, schedules, and mood boards.
Which is best, interior architecture or interior design?
Whether interior architecture or interior design is best really depends on who is asking. If you're looking for a more technical (aka challenging!) role where you'll be responsible for designing internal structures, then perhaps interior architecture is for you.
Whereas, if you're more captivated by colour palettes and mood manipulation, then interior design might be more suited to your palate.
Who earns more, interior designers or interior architects?
Typically, an interior architect can command a higher salary than their interior design counterparts. This is because of their extra knowledge, skills, training, experience and responsibility.
At the time of writing, according to SEEK, the average annual salary in Australia for an interior designer is $78,000 a year. Whereas an interior architect earns closer to $85,000 a year.
Can an interior designer become an interior architect?
With further study and registration, it's a definite yes! But, how do you get from here to there? Read on:
Scenario 1: You already have a bachelor degree
Look into enrolling in a Master of Architecture, such as this online option. If your bachelor degree is in interior design or interior architecture, you could potentially be accepted into a masters program based on your creative folio and any relevant units you've studied.
Scenario 2: You don't have a bachelor degree yet
Sign up for one! To ensure a smoother transition into your masters later on, we highly recommend doing a bachelor degree in architecture (not interior architecture!). Prefer studying online? Consider this Bachelor of Applied Science (Architectural Science).
If you'd like a taste of architecture to confirm whether it's for you, enrol in an Undergraduate Certificate in Architecture, such as this one. In it, you'll complete 4 core subjects. The credits you earn could very likely count towards your bachelor degree, should you choose to pursue it.
Completed your masters in architecture? Get registered.
You must do this if you want to call yourself an architect and practise as one (whether as a regular architect or interior architect). Have a look at Victoria and New South Wales's Architects Registration Boards. Every state and territory has one.
Now, more than ever, we need spaces that help us feel at once safe and free. By becoming an interior designer or interior architect, you'll get to help people feel incredibly at ease, all while flexing your creativity (and tremendous Tetris talent).
Find out more about becoming an interior designer.
Browse  thousands of courses from leading Australian universities.
Or complete the form on this page to chat to an advisor about study options.
Explore courses