In our 30 Years Series, we reflect on the achievements of our students in the three decades since Open Universities Australia began. Today, you'll hear from Bachelor of Communications (Griffith University) and Graduate Certificate in Health Promotion (Curtin University) graduate, Melissa Cartledge.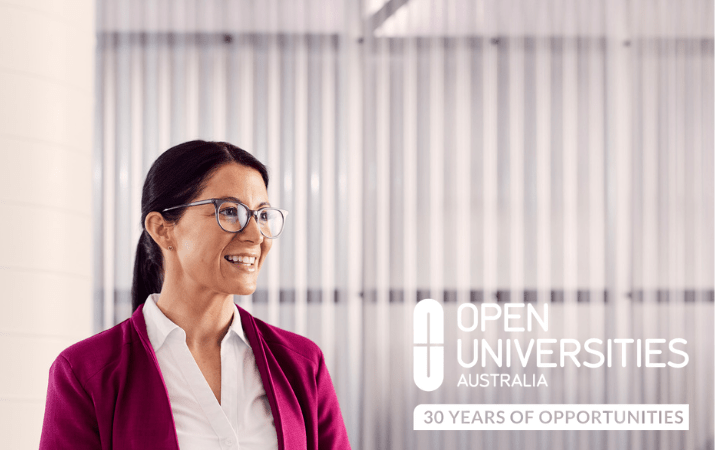 Speaking with Melissa, it becomes clear that her career (like all of our careers, really) could have gone many ways. In Grade 5, the now Director of Oral Health Relationships at Dental Health Services Victoria had the very equal-handed aspirations of being either "a checkout operator or the Prime Minister". Let's hear how Melissa went from strength to strength, taking leap upon leap, to get where she is today.
As Open Universities Australia turns 30 this year, we're reflecting on how far we've all come. What was life like when you started study, Melissa?
"Throughout school, my goals changed and by the time I finished high school, I was so lost and confused—my parents suggested a traineeship to get me into the workforce while I tried to figure things out. I completed my Certificate III in Dental Assisting and worked in the dental industry for several years."
"At 25, having just had my first child, I had time to think about what I might want to do, hoping to move out of the healthcare sector and into copywriting or marketing. With personal commitments and responsibilities, leaving work to study was not an option—so Open Universities Australia was critical to my success. I was able to enrol and design my study schedule around my baby and part-time work."
"After completing my Bachelor of Communications with Griffith University through Open Universities Australia, I was still at a crossroads. I was looking for opportunities that allowed me to use my newfound knowledge in communications, but wasn't ready to walk away from healthcare. I applied for entry into the Graduate Certificate in Health Promotion with Curtin University through Open Universities Australia and upon completion was successful in my application to work at Dental Health Services Victoria—the perfect role that combined my communications degree with my health promotion post graduate qualification. A far cry from being a checkout operator or the Prime Minister!"
That's an incredible path to where you are today, Melissa. What are your biggest career highlights along the way?
"I have gone on to have more children, all while studying which has been a huge achievement for me. I am a mum of four boys, all who understand that mummy must work on her computer sometimes for her 'schoolwork'. I have never had to decide between an education or a family; for that, I am very grateful."
"Successfully completing my degree [is another highlight]. I wasn't the smartest kid at school and scraped by despite trying very hard. I certainly didn't think I would be smart enough to ever attain a degree—so it was a significant achievement to make it through!"
"[And] Landing my current role at DHSV was a significant milestone in my career. From my early dental assisting days, I had dreamed of working in a healthcare leadership position that would provide me with opportunities to influence and improve health systems and subsequent care for consumers. Without my tertiary education, this would not have been possible."
What would you say to students thinking about taking the leap into study, but are feeling cautious?
"I understand because that was me. It can seem like a huge commitment to embark upon. I just figured that I wanted my life to change, I wanted more opportunities, and I wanted personal fulfilment —to prove to myself that I could do it. And I was never going to achieve that by doing the same thing every day. I needed to take a risk, so I enrolled. I figured the worst thing that could happen would be that I couldn't manage the workload, or I hated it, in which case I would have withdrawn."
"There have been subjects I haven't done well with, and times I have wondered whether it was worth it when I have missed events because of an exam, or I am up late at night when the kids are in bed, and I am catching up on studying. But I knew there was more to my career, and I needed to put in some effort, and be challenged, in order to accomplish that."
On that same note—if you could go back to the time before you completed your studies and tell yourself about the life you've achieved now, what would you say? What advice would you give?
"Just keep trying. Keep on going. Keep on working, one subject at a time. Because a degree can sound overwhelming, and graduation can seem so far away. But you just need to at least try. You need to back yourself—you can do it, you can achieve your goals, even if the goal is to complete one unit."
"Also, that it is okay if your goals change. Because you will change as you get older; you will grow. The more you learn, your perspective on the world is bound to change. Having completed my Bachelor of Communication and then the Graduate Certificate in Health Promotion, I am now completing a Graduate Diploma in Psychology, with a view to perhaps a Master of Psychology—but we will see! It wasn't in my original plan, but through my previous studies, I have been drawn to Psychology and am really enjoying the course."
What is one benefit of study that you weren't expecting?
"So much personal growth and confidence. I was not very academic at school. I tried, but I was never the straight A student, or even straight B's for that matter! And that is what I thought you needed to be to go to university."
"Successfully completing my first subject was a huge moment for me in recognising that I was far more capable than I gave myself credit for. It showed me that I could do more than I expected, and this success motivated me to keep going. Sure, there have been subjects I haven't done well on, and sometimes an assignment or exam result comes back that makes me question my capabilities again. But I reflect on all that I have accomplished and remind myself that it doesn't have to be perfect. I just keep trying. And that attitude has promoted significant personal growth for me too, allowing me to back myself with confidence more and more."
What are your goals for the future?
"I'm looking forward to completing the Graduate Certificate in Psychology (RMIT University), and perhaps going on to complete my masters!"
As Melissa continues to pursue her goals through lifelong learning, we continue to cheer her on from the sidelines.
Are you an Open Universities Australia graduate with a story to tell? We'd love to hear how far you've come as we celebrate 30 years of opportunities through education.
Browse  thousands of courses from leading Australian universities.
Or complete the form on this page to chat to an advisor about study options.
Explore courses