Meet Neeti Bhutani, a Product Manager for the Marketplace team. She's passionate about empowering students to explore the thousands of options available on our website.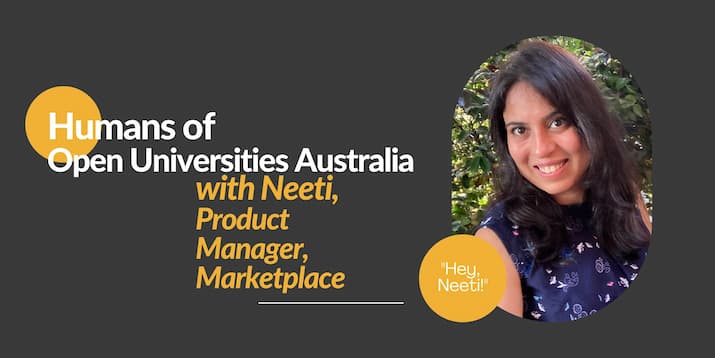 1.
Tell us your name and your role at Open Universities Australia?

My name is Neeti Bhutani and I am the Product Manager for the Marketplace team. It's our mission is to empower students to efficiently explore all study options through the Open Universities Australia marketplace and confidently choose the one that is right for them.

My role manages the entire life cycle of this, from strategic planning to tactical product development, ensuring we not only solve the right problems, but also create great experiences for students exploring the Open Universities Australia marketplace.
2.
What was your role when you started and how has it changed?

When I joined Open Universities Australia early in 2022, my primary focus was to scale up the number of students who explore and enrol through the Open Universities Australia marketplace.

Within a couple of months, what I was responsible for expanded. Now I'm building strategies to enhance engagement (how people use our marketplace) and retention (keeping students returning) . This is in addition to acquisition (attracting new visitors to our website) and activation (converting visitors into students).
3.
What led you to working at Open Universities Australia and why?

The majority of my work life has been with Fintech (that's life insurance, property insurance and accounting), so I was looking to explore other domains.

When an ex-colleague referred Open Universities Australia to me, I was excited to find a not-for-profit organisation that values education and aims to transform lives by simplifying access to higher education for everyone, from anywhere.

Being a mum of a young girl, my priority was to strike a healthy work-life balance and Open Universities Australia provides a safe and encouraging environment to maintain that.
4.
What do you do every day to transform lives through education?

I really believe in Open Universities Australia's value of 'Act for Customer'.

To achieve this, I make sure that my team and I are practising continuous discovery habits. We regularly talk to students and learn about their education goals. We also observe their struggle with exploring the right study path and analyse their use of the Open Universities Australia marketplace. This allows us to identify opportunities to provide efficient transactions with the help of innovative technology.
5.
What is your favourite part of your role?

I love the cross-functional nature of this role.

To be able to prioritise the right problems/opportunities, I need to understand the big picture (this includes Open University Australia's company vision, market conditions, and industry knowledge in the education space). This allows me to bring a product vision to life by working out the details of a concept, idea or product that will help students.

To ensure this all comes together, I need to align on the "why", "what", "how" and "when" with different internal Open Universities Australia stakeholders—this includes members of senior leadership, engineers, user experience, design, content, sales, marketing, support, data and more.

For me, I really enjoy switching between the "zoom in" and "zoom out" lenses of my role every day.
6.
What is your proudest moment or career highlight during your time at Open Universities Australia?

I'm working with a high performing team of passionate, curious individuals with brilliant brains, which makes every moment at Open Universities Australia a proud moment!

For example, my team was trying to improve the experience with the Help Me Choose tool—an online quiz that helps students narrow down their study options based on their work and education history, their interest area and life commitments.

It was exciting to be part of a team that tirelessly tried different variations of the quiz until they singled out the one that worked the best for students. Their perseverance and quest for outcomes over outputs is an inspiration for me!
7.
What would you say to students thinking about taking the leap into online study?

One thing that COVID-19 has taught us is that online study is not only feasible, but it comes with the perks of flexible schedules and self-paced learning.

If you're still unsure about it, there are plenty of options to start small. How about trying out a single subject with Open Universities Australia before committing to a longer course? We have options for everybody.
8.
What would you say to someone thinking about working for Open Universities Australia?

I would say that Open Universities Australia staff really practice the values of respect, openness and transparency and always keep our customers (that is the students and universities we serve) at heart. If you're a curious individual who loves to innovate, experiment, and grow, Open Universities Australia is the place for you.
9.
What do you do when you're not working behind the scenes at Open Universities Australia? How does this make you a better employee?

I enjoy spending time with my family, especially my 7-year-old little girl, painting and reading.

Parenting has taught me to be curious about the ways of the world, be excited about new learnings and celebrate every single achievement. Painting is also a form of meditation for me. It teaches me to focus on smaller details while keeping the big picture in mind. Reading opens new avenues and gives me new knowledge that motivates me to experiment.
10.
Finally, tell us a fun fact about you!

Every weekend, I write out a menu for my entire week and stick it on my kitchen wall so that I don't have to think what to cook and eat at each mealtime!
Browse  thousands of courses from leading Australian universities.
Or complete the form on this page to chat to an advisor about study options.
Explore courses