It has everything to do with creativity, determination, choosing the right qualification and writing a sound business plan.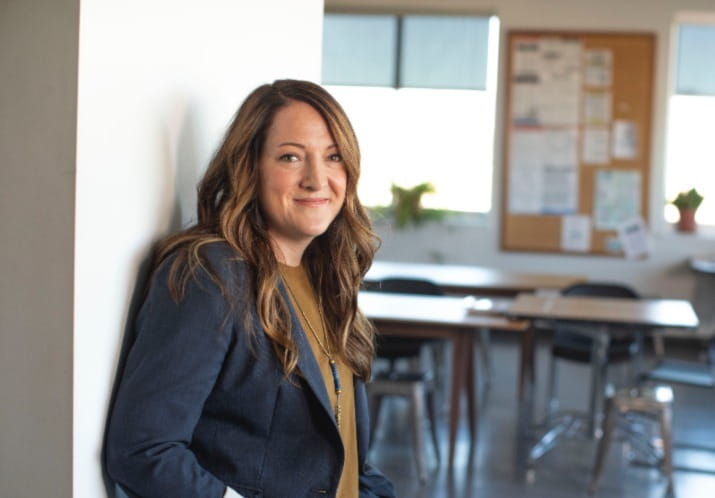 Hands up if you've religiously pored over every single Home Edit and Queer Eye (seasons 1-6) episode? Extra points if you were around for the latter's somewhat daggily-named, pre-Netflix incarnation Queer Eye for the Straight Guy.
If this is you, then your clear enthusiasm for interior design should be nurtured to live out loud.
Working for an interior design studio is relatively straightforward—you show up, do the work and collect the paycheque. But starting your own interior design business is a whole other kettle of paint swatches. Here's how to do it.
Define your interior design style
Before starting an interior design business, it's really important to think about the niche you'd like to shape for yourself. As with other creative businesses, you should strive to offer something unique. Sure, there are designers out there whose aim is to mimic the minimal, clean look so favoured by property-for-sale photos, but they're a dime a dozen. The likelihood of those designers commanding a premium…not so much.
Scandi, mid-century modern, industrial, French country house, traditional, boho, coastal, art deco—you're probably already familiar with these popular design eras and styles. But a quick peek into magazines like Dwell and Domino will reveal that the most noteworthy interiors don't slavishly follow a single style.
1950s op-shop chest-of-drawers next to a $15,000 curved velvet sofa set against a Brutalist converted warehouse space? Potential formula for greatness. Point being, you need to figure out your own singular look and approach, then bring that to the projects you design for.
So, how do you find your style and feel confident that you're flattering a room's good side (while camouflaging its bad)?
Get qualified as an interior designer
As an interior design business owner, you'll probably be the design lead (as well as project manager, marketing manager, admin person, finance controller, all in one—deep breath, we'll cover these bits later).
While you may have a natural talent for colours and textures, a formal qualification will teach you tried-and-tested techniques for spatial planning. You'll also explore different styles to help you pinpoint your 'look'.
Plus, it'll give you the language to explain why neon green and screaming hot pink aren't the best combination for the study, unless that's the vibe you'd like to recommend, in which case, ditto on learning the appropriate (read—persuasive) terms to throw into the client conversation.
Whether it's a bachelor degree, undergraduate certificate or diploma, or short course you're looking for, Open Universities Australia has online options. You can also find the full lowdown on how to become an interior designer here.
Who is the target audience for interior designers?
It would be pretty scary if all interior designers were competing for the same group of clients. Luckily, different designers appeal to different types of clients.
You probably have an inkling of the type of person who would find your aesthetic appealing. The friends who constantly ask where you stumbled upon this vase or that armchair. The long-time running buddy of your mum-in-law who commissioned an interior designer to redo her apartment.
Now create a composite of their traits—age, demographic, profession, favourite brands, weekend pursuits, music tastes, social media habits. The more detail you can put into this potential client 'persona', the better. This is your target audience, and you'll want to tailor your marketing and communications specifically for them.
How do I market myself as an interior designer?
There's never been a better time to own a small business. With the ubiquity of social media and the ease and efficiency of digital marketing, you should be able to reach your target audience without spending too much money.
First up, you'll need a business name, logo, website and social media account. You don't want to spend all your time updating social media, so just pick one channel. Your target audience persona might give you clues as to which one your potential clients prefer using. You'll also want to consider that, at time of publication, Instagram is still the go-to platform for products and services that rely on visual impact.
You'll want to feature your work on both your social media account and website. Social media can be more informal, a place where you post in-progress shots (which should still be as composed as photos of completed projects).
If you're keen to build your portfolio, why not do a couple of pro-bono jobs for friends? You could even make over different rooms in your own house. Consider trading interior design services for a photographer's help, or at least lessons, so you can shoot your own completed projects.
Finally, your current and past clients are your most powerful marketing tool. Their recommendations are worth exponentially more than any advertising you could ever pay for.
Who does the admin and finance for interior design businesses?
As an interior designer starting your own business, you're likely to be a sole trader. And, like other sole traders, you'll probably start by wrangling your own estimates and invoices, business activity statements (if you charge GST) and general bookkeeping.
A word of advice—as soon as you can afford it, think about signing up to a virtual accounting service like
Xero
or
Hnry
. Your time is valuable, and you should be using it to design or gain new clients, not on paperwork.
Is the interior design business profitable?
Great question, and a perfect segue into the important topic of writing your interior design business plan. With a good strategy (that you actually try to implement!) and measurable goals, you're far more likely to achieve what matters, while giving yourself license not to sweat the small stuff.
Here are key areas to put into your business plan (which we've covered above!):
Product/service: What are you selling and why should someone choose you over all the other interior designers in the market? How will you communicate this difference?
Clients: Here's where that target audience persona fits. Whenever you have an idea, ask yourself how your target client would respond to it.
Marketing: Are you giving your target audience the content they want? What's working well and what needs to be improved? What other ways can you think of to reach your target audience?
Profit and revenue: What are your costs? How much money do you need to make to be able to turn a profit? How does that translate into pricing? How much work do you need to do to achieve your desired profit? Are these numbers realistic? If not, what do you need to adjust?
Planning ahead: What are potential issues or challenges you might face and how will you deal with them? How will you measure success—profit, number of customers, number of followers on Instagram—only you can decide what's crucial.
Which is a long-winded way of saying, yes, an interior design business can be profitable, if you're pragmatic and committed to achieving your goals.
Creative people can be business people too—with degrees that combine interior design and business, like these!
Browse  thousands of courses from leading Australian universities.
Or complete the form on this page to chat to an advisor about study options.
Explore courses