You've been captivated by motion on the big screen, and on little screens, since you were little yourself. So, is learning animation in your future? We ask an animator exactly what it takes.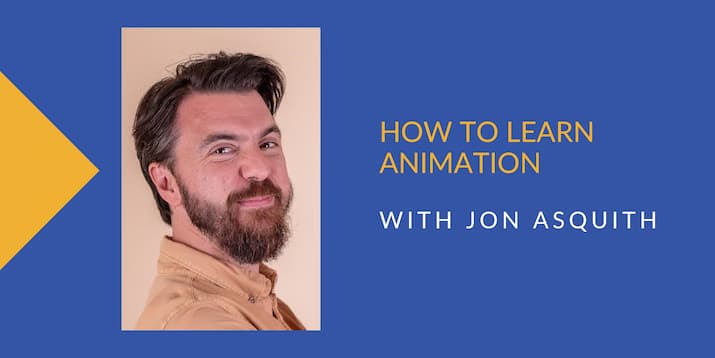 From 3D animation, to 2D animation, and even game animation, there are plenty of motion graphic career paths for those willing to dedicate themselves to a life spent making things move.
But what is learning animation actually like? And once you're qualified, what can you expect from the industry?
Jon Asquith is a Senior Animator for Melbourne-based studio Dirty Puppet, as well as a sessional tutor in the field at Swinburne University of Technology. We sat down to ask him a few questions about learning animation and sketching out success. But first, let's cover the basics.
What is animation?
Animation is a creative technique by which still images are manipulated to look as though they're moving. Animation is used in films, advertising, on social media, and in games.
What is 2D animation?
2D animation is when two-dimensional characters, shapes and text are manipulated to appear as though they're moving. This was the original animation art form that gave birth to Snow White, Cinderella, and Fantasia. Today, it's still readily used in explainer videos, advertising, cartoon series and the odd feature film.
What is 3D animation?
In 3D animation, the graphics being manipulated appear to be moving through a three-dimensional space. Depending on the art style, this can come across as more "realistic"—but oftentimes, it's simply a different way of telling a story. 3D animations include the beloved Toy Story, and the more recent smash hit, Frozen.
Animator Jon Asquith shares his thoughts.
1. What is animation work like day-to-day?
"Something I love about working in animation is the day-to-day can vary greatly depending on the project you're working on. You can be animating a cartoon dog one day, then a more abstract artistic piece the next."
"There's always something new on the horizon to keep your creative mind occupied."
2. Does animation require drawing skills?
"I might get crucified by some colleagues for saying this, but it's not essential. You will 100% have an advantage if you can illustrate though."
"My path to working in animation was through studying film making, so I never came to the industry with illustration skills—I was more interested in observation and movement."
3. How long does it take to learn animation?
"Like many creative fields, in some ways you're always learning—I feel like I am! In terms of education though, if you choose to enrol in a university course you can learn a piece of software pretty quickly in one semester. Then it all comes down to putting in the hours to practice your skills."
4. Is there much difference between the skills required for 2D vs 3D animation?
"Yes and no. The animation principles are the same and your observations and sense of character are applicable no matter the process, but obviously the software is pretty different."
"To state the obvious, you're dealing with an entire extra dimension in 3D, so some tricks or hacks you might use to hide the seams in 2D won't work. Like anything though, with enough practice, you can swap between them."
5. What are your top tips for learning animation and breaking into the field?
"Once enrolled in a single subject or full degree, working on assignments is important, but try to find time to work on your own ideas too. Even if they're 5-second cool visual ideas with no context."
"When looking at reels, employers are going to be more impressed by a variation of work, rather than two assignments. Also, I'd recommend establishing a presence onlineset up an Instagram and website for yourself that you can quickly direct people to. Oh, and attend animation events! There's so many festivals, groups and meet-ups these days."
6. What type of people make the best animators?
"This is a hard one, I've met so many different kinds of people over the years. If you're cut out for animation, I think you'll find yourself observing other people and things in life, how they move and what makes them "feel" like what they are. So observant people I suppose."
7. What are the best free programs to start playing around on?
"Blender is a great 3D package that's free. On the 2D side it's a little harder—Toon Boom Harmony lets you try for free. If you're studying through a university, you can often get the Adobe Creative Suite for free or cheaper too."
8. What are some great resources for information for those starting out?
"There's almost too many to count, but YouTube for sure. Rather than recommending a specific channel, I'd suggest looking up tutorials of techniques you're interested in and then adapting them to fit your own project and style. Don't simply copy them and put them in a reel, make them your own—it's what employers are looking for!"
9. What would you say to someone thinking about taking the leap into studying animation?
"Do it! There's a learning curve with software, but once you're over that hump, there's an endless world of creativity waiting for you! Is that cheesy to say?"
10. What's the best thing about working in the animation industry?
"The variety of work is what keeps things fresh. There's always something different on the horizon. I often can't believe I'm getting paid to essentially play with my creativity. The community is great, too!"
Courses for animation
Explore a range of animation courses from leading Australian universities available to study online through Open Universities Australia.
The best part? Study through Open Universities Australia puts you in the driver's seat. Study when you want, how much you want and where you want. You'll graduate with the same qualification from the university you enrol with as if you had studied on campus.
Browse  thousands of courses from leading Australian universities.
Or complete the form on this page to chat to an advisor about study options.
Explore courses