Wondering "which career is right for me?" Answer these five questions and we'll help you figure out what your future holds.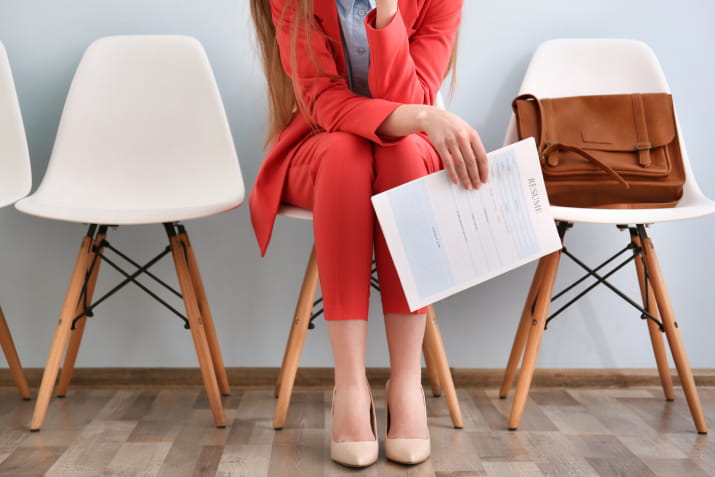 Are you about to finish your university course? Give yourself a huge pat on the back—you've earned it. All those long nights of studying, cramming for exams and sweating over assignments are about to pay off.
It's only natural to feel anxious about what comes next, especially if you haven't decided on a career pathway yet. After all, getting qualified can open doors you didn't even know about when you first started studying. How do you choose which way to go?
Let's come up with a shortlist of career options together. Get a pen and paper and write down your answers to the following questions.
Five questions that will help you choose a career
1. What are you qualified to do?
It sounds obvious, but it's worth jotting down absolutely everything you're qualified to do, based on the skills you gained during your course. This will give you a broad list of ideas to start with.
If we use a Bachelor of Business as an example, you could list marketing, sales, advertising, human resource management and entrepreneurship.
2. What interested you during your course?
Next, think about what you enjoyed most about your course and what you were good at. What were your favourite subjects? What projects did you like doing? What discussions grabbed your attention?
And, on the flip side, what didn't interest you? What subjects or tasks did you dread doing? Writing this down will help you eliminate roles that aren't a good fit.
In the Bachelor of Business example, maybe you loved learning about digital marketing, business strategy, chatting about new technologies and doing research, but you hated learning about finance and doing presentations.
3. What tasks would you like to spend your time doing?
You want to choose a career that keeps you engaged. So what tasks could you see yourself doing quite happily every day? Think about tasks you enjoy doing in general, across study, work and at home.
Let's say you like organising schedules and plans, being creative, doing research, collaborating with people and staying on top of trends.
Are there any tasks you would absolutely hate to do every day? Examples include talking on the phone, managing budgets and coordinating other people.
4. What are your personal values?
This question will get you thinking about the industries you'd like to work in. What causes, beliefs and values matter to you on a personal level? How strongly do you feel about things like:
The environment
Social justice
The arts
Health and wellbeing
Altruism
Creativity
Knowledge and education
Family
Money
Relationships
Spirituality
Adventure
Innovation
Travel
And what makes you uncomfortable from a values point of view? Are there any industries you're unwilling to work in because they don't align with your personal beliefs?
5. What lifestyle factors matter to you?
When you think about your future career, what are your dealbreakers in terms of lifestyle? Setting your boundaries now will help you narrow down roles and industries even further.
Ask yourself:
What kind of salary am I willing to accept over the long-term?
Am I okay with overtime or working on the weekends?
Do I want to work remotely, in person, or am I happy with a combination of the two?
Do I want a desk role, or would I prefer to get out and about?
Am I looking for a busy workplace or a quiet workplace?
Do I prefer to work with a lot of people, a few people or solo?
What matters most to me: passion, stability, pay, advancement potential?
It's time to create your shortlist
By now, you should have a list of must-haves and must-not-haves. Let's use your answers to create a shortlist of jobs and industries.
Here's where we could have landed with our Bachelor of Business example:
My ideal role
My skills and qualifications
My interests
My dislikes
Tasks I want to do
Tasks I don't want to do
Marketing
Digital marketing
Finance
Plan and schedule
Talk on the phone a lot
Advertising
Strategy
Presentations
Be creative
Manage budgets
Sales
Technology
Research
Coordinate other people
Human resource management
Collaborate with others
Entrepreneurship
Stay on top of trends
My ideal industry

My values
My lifestyle dealbreakers
The environment
Room to grow to a $90,000 per year salary
Creativity
No weekend work
Relationships
Hybrid working
Adventure
Smaller team
Innovation
Quiet workplace
Passion
Desk role
When you look at these answers, it's clear this student wants to work in a strategic digital marketing role where they get to be creative and do some independent work. Now they can go to SEEK and LinkedIn, browse marketing roles and figure out which job titles match their preferences.
They'll also be able to spot the industries that fit their values and lifestyle dealbreakers. In this case, they're looking for a smaller business in an industry that they care about, where they have the freedom to work from home. But they're also looking for creativity, innovation and adventure. They could decide to narrow their focus to startups in the tech industry.
Try it out for yourself and see how you go.
TIP: If factors like job stability, salary or job satisfaction are likely to sway your decision, check out SEEK's job growth trends tool. It tells you which roles earn the most money, attract the most job ads and have the happiest workers in each industry.
Keep in mind, the average Australian worker switches industries five to seven times. The career direction you choose now doesn't have to define the rest of your life. You'll discover new interests, try new paths and explore new talents as your career evolves. This is just your starting point.
Read next: How to write a good resume (and tailor it to your industry)
Browse  thousands of courses from leading Australian universities.
Or complete the form on this page to chat to an advisor about study options.
Explore courses