If anyone's got a demanding schedule, it's an elite athlete. That's why we sponsor athletes at the VIS, so they can fit study around their training.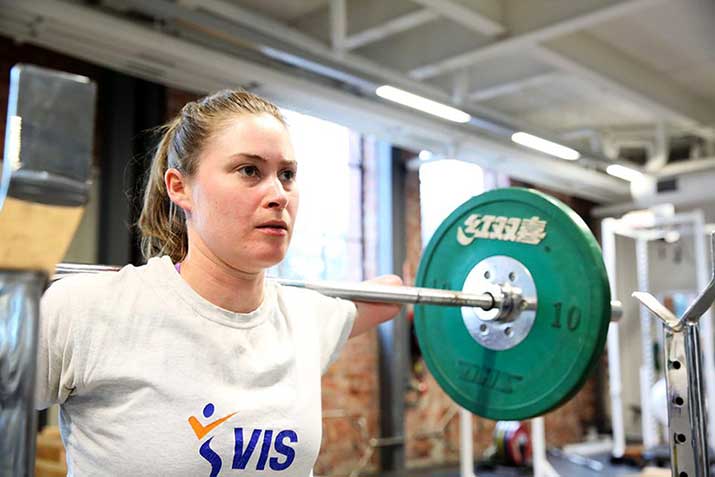 We're big believers in making university study accessible to everyone. That's why we have flexible options for all, so that you can expand your career opportunities and achieve your goals. At Open Universities Australia (OUA), it doesn't matter if you're an office worker or elite athlete, we're here to help you find the right degree for you, and support you from start to finish.
As we know, athletes have strict training schedules and regular requirements to travel for competitions. The flexibility of online learning is critical to Australia's elite athletes at the Victorian Institute of Sport (VIS). That's why we established an educational partnership with the VIS which is now six years strong.
The VIS is a state government funded organisation that supports over 200 elite athletes from a wide range of sports. This includes Olympians, Paralympians and World Champions. At the VIS, athletes not only receive specialised coaching, sport science and sports medicine services, but they also receive career and education advice to ensure they succeed in both sport and life.
"OUA has always found the VIS mantra of 'excellence in sport and life' inspiring. It's a message that resonates well with OUA's desire to offer flexibility and choice through online study to athletes juggling training and competition commitments," says Rhys James, Corporate Sales Manager at OUA.
"Our ongoing partnership with VIS is built on the commitment to personal and professional development, and many of our students continue to be inspired by the stories of VIS athletes and their ability to perform under pressure and achieve great things on and off the track".
Every year we offer unit scholarships to five athletes at the VIS to assist them in pursuing their education goals, alongside their sporting careers. A panel of representatives from the VIS and OUA were responsible for choosing the well-deserved athletes.
Congratulations to the scholarship winners, who are:
We were very excited to have the opportunity to chat with some of the scholarship winners. They told us that study has positively impacted their sporting performance and personal wellbeing. Skiing World Cup competitor and Australian Winter Olympics team member, Samantha Wells felt that the skills she's gained from studying relate to her performance in sport.
"Being able to successfully study and participate in high-level sport at the same time requires discipline, self-motivation, diligence and time management; which are all complimentary skills to my sporting career."
"I knew I wanted keep my brain active and engaged in learning while committing myself wholly to my sport. Being able to choose units online has helped me identify my area of passion – Health Promotion. Success in life can be created through and with sport to create a successful transition into life after sport," she said.
The athletes also explained that study helps them feel more confident about transitioning into other careers when they retire from competing as an elite athlete. Anabelle Smith, London Olympic Games diving competitor, highlighted how online study has helped her feel prepared for the next chapter in her life.
"The confidence study provides me in knowing that I can continue to grow my career when I retire from elite sport is really comforting. Studying online has enabled me to pursue my studies and be overseas to compete at the same time," she explained.
The VIS is passionate about ensuring athletes achieve their goals in and out of the sporting area. Bernadette Sierakowski, Personal Excellence Coordinator at the VIS, fully supports a balance between sport and further education.
"We see how study transforms our athletes, making them feel more confident about other career options after being an elite athlete, whilst also helping them to focus better on their sport. This is why we are so thrilled to have these scholarships through OUA available to our athletes," she said.
The five athletes who have been awarded the scholarships will start their study in May and we look forward to sharing their study experiences.
Browse  thousands of courses from leading Australian universities.
Or complete the form on this page to chat to an advisor about study options.
Explore courses