Want to help people make healthier food choices? Get to know the nutrition experts who guide us on everything from macros to calories for a living.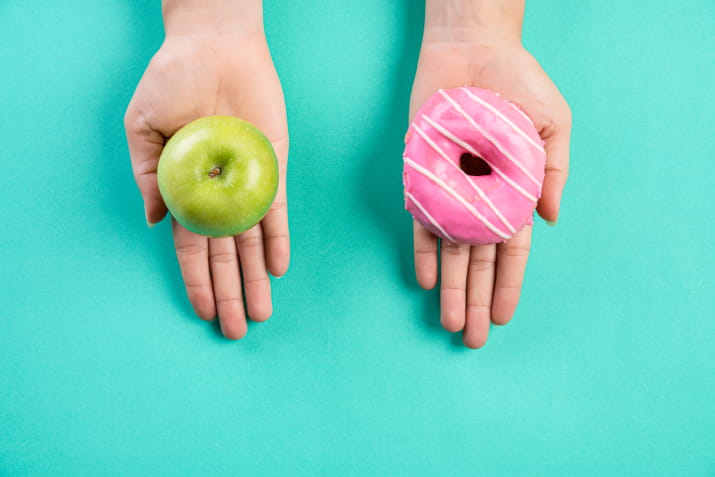 If you've ever wondered what makes a dietitian different from a nutritionist, you're not alone. Since both professions focus on helping people with dietary problems, food allergies and nutritional deficiencies, it's easy to see how there's confusion between them.
But the two careers can be different in a lot of ways. And if you'd like to get into the food and nutrition industry, it's worth understanding what those differences are now. This quick breakdown should give you a good idea.
What is a dietitian?
Dietitians help their clients navigate the connection between food and health. They do this by translating the latest scientific and medical research (plus a whole lot of jargon) into practical advice that people can apply to their lives.
In this role, you'll use your knowledge of food to develop guidelines for managing and treating health conditions like food allergies, diabetes, obesity, cardiovascular disease and even cancer.
Dietitians work in a range of fields including:
Patient care. Develop meal plans for those recovering from surgery, ensuring what they have on their plates is nutritious and a little bit delicious. You can also educate hospital and aged-care patients on healthy diet choices, managing tricky conversations with family and staff to ensure vulnerable people receive good meals.
Private practice or consultancy. Work with a range of individuals, groups and organisations to provide advice on diet.
Community and public health. Develop programs and interventions to help the wider public address food issues.
Advocacy. Improve the nutritional value of foods and develop food safety and nutrition education campaigns.
What is a nutritionist?
Nutritionists specialise in general diet advice, feedback and encouragement. Unlike dietitians, nutritionists are not qualified to provide medical advice or medical nutrition therapy. Instead, they work with people to discover what triggers eating habits, deal in food policy, ensure food safety standards are maintained, and work with individuals to create measurable goals.
Nutritionists generally work in group settings, educating wider communities and organisations. They can also work in other fields such as:
Food regulation. Review policies and regulations around foods, including quality checks.
Food manufacturing. Ensure that food is produced to meet food safety standards.
Nutrition education. Work with community groups to promote an understanding of nutrition and healthy food choices.
Individual consultancy. Work with people to meet their health and fitness goals.
What do dietitians and nutritionists do?
Both dietitians and nutritionists help people develop healthier lifestyles. Here are their key responsibilities in more detail:
| | |
| --- | --- |
| Key responsibilities as a dietitian | Key responsibilities as a nutritionist |
| Speak to clients and learn their health goals, dietary needs, preferences and restrictions | Evaluate client health needs |
| Plan diets and menus | Discuss nutrition and eating habits with clients |
| Provide guidance on diet | Offer counselling and guidance to help improve a client's nutrition and address their dietary restrictions |
| Collect and assess the health and nutritional status of individuals, groups and communities | Develop or source educational resources to help guide client decisions |
| Monitor food intake and quality to provide nutritional care | Determine the best nutrition plan for a client and monitor progress |
| Calculate the nutritional value of food | Create personalised nutrition plans to promote a healthy lifestyle |
| Plan, develop and evaluate nutritional intervention programs | Set clear objectives and provide support to clients as they progress through their programs |
| Develop nutritional assessments, nutrition management programs, educational research and educational programs | Plan and implement diet, menus and meal plans |
| Consult with other health professionals about managing the dietary and nutritional needs of clients | Calculate the nutritional value of food in menus and meal plans |
What do you need to study to become a dietitian or nutritionist?
To become an accredited dietitian in Australia...
You'll need to complete a Bachelor of Nutrition and Dietetics or a Bachelor of Food and Nutrition, followed by a postgraduate Master of Dietetics.
After winding up your studies, you will need to gain an Accredited Practising Dietitian (APD) accreditation by completing a one-year supervised provisional program through the Dietitians Association of Australia. As a dietitian, you will have to meet professional regulations by undertaking continuous professional development and a review of your practices.
If you have your sights set on becoming a nutritionist...
You can either complete a Bachelor of Food and Nutrition, or earn an accredited undergraduate degree in health science, focusing on nutrition and dietetics.
While the term 'nutritionist' isn't regulated—meaning anyone can call themselves a nutritionist—the Nutrition Society of Australia has created a Register of Nutritionists to support and represent those in the field.
What is the salary for a dietitian vs a nutritionist?
| | |
| --- | --- |
| Dietitian salary in Australia | Nutritionist salary in Australia |
| The average salary for a dietitian is $80,000 per year. However, this can range from $70,000 to $100,000 depending on the type of position and experience. | The average salary for a nutritionist is $75,000 per year. However, this can range from $60,000 to $90,000, depending on the role. |
The dietitian and nutritionist salary information above is correct as of 14/03/2022, sourced from SEEK. If you've come to us from the future, double check the supplied figures using independent sources—salaries can change!
Which career is right for you?
It depends on what you're passionate about! Want to combine your love for nutrition and fitness with a rewarding career? Then study a degree in nutrition. Prefer the science and clinical side of food? Then a career as a dietitian might be right for you.
In either job, you will play an important role helping people make the best decisions for their diet and health.
Hungry for more? Explore our dietetics and nutrition courses and study your way, in your own time, with your goals in mind.