David can't think of a better country to study Ancient History than Israel, where his books truly come to life.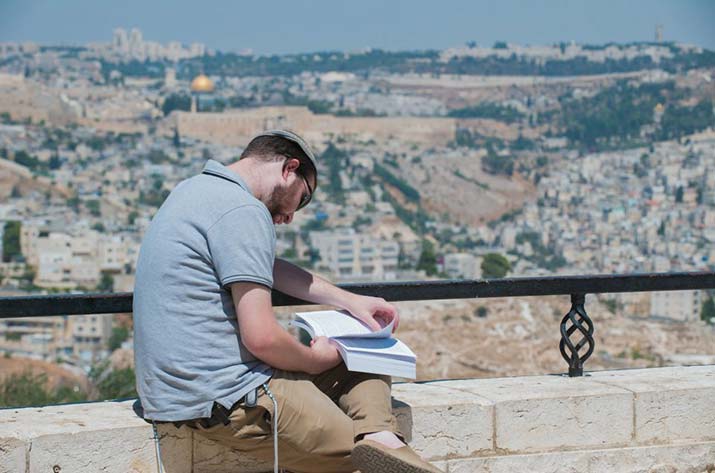 Open Universities Australia (OUA) students come from all walks of life, situated across Australia and far beyond. David is one such student, who has essentially put his studies into his suitcase, and taken them from Milan, to Toronto and Los Angeles, and now, to Jerusalem. David is studying Macquarie University's Bachelor of Arts, with a major in Ancient History, online through Open Universities Australia.
Like so many young adults, David has the travel bug. There's nothing he enjoys more than meeting people from different cultures, and learning new languages and customs. After years of moving from country to country, David decided he wanted to study, and the reason he saw OUA as the perfect solution was that he didn't have to squash his travel bug to get a degree.
Upon enrolment, OUA's Student Advisors helped him put together a degree structure, that would ensure he'd be developing skills to use in his job as a religious educator, and also, to ensure he's studying the topics that excite him. While a little nervous at first, David now sees himself as quite the OUA pro. He encourages others considering online study to get in contact with a Student Advisor, who will help identify what it is they want to achieve, and which path will get them there – wherever in the world they want to earn their degree.
Not sure if studying online is for you?
Through OUA you can study online, at your own pace, from wherever you are. With everything you need, provided in your university's online Learning Management System (LMS), you'll experience uni just like an on-campus student, except you'll have more flexibility to personalise your studies. While you'll be studying in your own time and space, you'll never by studying alone – OUA has a passionate community of online students, and a team of expert guides to help find the right study option for you, and assist manage your studies from start to finish.
Browse  thousands of courses from leading Australian universities.
Or complete the form on this page to chat to an advisor about study options.
Explore courses