Curious about a career in data, but unsure whether data analytics or data science is for you? Look no further than this article. We compare the two so that you'll know which is your ideal future.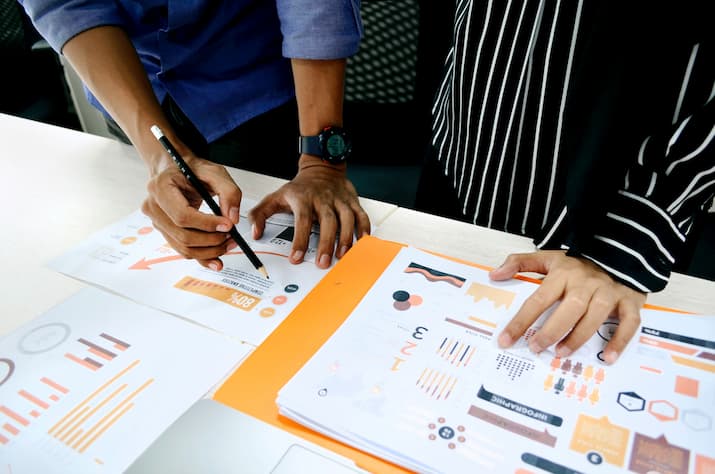 Information drives every industry. The companies and businesses you interact with every day are collecting, storing and processing data across a number of platforms—from our social media platforms to our Netflix logins and hotel booking apps. Even the ads we're served are channelled through a data set that has been collected and organised to appeal to our interests… and shopping history.
As more and more segments of the professional world rely on data to improve their revenue and streamline operations, trained specialists such as data analysts and data scientists are needed to make sense of all those numbers.
Let's look at the difference between these two professions and what steps you need to take to kick-start your career.
Is a data scientist the same as a data analyst?
Although they're connected, they're not the same! An analyst answers specific questions about an organisation or business, while a data scientist develops new ways of asking and answering those questions. Let's take a closer look at their functions.
What is a data scientist?
What is a data analyst?
Think of data science as the foundation for data analytics. Data scientists build and organise the figures data analysts dedicate their time to understanding.

Before any data set is ready for the second step, data scientists create algorithms and models to collect and shape raw information into a clear dataset.

Data analysts filter large swarms of data and extract relevant information and trends. With this intel, they develop answers to questions posed by businesses or even the wider world, striving to improve the decision-making process at every turn.

There are four main types of data analytics (descriptive, diagnostic, predictive and prescriptive). Some data analysts specialise in one or two areas, while others dive into all four or find their niche after a little experience.
What does a data scientist do?
What does a data analyst do?

Data scientists find new ways of capturing and analysing data before passing it onto analysts. They perform functions like:

Organising raw data into organised datasets
Running data through models to identify links between variables and gain insights from the numbers
Writing computer programs and algorithms that can be used to analyse large datasets
Developing predictive models and machine learning to mine large, raw datasets
Writing programs to automate data collection

Data analysts work with organised data, using software and algorithms to make sense of the numbers. General responsibilities can include:

Analysing data sets to identify trends and patterns
Collaborating with organisations to understand their data needs
Drawing conclusions from data sources to inform operational decisions
Forecasting future trends
Presenting findings and making recommendations to inform data-driven decisions
What skills are needed to be a data scientist?
Communication is often forgotten by a range of professionals—work on your written and verbal command by talking to people. A lot of people. Try to explain complicated concepts to your friends and family as you learn them. Rephrase your lessons to your lecturer and use different words.
Beyond a natural or hard-won gift of the gab, a sharp mind, keen sense of logic and an appreciation for the mathematical intricacies of technology will get you noticed.
Technical skills include:
Machine learning programming
Processing large datasets
A sound understanding on mathematics and statistics
The ability to program algorithms
An understanding of big data
Non-technical skills include:
The ability to make accurate and fast business decisions
Strong communication skills
Is there any crossover with data analysis?
Future employers often look for a data analyst with a well-rounded skill set, so some of the list above naturally trickles through in what you'll learn. However, here are the top three skills data analysts can work on if they want to stand out during and after the interview process.
An understanding of SQL: Structured Query Language (SQL) is regarded to be the most important skill for data analysts. Almost every organisation needs their analyst to understand SQL so they can manage and store data and build or improve database structure overall.
Data visualisation: Being able to tell a story to effectively communicate your analysis will ensure your data won't go to waste.
Critical thinking: It can be intimidating for analysts to have large datasets to sort through. Figuring out what questions to ask and the ability to uncover connections is at the core of data analytics.
How do you become a data analyst or a data scientist?
As you can probably tell by now, data science and data analysis are close cousins, with an almost symbiotic relationship—without one, the other cannot exist and without the other, one doesn't make sense!
Find your path forward below and discover how to become a data analyst or a data scientist.
How to become a data analyst
How to become a data scientist

The path to becoming a data analyst is a mixture of both formal studies and on-the-job learning. Here are the key steps to start your data analyst career.

Familiarise yourself with the programming languages used. This helps you lay down some foundations before you begin your formal study.
Begin your formal training by enrolling in a Bachelor Degree. A relevant degree such as a Bachelor of Data Analytics is a great place to start.
Gain experience through work placements and internships. This can also help build your network and open up job opportunities.

Like a data analyst, data scientists require a mix of study and work experience.

Begin your formal study with a Bachelor Degree in computer science, information technology, mathematics or statistics.
Gain work experience through internships. Many data scientists begin in an entry-level position such as a data technician or data assistant. These jobs are the perfect opportunity to gain on-the-job training and experience.
Many data scientists will complete further study in fields like big data management. A postgraduate degree in data helps create more opportunities and ways to advance your career.
While these two fields can be considered different sides of the same coin, both professions are some of the most in-demand job roles in the industry.
Whether you prefer making recommendations or creating a model that can organise large datasets, a career in data science or data analytics can be a rewarding and exciting path. Ready your inner data nerd and dive into our data-driven courses.
Browse  thousands of courses from leading Australian universities.
Or complete the form on this page to chat to an advisor about study options.
Explore courses