Kerrie is hitting the books once again – online this time. She wants to explore the health industry at large, so she can excel in her fraud prevention role.
For 19 rewarding years, Kerrie has been working to protect the integrity of the health sector. "We look at claims leakage, so we do things like fraud investigations, audits, and clinical coding as well" explains Kerrie. A big component of her job is solving problems, which she likens to a game of sudoku. The challenge is stimulating, and more importantly, the outcome is meaningful.
What originally got Kerrie in the door at nib was her bachelor and honours degree in social science, which she gained in the 90s. But as decades went by, and the industry evolved, Kerrie found herself yearning for new knowledge. She was ready to step up to postgraduate study, to gain more industry-specific knowledge that she could put to use right away. While researching online, Kerrie came across Curtin University's Master of Health Industry Management, online through Open Universities Australia. "I loved the content of this [course], it has great subjects that I was really interested in such as population health."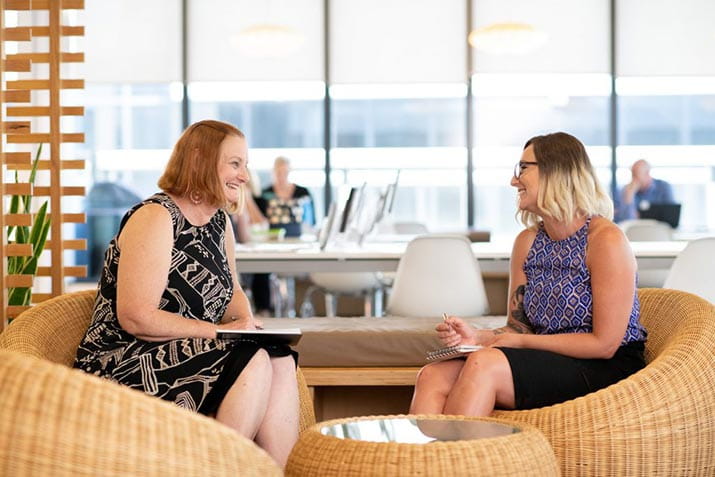 "I had concerns about doing an online degree," recalls Kerrie "I guess the age perspective – I was like, can I do this at my age?"After calling up a student advisor with a few different health courses in mind, Kerrie made her decision, got her study underway, and her concerns were quick to disappear.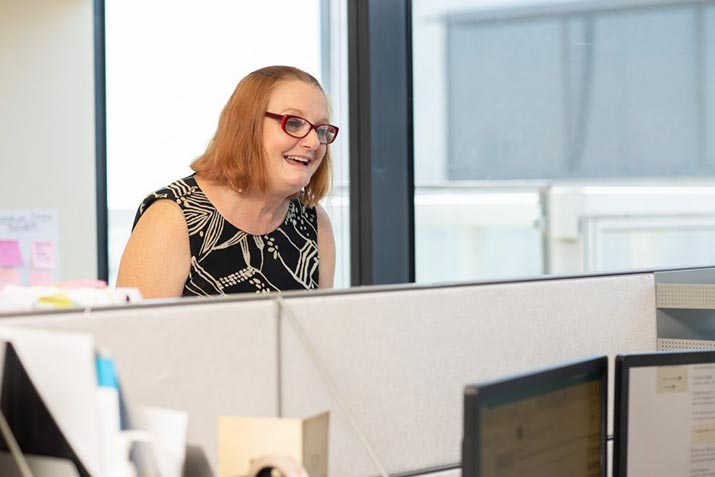 Now, with a process for study that flows smoothly, Kerrie feels at ease, and chooses to study at a minimum of 15 hours a week to get the most out of her experience. If she ever falls behind, she feels comfortable to contact her course coordinators. "I find that they're very supportive – nobody's judging you if you're not coping" says Kerrie. "Nobody should ever hesitate to reach out for help, and that's what I've always done".
With the knowledge gained from work experience and postgraduate study, Kerrie hopes to make big changes in the health industry to ensure the safety of patients all over Australia. "I would love to come up with best practice fraud or audit framework, which was, you know, held to high esteem," Kerrie visualises with glee. "That would be my ultimate career goal".
Need new skills? Look no further.
Whether you're looking to start your career, revamp it, or simply get up to date with the latest knowledge – making a start is easy through OUA. Not only do we have degrees, but we've got a vast number of single subjects to get you in the right frame of mind for your next career challenge.
Through Open Universities Australia (OUA) you can:
Find the right course – Choose from hundreds of courses from universities across Australia.
Earn the same degree as on-campus – Enrol through us, then study online with your chosen uni (and graduate with them too).
Study, regardless of your history – Start with single undergraduate subjects without any entry requirements.
Gain credit towards your degree – Apply for credit for past study or work experience, and finish faster.
Feel supported from start to finish – Get help from a friendly student advisor, right through to graduation.
Related courses through OUA:
Master of Advanced Nursing Practice – Griffith University
Master of Public Health – Griffith University
Master of Infection Prevention and Control – Griffith University
Master of Health Care Management – Murdoch University
Bachelor of International Public Health – University of New South Wales
Bachelor of Community Health – University of South Australia
Browse  thousands of courses from leading Australian universities.
Or complete the form on this page to chat to an advisor about study options.
Explore courses