Next time you're in the city, look up. How did the buildings that tower over you come into existence? It's the job of a construction manager to know exactly how.
While there are many roles involved in bringing a building to life, construction managers are the captains of the operation. Study the Bachelor of Applied Science (Construction Management) with Curtin University through Open Universities Australia (OUA), and you can become one.
So, what is construction management?
"Construction management is fundamentally the ability to understand how a building gets put together," explains Jane Matthews, Associate Professor in the Department of Construction Management at Curtin University.
"It's the ability to communicate that to different sets of people – that might be the tradies on site, right through to the owners of the building."
"[It's] about your interaction with people," Monty Sutrisna, Head of the Department adds.
For aspiring construction managers, having the know-how to build a strong proposal, and the people skills to negotiate, can help them win work to build major constructions.
"It's really important for students to understand how to work and navigate a construction from the very beginning, and how to work as a team," Monty continues.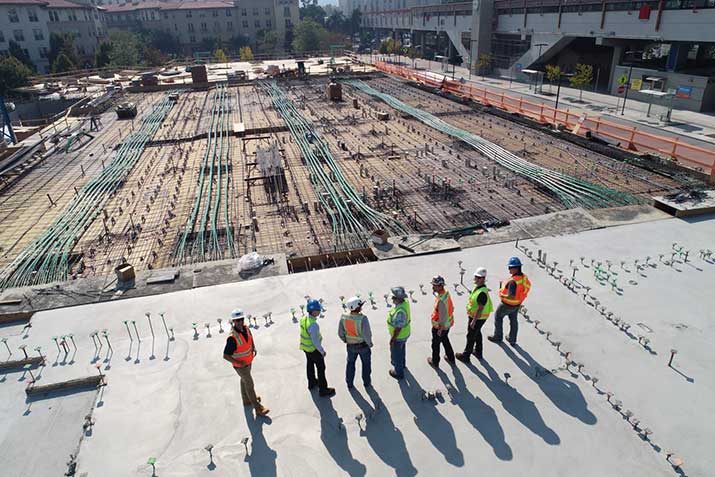 The degree with a digital edge
With the construction industry becoming more and more digitised, Jane speaks of the importance of digital elements in a construction management degree. This is something that the Bachelor of Applied Science (Construction Management) with Curtin University is proud to offer.
HIVE (Hub for Immersive Visualisation and eResearch) is an advanced facility established by Curtin University to serve the growing demands of researchers and industry for visualisation, virtualisation and simulation capabilities in Western Australia.
Facilities like these allow Jane and her team to test elements of a building's design and safety through digital technology.
Perth Children's Hospital is just one project that is benefiting from the digitisation of construction. Currently, the building is being replicated via digital technology to review security camera design.
"Curtin is one of the first courses to embed Building Information Modelling (BIM) to make sure students have those skills that will make them employable" Jane says.
Why choose Curtin University?
If you've decided that taking constructions from blue-print to brilliance is where you see your future headed, you may be wondering: is Curtin University, and studying online through OUA, the right choice for me?
Curtin University is a solid choice for students looking to make a seamless transition into the workplace. The university places great importance on being work-ready by giving students real-world projects to develop their industry skills.
What's more, Curtin University infuses its courses with industry experts – many of whom are past students.
"Many [alumni] are now senior managers in large companies, and some of them are willing to give back to the university to do a guest lecture, or help with materials for a case study." says Jane.
Studying online
If you're worried that studying online might leave you short-changed, think again. Not only does online study provide you with the flexibility to reach your goals while meeting work and family commitments, Jane says that students who study the Bachelor of Applied Science (Construction Management) through OUA get knee-deep in the construction management experience.
"We have great things our OUA students can do." says Jane.
"That involves working with other disciplines, going overseas on field trips, and getting involved in building projects."
With an exciting range of careers for graduates to embark upon, including project management, site management, facility management and quantity surveying, there are endless possibilities for where you could take your degree.
Browse  thousands of courses from leading Australian universities.
Or complete the form on this page to chat to an advisor about study options.
Explore courses