With a communications degree in progress, Brooke is presented with exciting career options, such as journalism, public relations, and social media marketing, to name a few.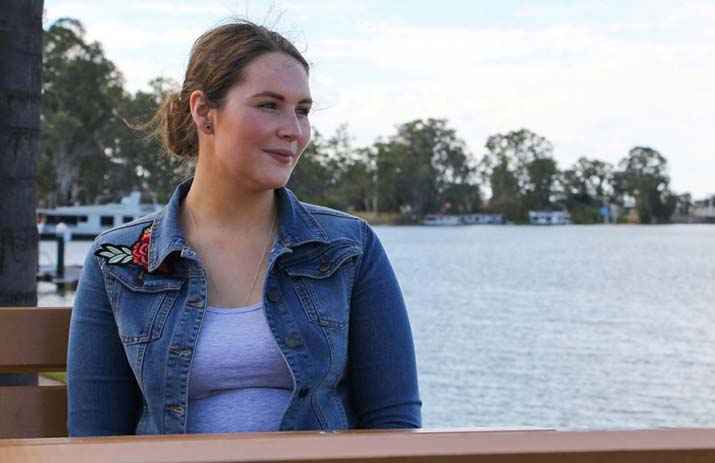 Gone are the simpler times, where you'd turn on your TV set, your radio, or open a newspaper to hear from your favourite (or not so favourite) brands. Now, there's an extraordinary number of communication channels, which means more opportunities to influence, higher risk of public blunder, and greater demand for communication professionals to manage it all. Brooke Humble is amongst many students making a smart career move into the communications industry. She's currently working her way toward a Bachelor of Communication from Griffith University, through OUA.
In the riverside town of Renmark, South Australia, you'll find Brooke – studying away on her couch, on break at work, or on the banks of the Murray. Brooke thinks herself lucky to be studying from the convenience of the beautiful town she grew up in. This flexibility has allowed her to continue working part-time at a local winery in telecommunications. Brooke's job is teaching her the foundational skills of communication, while complementing her coursework, and motivating her to move up in the company.
With a communication degree in progress, Brooke has plenty of exciting career options to consider. She's looking into areas like journalism, public relations, and social media marketing – whatever will allow her to put her writing skills to use. While studying communications in an online environment can have its difficulties, Brooke quickly got into the swing of things. After more than a year of being an OUA/Griffith student, Brooke's getting far more out of the online experience than she'd expected, and is confident that future students will feel the same.
Earn a world-class degree from wherever you are
Through OUA you can study online, at your own pace, from wherever you are. With everything you need, provided in your university's online Learning Management System (LMS), you'll experience uni just like an on-campus student, except you'll have more flexibility to personalise your studies. While you'll be studying in your own time and space, you'll never be studying alone – OUA has a passionate community of online students, and a team of experts to help find the right study option for you, and assist you to manage your studies from start to finish.
Browse  thousands of courses from leading Australian universities.
Or complete the form on this page to chat to an advisor about study options.
Explore courses