As a Court Assessment and Prosecutions Supervisor, Chris makes a real impact every day. Here's how he made the career switch with a degree in Criminology.
It was mid-career when Chris began work in the justice system, with no prior experience. He'd worked in hospitality, retail and aged care, but never law. What landed him a job, and turned his life around, was the degree he'd recently completed – Griffith University's Bachelor of Criminology and Criminal Justice.
As a Court Assessment and Prosecutions Supervisor, Chris' day-to-day work sees him mentoring staff, appearing in court, assessing people's suitability for court orders, and prosecuting those who defy court orders, to name a few duties. His goal at the end of the day is to protect the community, and help offenders better themselves by listening to their stories, empathising, and supporting them back into good behaviour. Chris adores his role – it's the most meaningful he's ever had. "When you walk out of here at 5 o'clock, you've made a difference".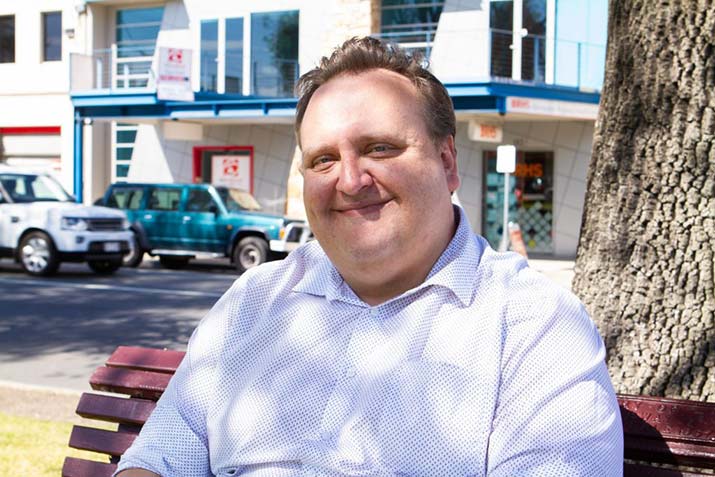 In 2001 after high school, Chris enrolled online study, but found that the technology at the time was lacking. On top of that, the subject matter wasn't of interest, so Chris jumped into the workforce instead, motivated to make money to support a child on the way. Years later, after a separation from his partner, Chris went in search of a big change, and found it in a new degree. "It was a turning point in my life – it was really something that I wanted to do," recalls Chris "and the fact that I committed myself to it, and got through it, was a real feather in my cap".
"You see [the justice process] on TV, but it's actually nothing like that. You're dealing with real people"
Chris' favourite aspects of the course were psychology, where he was able to get into the mind of a criminal, and the court process, which taught him about the types of courts and the roles within them. He was particularly interested to learn about things like the events between the point of arrest and appearing in court. "You see it on TV, but it's actually nothing like that. You're dealing with real people" says Chris.
Chris plans to continue working his job up until retirement, attesting to the old adage that a person who loves their job will never work a day in their life. With hard work and a little faith, it's entirely possible to turn your career around.
There's always a way
Landing your dream role isn't an easy task, but you've got to start somewhere, and the best first step is knowledge. Through Open Universities Australia (OUA), you can:
Find the right course – Choose from hundreds of degree and single subjects from universities across Australia.
Earn the same degree as on-campus – Enrol through us, then study online with your chosen uni (and graduate with them too).
Study, regardless of your history – Start with single undergraduate subjects without any entry requirements.
Gain credit towards your degree – Apply for credit for past study or work experience, and finish faster.
Feel supported from start to finish – Get help from a friendly student advisor, right through to graduation.
Related courses through OUA:
Bachelor of Criminal Justice – University of South Australia
Bachelor of Laws – University of New England
Master of Criminology – Macquarie University
Master of Forensic Mental Health – Griffith University
Juris Doctor – RMIT University
Browse  thousands of courses from leading Australian universities.
Or complete the form on this page to chat to an advisor about study options.
Explore courses