Feeling ambitious? Fitting in study over the summer break will help you get ahead – and you don't even have to boycott the beach.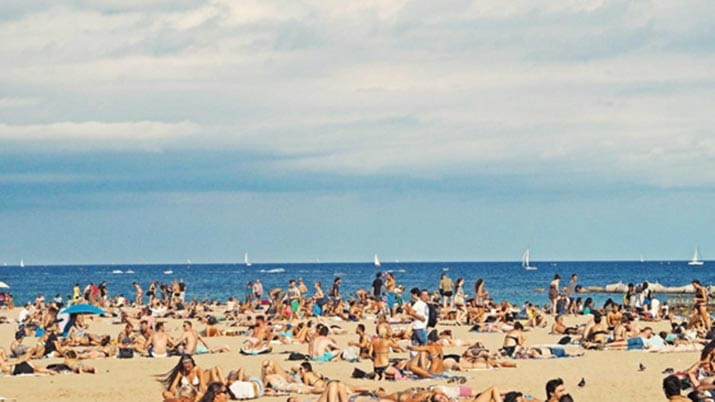 This article has been reviewed by the Open Universities Australia editorial team in 2021.

If you've signed up to study over summer you may be wondering: What does success look like? It may mean catching up on readings at the beach, making the most of daylight savings by tackling assignments late at night, or even adjusting your expectations. After all, what does success mean to you?
What is success?
As frustrating as this answer may be, the definition of success that fits with your values will be uniquely your own.
You may think of success while studying over summer as the ability to get all of your course work completed. Or perhaps your definition of success is tied to the results you receive afterwards.
For some, success will come down to their ability to feel like they got to enjoy summer as well as completing study.
Over the years our students have shared with us their strategies and techniques for making the most of their summer study periods. Here are 5 of the best bits of advice we've received, ready for you to test for yourself.
1. Make the most of the sunshine
A big part of getting your study done is reading. Now's the time to take advantage of the fact that textbooks, Kindles and papers can travel to a lot of beautiful places during the summer months. Studying feels a lot less like studying when you're doing it on the beach, in a park or in a hammock. Better yet, if you have a friend who loves to read too go out and do it together.
2. Schedule time for study and for fun
If there was ever a time to perfect your time management skills, this is it. Procrastination is a problem that becomes much worse in the summer time, particularly if you spend all day procrastinating, and lose out on time for socialising or adventures. There's nothing worse than spending sunny days indoors, so make sure you use your study time wisely. Set yourself study 'appointments', keep them sacred, and that way you'll have a lot more time for fun.
3. Change up your study snacks
In the wintertime it's all about hot chocolate, hot cross buns and everything else that is sweet and comforting. Study snacks are a big part of the student lifestyle, and can be a great tool for keeping up your motivation levels. Embrace swapping out your heavier snacks for stone fruits, watermelon and cherries. And if you're especially good – ice cream!
4. Get moving
Exercise isn't something you should do – it's a must. Moving your body helps you to release stress, clear your mind, keep your blood pumping and your brain firing. Sunny weather opens up new opportunities for hiking, wandering or jogging – so get out and about and enjoy the benefits. You could even kill two birds with one stone, and listen to lectures on long walks.
5. Use your extra daylight hours
If you've committed to studying during the most sociable time of the year, don't stress – the extra daylight hours lessen the blow. Regardless of whether you're an early bird or night owl, you'll find comfort in the fact that there's still plenty of time left in the day to get out of your study nook. Pick your most productive time of day for studying, and make plans for the rest.
What does success mean to you?
Before the summer study period kicks off, now is an ideal time to check in with yourself. What does success mean to you? Take a moment to jot down your thoughts. You may even decide to write some on post-it notes and scatter them in easy-to-read places around your house.
Reminding yourself of what success means to you personally will help you navigate the summer of study ahead.
When you try your best and don't succeed…
Remember, if you spend all summer studying but don't receive the marks, the productivity, or the sense of relaxation or accomplishment you'd set out to, you're only human. When you try your best and don't succeed, try, try, try again.
Browse  thousands of courses from leading Australian universities.
Or complete the form on this page to chat to an advisor about study options.
Explore courses