Want to play your part this Earth Day, but not sure where to start? Here are a few small things you can do to reduce your carbon footprint today, and every day.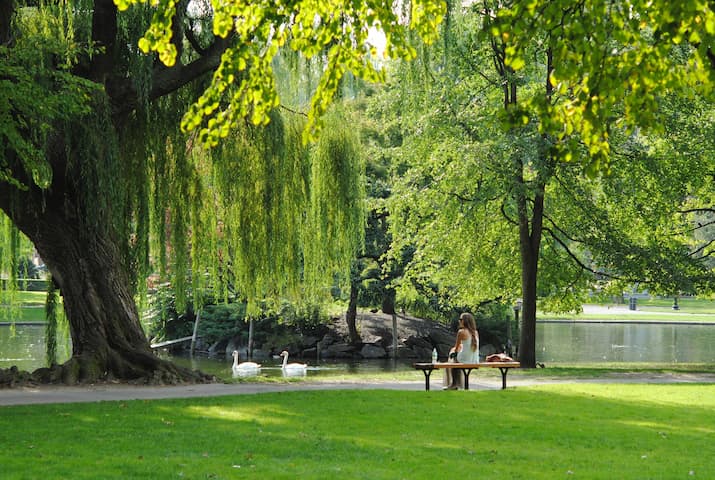 This Thursday 22 April we celebrate Earth Day, a global event that encourages everyone to consider how we can live more sustainably and protect our environment.
After starting off as a US-only movement in 1970, Earth Day is now recognised by more than a billion people across 192 countries who want to do their part and save our planet. This year's theme, 'Restore our Earth', puts the focus firmly on climate change and what we can do to make a difference within the community. It seems like an especially relevant theme given the year we've had in Australia, which has included bushfire recovery efforts and historic floods.
I'm only one person. How can I help save the planet?
Climate change is one of the biggest challenges humanity will ever face, and it's certainly not a problem you're going to solve alone! But as our passionate students prove every day, there are small things you can do to minimise your carbon footprint and reduce demand for fossil fuels, which will have a positive impact on the environment. Many of these changes will also help you save on energy bills, so it's really a win-win situation.
Here are five places to start at home and in the office if you want to lead a greener lifestyle.
1. Turn off the lights when you leave the room
It sounds simple, but studies have proven that greenhouse gas emissions go down when you turn off lights you don't need. Picking LED bulbs over florescent or incandescent bulbs is also an easy way to make your home more environmentally friendly, because LED lights have a longer lifespan.
2. Switch your appliances off at the wall
It's an argument as old as time itself (or maybe just as old as electricity). Does it really matter if you switch your appliances off at the wall? It turns out yeah, it does.
According to the Department of the Environment and Energy, appliances in standby mode can still account for about 3% of your energy bill. The devices that will have the worst impact on your bill include multi-function printers, wireless routers and speaker docks, so when you're not in the home office (or you're not using those items) it's worth turning them off properly.
3. Walk, don't drive
With all Aussies now allowed back in the office, traffic congestion has returned to peak levels. If you can, choosing to walk, ride a bike or catch public transport into work is a great way to reduce air pollution. According to the BBC, the average car produces around 180 grams of carbon dioxide every kilometre, while your local bus only produces 82 grams, so ditching the car, even if it's just for those shorter journeys, does have an impact. Many public transport options, like Yarra Trams in Melbourne, are now linked entirely to solar power, which means your public transport journey will directly offset global carbon emissions. Pretty cool, huh?
4. Shop smart
The fashion industry is responsible for a whopping 10% of global carbon emissions. Many clothing brands are starting to acknowledge this very real impact their manufacturing processes are having on the environment and are doing what they can to curb it. They're choosing to work with ethical suppliers, use more durable, natural materials and recycle their unsold stock.
You can help by making sure you're buying from sustainable clothing brands. An easy way to check is to use the Baptist World Aid Australia brand finder, which rates brands on how well they protect their workers and reduce their environmental impact.
5. Cut down on single-use plastics
Back in the office and ordering your coffee in takeaway cups again? C'mon, it's 2021, you're better than that! Understandably, keep cup usage went down during the height of the pandemic because of health restrictions, but most cafés are happy to let you use your reusable cup again now. Around 2.6 billion coffee cups end up in landfill every year, so handing over your keep cup every day is one small way you can make a huge difference.
Interested in learning more about sustainability?
Explore hundreds of online subjects that explore climate change and the environment from leading Australian universities.
For free and unbiased advice about your online study options, chat with an Open Universities Australia student advisor now on: