While managers dole out tasks, leaders take things a step further by inspiring everyone around them. Discover how you can become this kind of leader, no matter where you work.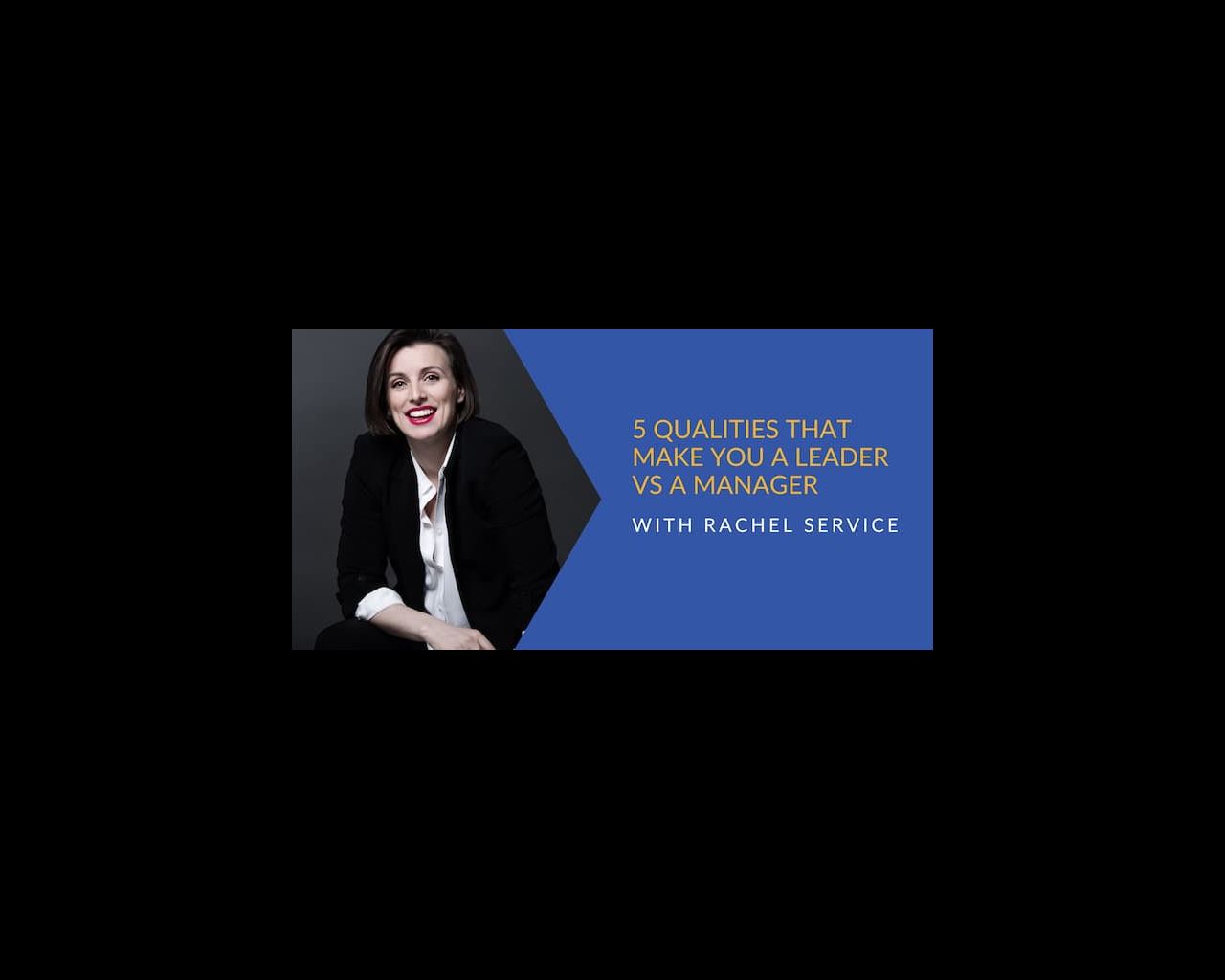 If you're ready to take the leap into management, then it's time to ask yourself what kind of manager you want to be. The taskmaster who keeps everyone on track—or the leader who motivates everyone into action.
We asked Rachel Service, the founder and CEO of Happiness Concierge, for her thoughts on what separates true leaders from mere managers. Rachel teaches people to become better leaders through her workplace training and coaching services, so she's something of an expert on the topic.
What does a manager do?
To start with, it's worth exploring what makes a manager different from a leader. As Rachel puts it, both leaders and managers "lead, guide and mentor their teams."
The difference is in the way they go about it. Managers are process-driven. They focus on accomplishing short-term goals and ensuring employees complete tasks on time. They prefer to follow set structures and resolve issues quickly, which can be great when it comes to getting things done.
What does a leader do?
Leaders, on the other hand, focus less on assigning individual tasks, and more on the bigger picture. They push for innovation and improvement within their organisation, while also developing strong relationships with their people.
"They set the vision and strategy and implement things less," Rachel explains. They then communicate this vision in a way that inspires others to make it happen.
There is a place for task-oriented managers and big picture leaders in every organisation. But managers with leadership qualities tend to inspire more loyalty.
"The key is getting the essentials right first, and then stretching and growing," Rachel says. Let's explore what those essential qualities are.
5 qualities that make you a leader and not just a manager
You focus less on delivery and more on results
When you become a leader, you have to let go of daily production tasks so you can focus on long-term strategy and results. This can be hard to do, especially if you're a 'doer'. "The leaders I speak with admit they miss working on the tools once they've delegated to their team," Rachel says.
But when you allow yourself to step back from those practical tasks, you gain something else instead: time. And with the luxury of time, you're in a better headspace to set a direction and assess the benefits and risks of every decision.
You delegate
Part of letting go requires putting more trust in your people. "It's daunting seeing yourself as redundant, but that is key for becoming a more powerful team," Rachel explains. True leaders know when to recognise their own limitations—and delegate tasks without micromanaging.
You welcome two-way feedback
New managers often don't delegate because they're afraid of giving feedback. But open communication is better for you and your team in the long run.
Rachel encourages leaders to give and source feedback in real-time. "It upskills your team faster because they don't have to wait for performance reviews [to find out how they're doing]." And when you ask your team for instant, honest feedback, you're more useful to them, too, because they can tell you what they need to succeed.
You encourage push reporting
Of course, if you're worried you won't feel as connected to the work anymore, there is a way to rectify that. It's called push reporting.
"Get your team to 'present' their results to you weekly," Rachel explains. This has a few benefits: it keeps you abreast of what's going on and gives you easy data you can share with your boss. It also makes your team members feel more autonomous and trusted.
"It trains them to see you as a client, which is excellent for their stakeholder management skills."
You prioritise your personal growth
This final quality sounds simple, but it's a big one.
"Leaders take total responsibility for their own performance and are conscious of their role in their personal growth," Rachel says.
In other words, they don't just follow tried and true processes, but remain open to new ways of doing things. They're humble enough to seek feedback from others, stay on top of industry trends, and upskill however they can—through leadership courses, conferences and mentorships.
It's important to keep focusing on this, and all these habits, no matter where you are in your career. "The higher leaders go up, the less they think they need the essentials because of their title," Rachel notes. "Ironically, this makes them less impactful.
"To act like a leader, you simply need to embody the principles of 'self-leadership'."
Want to make the jump from manager to leader? Explore flexible online leadership courses that will help you get there.