Healthcare is a diverse field, with a range of jobs and specialisations to cater to almost any interest. If you're unsure where to begin, check out these courses on offer with leading Australian unis.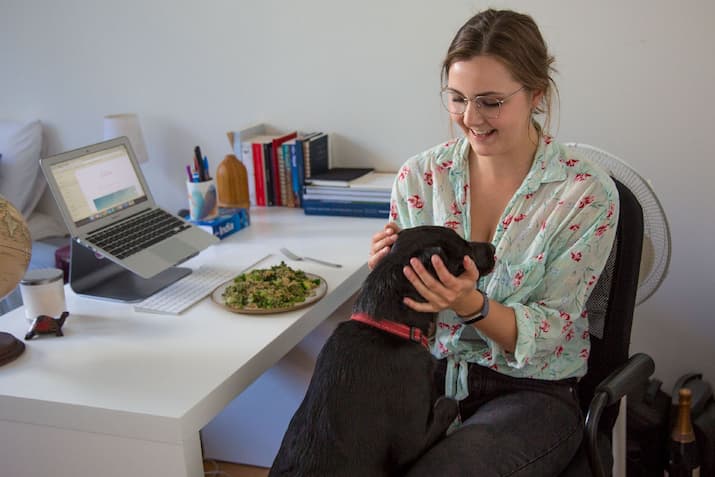 Healthcare, like many fields, is more diverse than it appears. While we normally associate healthcare with professionals such as nurses, doctors, and surgeons, there are plenty of individuals across a range of disciplines that are involved, directly and indirectly, in patient care.
Amplified by the ongoing COVID-19 pandemic, jobs in health are on the rise—in fact, it is Australia's largest and fastest growing industry. We've rounded up five health courses on offer through Open Universities Australia (OUA) to kick-start your journey as a health professional.
1. La Trobe University's Bachelor of Food and Nutrition
Nutrition is a crucial part of wellbeing. In this course, you'll learn about the impacts of food choices on health, and the importance of food quality and safety.
You'll learn how to:
Approach health promotion and community nutrition.
Analyse sociocultural factors that influence food intake and impact food security.
Critically analyse evidence and translate information by incorporating health data, nutrition epidemiology methods and biostatistics.
Some roles this course may prepare you for include:
nutrition consultant
community educator
food analyst or product developer
2. The University of Tasmania's Bachelor of Dementia Care
Dementia is Australia's second-leading cause of death. In this course, you'll explore how dementia changes the brain, and what healthcare workers can do to care for patients and alleviate their symptoms.
You'll learn how to:
Understand the neuropathy of dementia and the trajectory of the condition.
Develop evidence-based strategies in response to opportunities and challenges in dementia care.
Formulate person-centered approaches to issues involving people with dementia, including their families, carers and the broader community.
Some roles this course may prepare you for include:
aged care worker
occupational therapist
personal care worker
3. The University of South Australia's Bachelor of Community Health
Do you want to make a lasting impact on the community? This degree can prepare you for career choices in mental health, nutrition, disability or aged care. Gain professional non-clinical skills online and learn how to take care of vulnerable people.
You'll learn how to:
Develop plans that assist in the delivery of care by health professionals.
Understand changing regulations and the impact technologies have on the evolving field.
Work on projects that directly enhance the lives of individuals in your community.
Some roles this course may prepare you for include:
community health development officer
health support worker
aged care and disability care coordinator
4. Murdoch University's Bachelor of Arts (International Aid and Development)
Working with communities across the globe can be life-changing. Your input will have an impact on sustainability, public health and grant you access to resources in a variety of cross-cultural settings. Studying this course could lead to work with international agencies, such as the United Nations; government agencies, such as the Department of Foreign Affairs and Trade; or non-government organisations (NGOs), such as World Vision.
You'll learn how to:
Navigate international politics, including the challenges that arise as governments, overseas organisations and agencies continue to change their approach to international aid.
Engage with communities in a creative way, while taking gender and development into consideration.
Create sustainable urban communities.
Some roles this course may prepare you for include:
community development officer
public health policy maker
global health researcher
5. The University of Tasmania's Bachelor of Psychological Sciences
The skills gained from studying psychology are transferable across a range of industries. You'll graduate with the ability to work as a health practitioner in public or private settings. After earning this qualification, you can also add further accredited study and become a registered psychologist.
You'll learn how to:
Evaluate changing public health practices and build public policies.
Navigate the science and politics of preventative health.
Evaluate current health services and make evidence-based recommendations while considering Australia's policy environment.
Some roles this course may prepare you for include:
disease prevention and control specialist
health policy and planning manager
public health monitoring and evaluation coordinator
Studying health FAQs
How in-demand are healthcare jobs?
Healthcare is the largest growing industry in Australia, with over 2 million employees! With dozens of job titles on offer and flexible working arrangements, the healthcare industry is appealing to people of all ages, particularly those who have a natural affinity for caretaking, altruism and social responsibility.
I'm not sure if I want to commit to a full degree just yet—can I take a single subject?
Single subjects are a great way to dip your toes in the water and determine if the field of study is right for you. Alternatively, single subjects can be a great way to upskill for your current job, or prepare for a new role. In some cases, single subjects that have been successfully completed can be used as credit towards a full degree as part of our open-door policy.
Browse all undergraduate subjects
Is there funding available if I study health?
You may be eligible for funding support when studying through OUA. We offer general advice regarding financial options, including fees, student loans and study allowances you may be eligible for. For information specific to your circumstances it may be best to speak to a financial advisor.
Consider a career in health
Through OUA, you can access hundreds of undergraduate, postgraduate and short courses with leading universities across the country. Plus, the flexibility of online courses means that you can study wherever and whenever it suits you.
To find out more about studying online through OUA, give our expert student advisors a call on 13 OPEN.