"Sometimes, you just need to talk to someone." If you believe this and feel a calling to help others face intensely personal issues, read on.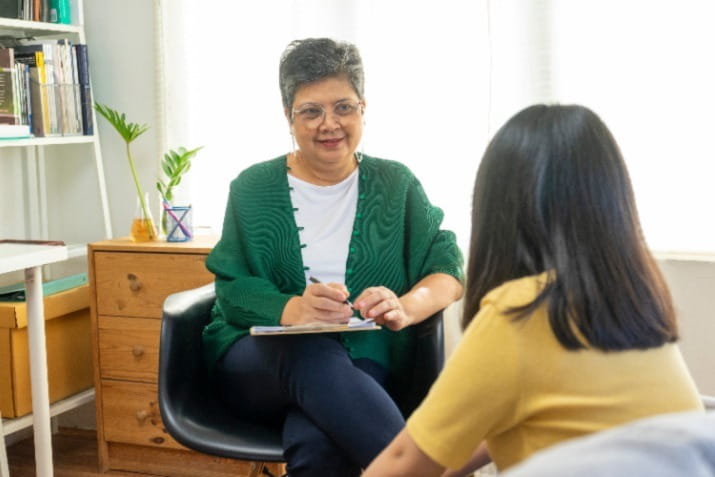 First, tell me about counselling in general
Some quick facts: Almost half of the Australian population will experience a metal disorder in their lifetime. One in 5 Australians experienced mental illness in the previous 12 months, which equates to 3.2 million people. Meanwhile, thousands are waiting months to see a psychologist. Not great for those who need help.
Which is why we need more counsellors—14.2% more by 2026, in fact. What's the difference between a psychologist and a counsellor? Read this.
As a counsellor, you'll use 'talk therapy' methods (some of which psychologists also use) such as:
Narrative therapy
Schema-therapy
Psychodymanic psychotherapy
Cognitive behavioural therapy
Solution-focused therapy
Person-centred therapy
And with so many types of counselling jobs available, you'll be able to choose a focus area that truly interests you. Here are five potential paths you could take.
1.
The school counsellor

Perhaps you strongly empathise with kids who are dealing with bullying, low self-esteem, learning issues or living with a disability. A person's schooling years are a minefield to navigate. As a school counsellor, you can help students manage and overcome their issues, thrive and go on to become well-adjusted, successful adults.
What does a school counsellor do?
Rather, what doesn't a school counsellor do? Listening to students about their academic, emotional or social problems, assisting them in planning their goals and action, consulting with parents and teachers to put solutions in place—all in a day's work.
School counsellors may also arrange for medical, psychiatric or other testing to understand the cause of a student's difficulties. They should be familiar with local social services and be able to connect students (and their families) with these services if needed.
As a school counsellor, you'll advocate for students when conflict arises. At a high level, your job concerns the holistic wellbeing of kids whose behaviour, grades or disability shows that they need assistance.
2.
The trauma counsellor

Trauma counsellors provide a safe space for clients to explore their feelings and gain control over their traumatic experiences. Depending on the job, you could see clients of any age or gender who have experienced assault, violence, neglect or exploitation.

People of LGBTIQ, Aboriginal and Torres Strait Islander, refugee and CALD (culturally and linguistically diverse) backgrounds are some higher-risk cohorts that make up a significant portion of trauma counselling clients. Having a deep awareness and sensitivity for their backgrounds is essential.

Vicarious trauma can be an occupational challenge for counsellors in this space. For example, feeling overly responsible for clients or experiencing bystander feelings of guilt or hopelessness.

Cultivating a social support network, such as consulting with colleagues, is key to reducing feelings of isolation and increasing feelings of being effective.
What does a trauma counsellor do?
You'll guide your client through a healing process to deal with the symptoms they've been left with after a traumatic event. Your objective is for them to adopt coping skills so they can slowly transition away from 'survival mode' into actually living again.
Trauma counsellors may offer grounding techniques and awareness exercises to help clients regulate their emotions and hopefully, feel safer.
Many trauma counsellors work within the public health system, for example, in emergency rooms. They're also heavily employed in community and social services, such as being affiliated with crisis accommodation services or family violence services.
3.
The relationship counsellor

Also known as a couples counsellor or marriage counsellor. Relationship counselling is a complicated process in which you'll help your two clients embark on self-exploration and find the links that might keep them together. Part of the job is working with reluctant clients. Often, one partner has instigated the counselling sessions while the other is in denial that a problem exists. Your training will also teach you not to take any one partner's side.
What does a relationship counsellor do?
Using a variety of techniques, you'll help your clients identify the main problems in their relationship that need addressing. Common areas of conflict you'll encounter are differing values and expectations, as well as issues of trust and communication.
You'll help your clients understand each other better and learn to have 'healthy fights', identify personal boundaries and sometimes, decide whether a relationship should be saved or ended.
In cases where one partner has an addiction or is experiencing depression, you may refer that person for individual therapy as well.
4.
The alcohol and other drugs counsellor

Addiction and substance abuse is more common than we might think—affecting 1 in 20 Australians. In Victoria alone, around 40,000 people access treatment services each year.

Alcohol and other drugs (AOD) counsellors provide support and treatment for people with dependency problems and develop strategies to help them change their behaviour. They do this via evidence-based therapies for the individual, often engaging close family members as well.

While addiction can affect anyone, AOD counsellors are likely to see clients who are given priority for treatment, including those who:
Have dependent children
Have been referred by the courts, corrections or the police
Have been unhoused long-term
Identify as an Aboriginal person
Have mental illness
Are dealing with family violence issues
What does an alcohol and other drugs counsellor do?
An AOD counsellor takes part in the intake, assessment, care and recovery of clients. As one, you'll lead counselling sessions and assist people in understanding and adjusting their attitudes, expectations and behaviour. You'll share alternative approaches with your client, co-create rehabilitation plans and help guide them to recovery.
AOD counsellors are commonly employed in community-based, residential or hospital-based services. Some counsellors go on to work in private practice as well.
5.
The mental health counsellor

Someone with depression, anxiety, post-traumatic stress disorder, general stress, anger issues, grief and loss and eating disorders could turn to a mental health counsellor for help.

Unlike psychologists, mental health counsellors don't usually diagnose mental illness, but are just as capable of helping clients talk through their problems and find ways to cope and move on with life. They also don't prescribe medications—only psychiatrists and GPs can.
What does a mental health counsellor do?
If you become one, you'll help clients delve into their personal concerns, reframe their perspective, develop coping strategies and build self-awareness.
Some mental health counsellors also play a case management role— collaborating with other social services and making referrals on behalf of your client so that they can access greater support. You could also work in the area of prevention where you'll develop and facilitate wellbeing education programs.
Depending on your job, you could provide counselling to individuals, couples, families or in a group setting.
Mental health counsellors work in a wide variety of roles, such as within aged care facilities, for Employee Assistance Programs (EAP), in community health services, the list goes on.
The nitty gritty on how to become a counsellor
Many counsellors join the profession after having experienced personal trauma, addiction or mental health issues, though you will find just as many who haven't.
Counselling in Australia operates within a stepped-care model, which means that it tries to align a counsellor's capability and experience to the client's need.
A counsellor with a diploma-level qualification in counselling is likely to be matched with clients who have early signs of mental illness, or have mild and moderate mental conditions requiring fewer interventions.
Someone who has completed a counselling bachelor degree may provide therapy for those whose mental illness ranges from mild to complex, while a counsellor holding a masters in counselling will probably see clients with moderate and complex illness needing greater intervention.
If you'd like to explore counselling before committing to a longer-term course, you could do a graduate certificate or graduate diploma, which allows you to work towards a masters.
Looking for a taster? Sign up for a short course or single subject in counselling. It's an ideal way to see if the field is right for you.
Browse  thousands of courses from leading Australian universities.
Or complete the form on this page to chat to an advisor about study options.
Explore courses