In the spirit of International Women's Day (IWD), we asked three employees at Open Universities Australia to share their stories of career success, self-belief and equity.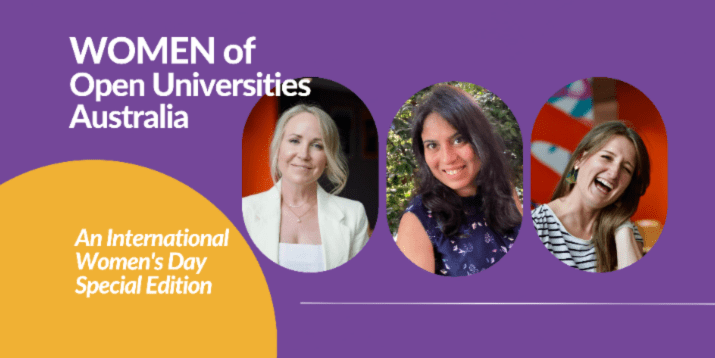 Meet Cat, Neeti and Lou – just three of the incredible women we're lucky enough to have working with us to transform lives through education here at Open Universities Australia.
Cat is our Chief Customer Officer, Neeti our Product Manager of the Explore and Match team, and Lou is our Lead Marketing Automation Specialist.
Behind each woman is a unique story of how they have navigated career success as women, how they empower equity in the workplace, and what they wish for females of tomorrow.
Let's find out a little more.
1.
This year's International Women's Day theme is #EmbracingEquity. What does equity mean to you personally?

Cat: "Ensuring everyone has access to the same opportunities, resources, and support. Embracing equity for me is not only being aware of equity, but valuing and celebrating it."

Neeti: "Creating an environment of inclusivity. An environment where everyone not only gets a fair share of opportunities but also get equal respect, award and acknowledgment of their efforts."

Lou: "I grew up in a family with four kids: two girls and two boys. My parents always made a point of fostering equality and fairness… Gender never disrupted the balance and that's what led all four of us being resilient humans."
2.
How do you embrace equity in your role at Open Universities Australia?

Cat: "As part of the leadership team, I seek to be a champion for our values… For me, this includes fostering an inclusive environment where all of our voices can be heard, and queuing in to champion those who may not find it so easy to step into opportunity."

Neeti: "To build an impactful product strategy, I seek knowledge and perspective from different teams and individuals. During this process I ensure that everyone feels safe to provide their input, encourage radical candor and promote democracy of decisions."

Lou: "It doesn't matter if you've been around for years or if you're a new member of the team, challenging the status quo can and should come from everywhere. Asking the simplest questions can help pave the way to big changes."
3.
What do you wish you could tell your younger self when starting out in your career?

Cat: "Be kind to yourself, don't sweat the small stuff, take a breath and enjoy the journey! Invest time to build relationships throughout your career, even the challenging ones. Every person has something to teach you."

Neeti: "Don't be hesitant of your lack of knowledge and experience, but use them as weapons of curiosity. Never shy away from asking "Why?". Secondly… try to set some personal goals, prioritise the ones that truly motivate you, and then stick to those."

Lou: "Study something you are passionate about don't bother with the outcome… make a decision and you can adapt later."
4.
What's one thing that you wish for, for the women of tomorrow?

Cat: "That women have access to equal opportunity and respect and feel safe, in their work and life. That they can pursue their dreams and be rewarded equally, and without barriers, even if that is simply feeling safe while walking home from work. We have made so much progress but there is still much work to do."

Neeti: "I wish for a society that treats every human being as an individual and does not have any preconceived notions of their capabilities based on their gender, caste, culture or background. Only then, I believe, we can truly embrace equity."

Lou: "Running is my happy place. It makes me feel powerful, and so last night I went for a run. On two separate instances, a car beeped, and I was catcalled. I've built a tough skin and I'm not afraid. But that doesn't make this situation okay. So, that's my wish for the women of tomorrow: that they have the strength to remain in spaces that make them feel powerful."
5.
Who are your greatest female inspirations and why? What impact have they had on your life?

Cat: "A stand out for me is always Malala Yousafzai. We have two of her quotes surrounding us each day in our office. Her strength and vision are truly inspiring."

"Closer to home I have an incredibly strong Mum and sister. They have given me the foundation to pursue my dreams and have taught me both the meaning and the freedom that comes from unconditional love."

Neeti: "I have been super impressed with former NZ Prime Minister, Jacinda Arden. She has proven to the world that you can lead with empathy. You can manage an entire country while taking care of a newborn. During her tenure, NZ has seen the worst times - terror attacks, COVID, volcanos, earthquakes, you just name it and it's there. But she remained strong through all of this."

Lou: "I've recently been introduced to a podcast by Julie Beauzac. It's a feminist, French show about the place of women in art. For those who don't speak the language, here's a sobering story to sum it up. In 2020, a woman was asked to cover herself to enter the Musee d'Orsay as her cleavage was deemed indecent. The same museum where teenagers cluster around the Origin of the World (Gustave Courbet) and other naked muses."

"The impact for me was noticing the misogyny I had normalised. I am aware of my privileges, so I never felt it was my place to call it out. I now realise it is. Very much so."
6.
How does Open Universities Australia create and sustain opportunities for female identifying employees?

Cat: "We seek to enable everyone at Open Universities Australia to step into the opportunities that they feel can help them learn, grow and be supported along the way. This can be both in the pursuit of opportunity within the organisation, or as a springboard to other career journeys. We also create space and support for the pursuit of life goals."

"As a short reflection on my own journey here, I have been fortunate to have been able to identify and explore many new career opportunities, including different roles and diverse projects. One opportunity that would mostly not be visible, but is in many ways the most meaningful, was the flexibility I was given throughout my journey of trying to start a family. Not only in the flexibility I needed, but access to support along the way."

"My aim is always to ensure all team members feel supported to explore new things, test and learn, and ultimately identify the ways they feel they can be their best selves, at Open Universities Australia, their next adventure, or in life."

Neeti: "Open Universities Australia is actively targeting to reduce the gender pay gap and increase the count of women in leadership positions."

Lou: "There's an ever-so-scary create-your-own-opportunities philosophy at Open Universities Australia. Hence why it's a great place to work. It's a business that fosters talents and enables work-family balance."
7.
What accomplishment are you most proud of achieving at Open Universities Australia?

Cat: "I am proud just to be part of the Open Universities Australia family! I am probably most proud of helping us be authentically connected to the role we play in transforming people's lives, and the way this is the heartbeat of the decisions we make. It is a privilege to play a small part in the important role we play for our learners."

Neeti: "When I joined, my team was curious to learn new things. They had started a book club where they were reading books like 'Continuous Discovery Habits', 'Inclusivity', and 'Sprint'. However, they were still figuring out how to apply the insights we were learning in our day-to-day. I am proud of steering my team towards a structured product discovery discipline that employs the key insights from these books."

Lou: "I'm proud of every time I've brought people together. We serve such an important role for the Australian population in enabling access to higher education. So being able to unite people to chase an opportunity and build up my leadership and technical skills in the process is an incredible feeling."
Browse  thousands of courses from leading Australian universities.
Or complete the form on this page to chat to an advisor about study options.
Explore courses