Can you imagine a world without art? Neither can we. Curtin University's art degrees allow you to delve into a world of imagination.
If a world without art is impossible for you to imagine, why not use your passion to make a living?
"For any student interested in making art, this is the course for you" says Gina Cinnani, Head of Online at the School of Visual Arts at Curtin University.
Students learn what it takes to be an artist in the real world, from finding their 'voice' and developing artistic techniques, to applying for grants and keeping involved with the artistic community.
Degrees on offer
Curtin's art degrees are unique and flexible – giving you the opportunity to widen your scope of learning. You can choose a degree, majoring in either Fine Art or Visual Communications, or choose a two-major degree that combines either Fine Art or Visual Communications with other relevant areas of learning.
Bachelor of Arts (Visual Culture)
Bachelor of Arts (Fine Art and Visual Culture)
Bachelor of Arts (Digital Design and Fine Art)
Bachelor of Arts (Digital Design and Visual Culture)
Bachelor of Arts (Fine Art and Internet Communications)
Bachelor of Arts (Fine Art and Professional Writing and Publishing)
Bachelor of Arts (Internet Communications and Visual Culture)
Bachelor of Arts (Professional Writing and Publishing and Visual Culture)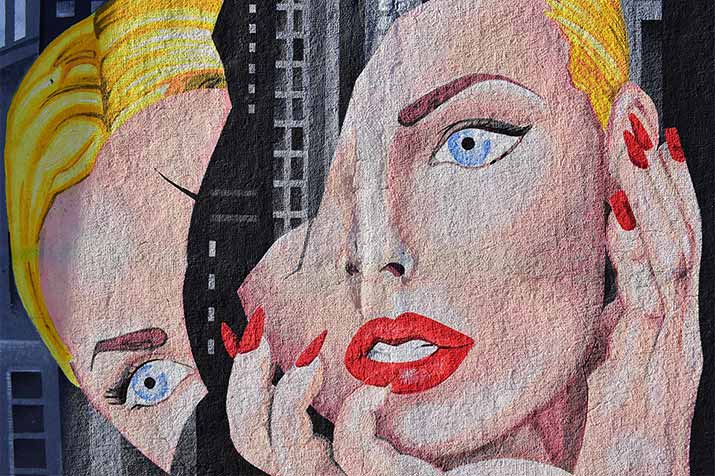 Learn from practicing artists
Like all of the tutors and teachers in the Arts program, Gina is a practicing artist, who studied Visual Art at Curtin before embarking on her teaching career. She knows first-hand the struggles, challenges and triumphs of the artist's life.
"The beauty of what artists do is that we're problem solvers" Gina says. When you're faced with a challenge, critique, or a creative wall, there's always a way to press through". Gina will be one of your biggest advocates, guiding you through online study and helping you towards your creative goals.
Benefit from Curtin's 20+ years of online teaching
The best thing about choosing Arts through Curtin University is their 20+ year history of educating students online. In that time, they've learnt a lot – especially what it takes to get the best out of their students. You'll get access to excellent resources, such as Curtin's Collaborate sessions, which are online virtual classrooms. You'll be able to watch tutorials and chat to students and tutors in real-time, or catch up on the action when you're ready to hit the books.
To express your interest in any of the courses on offer through OUA, fill out the form on this page and an expert student advisor will get in contact. Otherwise, start browsing thousands of courses from leading Australian universities right now.