An information systems degree sure sounds flashy, but what can you actually do with it? Here's where we deep dive on the kinds of fields you might work in.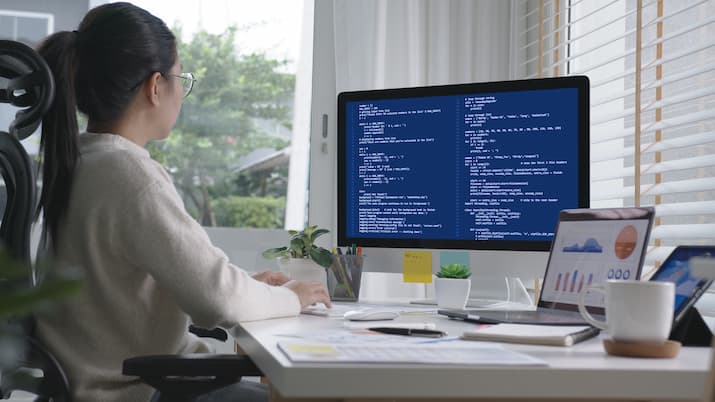 What are information systems?
First things first, what on earth are information systems? If you guessed they've got something to do with computers, you're on the right track.
Information systems are a way of organising information using technology. Anything that collects, processes, stores and distributes information can be considered an information system.
All kinds of businesses and organisations use information systems to store and provide information to users, across most industries. Needless to say, with technology ruling just about every realm of our working lives, it's a growing field.
What do information systems capture and why are they important?
Information systems capture all kinds of information that help businesses, organisations and services keep running.
Corporations might use information systems to process invoices and get employees paid, for instance. They also might use information systems to store customer information and log calls or communication with customers.
On the other hand, something as simple as your smartphone may be considered an information system—as it stores and makes use of data within itself.
Broadly, the main kinds of information systems include:
Transaction Processing Systems
These help businesses do their daily operations. Think deposits, withdrawals, placing orders, shipping and billing.
Office Automation Systems
This might include email, voicemail and word processing. These information systems help businesses communicate.
Decision Support System
All about helping people make decisions, these systems analyse and present large pieces of data into easy-to-use information such as charts and tables.
What does an information systems analyst do?
Information systems analysts solve business problems with their savvy understanding of information technology. They can think both big picture, and small scale, designing and implementing solutions that help organisations organise themselves, facilitate projects and serve customers, clients or patients.
They're also integral in implementing changes to these systems once they're put into place, as well as training and motivating people to use them.
Is information systems a good career choice?
There's never been a time like the present to become an information systems analyst—with the rate at which businesses use technology at its greatest in history.
Job growth was tipped to be at 27.7% at the time of publishing, so when it comes to job security, you can be assured that there are plenty of opportunities out there. In fact, right now there are 1,647 job opportunities for systems analysts on SEEK alone.
What's the average information systems manager salary?
According to SEEK at the time of publishing, the average systems analyst earns $105,000 per year. If you're an information systems manager, you can expect this to be higher, given the added responsibility of managing direct reports and larger scale projects.
What can I do with a computer information systems degree?
Study a computer information systems degree or similar, and you'll have a range of career options at your fingertips. You may choose to delve deeper into the computer or IT industry, or land a more business-oriented role.
The great thing about a computer information systems degree is that you can match it to your interests. Always had a soft spot for the incredible care healthcare workers give their patients? You could marry your information systems knowledge with an analyst role for a healthcare organisation. Love all animals, big and small? You may end up working in information systems for a pet care business or the veterinary industry.
Typical roles you can apply for with a computer information systems degree include:
Business analyst
Systems analyst
Data architect
Business process/data modeler
Enterprise resource planning (ERP) analyst
Computer trainer/support
Computer programmer
Help desk support
IT manager
IT sales and marketing specialist
Change manager
Business process engineer
IT project manager
Consultant
Business continuity (BCM) specialist
IT security specialist or service management
Is information systems easier than computer science?
Information systems is a part of computer science, so it's not technically easier or more difficult! Like all areas of study, there are parts you'll find difficult and others you'll likely breeze through. It all depends on what you have a natural affinity for.
If you're naturally quite detail oriented, digital savvy and feel confident with numbers, it could be the study area for you.
Browse  thousands of courses from leading Australian universities.
Or complete the form on this page to chat to an advisor about study options.
Explore courses