Law is a fascinating field to study—and provides many different areas in which you can specialise. Have you considered these areas of practice?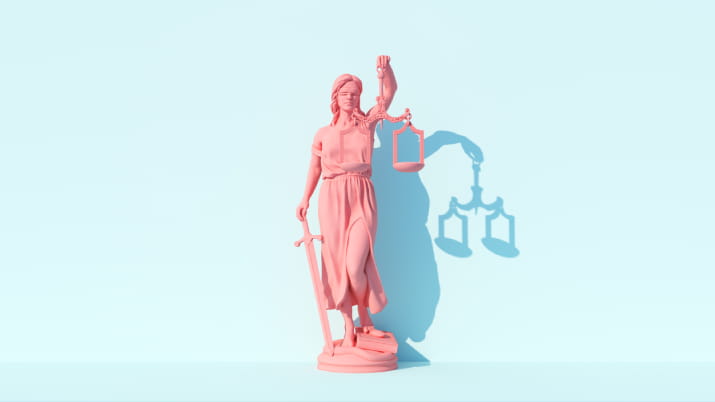 A law degree can set you up for a long and fulfilling career—but how can you know which area of the law will suit you best?
There are all kinds of legal practice areas—and you may be interested in some more than others. You may not be so keen on the idea of corporate and commercial law, for example, but might be interested in playing a role in environmental protections or helping families resolve disputes.
Let's take a look at some of the common and emerging fields of law in Australia.
Areas of law in Australia
Keep in mind this is by no means an exhaustive list. There are many other areas you may like to consider.
Criminal law
Criminal law involves crimes that are punishable by the state, such murder and theft. You may be a defence lawyer, and defend people who have charges laid against them, or a prosecution lawyer, who works to establish guilt.
It's one of the most challenging but rewarding—and highest paid—areas of law. As a criminal lawyer, you'll need excellent language, communication, and interpersonal skills.
To practise this area of law, you'll need to complete an undergraduate (Bachelor of Laws) or a postgraduate (Juris Doctor) law degree and practical legal training. If you want to spend more time in court, you can apply to become a barrister by taking the Australian Bar Association's Entrance Examination.
Migration law
You might be interested in helping people relocate to Australia, either as a migration agent or immigration lawyer. As an agent, you'll provide assistance with visas, but you're not qualified to provide legal advice. As an immigration lawyer, on the other hand, you'll be able to represent people in court, in more complex scenarios.
To get there, you can study a course such as the Graduate Diploma in Migration Law and Practice. If you'd like to become an agent, you'll have to take a capstone exam administered by the Office of the Migration Agents Registration Authority (OMARA) and register as a migration agent.
Environmental law
Environmental law covers a range of areas, such as water management and air quality, as well as subspecialties such as native title claims. It's a broad and complex specialisation that suits people with good research and analytical skills.
As an environmental lawyer, you may have the chance to work with other experts, such as ecologists, architects and archaeologists, and key stakeholders, such as Indigenous groups. You can practice with a typical law degree, though there are also postgraduate courses in environmental law if you'd like to hone your specialisation.
Employment law
Employment and industrial relations law covers wage disputes, contracts, unfair dismissal, redundancy, sexual harassment, discrimination, and whistle-blower protections.
You can start practising immediately after earning your law credentials. Further postgraduate study is also available with some universities.
As a lawyer in this area, you might represent a worker who has been done wrong in the workplace or you may be employed by a company to provide in-house support on employment matters.
Family law
There's always a need for family lawyers. In this challenging area, you'll help people working through divorce or separation and related parenting or property disputes. Family law will suit people who are empathetic but resilient, as you'll be working with people going through tough situations.
To specialise in this area, you can consider postgraduate study, such as a Master of Laws in Family Dispute Resolution. You'll also have to apply to relevant accreditation bodies, including the National Mediations Standards Board (NMAS) and the Federal Attorney General's Department.
International law
Working in international law, you'll develop a global outlook and work on matters like cross-border disputes and human rights and environmental issues. You may represent a nation state or non-government organisation (NGO) and work with people from all over the globe.
To specialise in this competitive area, you can undertake a postgraduate course such as the Master of International Law.
What areas of law are in demand in Australia?
Some areas of law are always in demand, such as criminal, corporate, and family law. It's a safe bet that you'll be able to find work in these fields.
Others, such as cybersecurity and fintech law, are gaining momentum. Specialising in an emerging area like this, by selecting relevant subjects in your undergrad degree, could give you an edge in the employment market when you graduate.
Highest paying areas of law
There's a fair bit of variation in how much lawyers earn, which you may like to keep in mind when choosing to specialise in a particular area.
According to Lawyer.com.au, these are the highest paid areas of law in Australia, with estimated salaries:
| | |
| --- | --- |
| Area of law | Average salary |
| Corporate law | $200,000 and above |
| Criminal defense | $100,000 to $120,000 |
| Intellectual property | Between $100,000 and $500,000 |
| Real estate | $110,000 to $120,000 |
How to begin your law career
There are a few entry points into a law career. If you're just starting out in tertiary study, you'll likely opt for an undergraduate degree such as a Bachelor of Laws (LLB). If you've studied something else at undergrad level, then you'll be able to take on a Juris Doctor (JD).
You also have to complete practical legal training under the guidance of a practising lawyer, which may be part of your course or come after it. From there, you can apply to the Supreme Court for admission as an Australian legal practitioner.


Keen to get started in law? Explore online law courses from leading Australian universities.