It's time for another article in our 30 Years Series, a celebration of three decades of opportunities through Open Universities Australia. Today, you'll hear from Bachelor of Applied Science (Construction Management) graduate and current Graduate Law student, Conrad Pereira.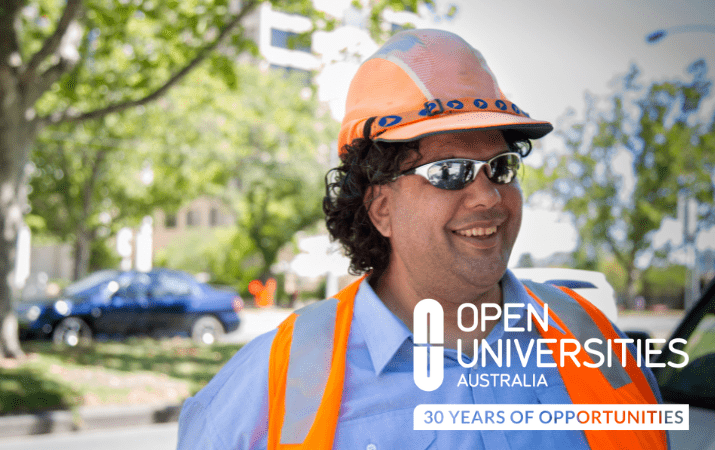 Conrad's journey has been anything but linear. But, as anyone dedicated to education will tell you, that's precisely what success looks like.
A trajectory that has ping-ponged from hospitality to construction, management to social media and now a pursuit of law—Conrad has committed himself to new skills that serve each chapter of his life.
Conrad, what was your life like 30 years ago, when Open Universities Australia first started in 1993? Did you have any career goals? How were they different to where you are today?
"My career goals in 1993 were vastly different [to where I am today]. I was 2 years out of high school, enjoying my youth… undertaking a hospitality course, and a year later started working at Melbourne's newly legalised Crown Casino. After 5 years in hospitality working weird and wonderful hours my journey led me to construction."
"My construction path commenced as a labourer, but soon after I was operating plant and equipment and went on to learn concreting. The joy of having something tangible completed after each job was tremendous."
Conrad goes onto explain how a desire to "learn more" inspired him to study a Advanced Diploma in Business Systems (IT Programming) in person, before he knew Open Universities Australia existed. This led to assisting civil infrastructure teams, travelling and even leading a team for Ireland's largest telco.
"Back in Oz, I settled into construction again on site in various roles, predominantly with a safety focus, but then [when] my health took a turn; work had to pause. Replacing work with gym all day was advised against by an endocrinologist (doctor) and I was advised to read! Read!" Conrad laughs. "It had been a decade!"
This is when Conrad started his search for further study. He found a degree in construction management with Curtin University, which was available to study online through Open Universities Australia
The ability to keep his mind ticking and continue learning while caring for his health? It was an ideal solution.
"I really enjoyed diving into construction management studies. The ability to pace my learning with two subjects per term, over four terms per year meant that focusing and juggling topics was very manageable," Conrad shares.
What are 3 major achievements or career highlights since graduating, Conrad? Tell us a little about them.
1.
Travel opportunities

Conrad competed in an event called the Charted Institute of Building (CIOB) Global Student Challenge finals.

"Doing so enabled a free trip to Edinburgh, Scotland to forge global connections with the best of the best of CIOB members in attendance from every continent and industry."

"I extended that to a 6-week trip around Belgium, the Netherlands, Germany, and Italy to absorb some blending of old and new infrastructure approaches in these nations."

"We were the first online team to partake, with members in Melbourne, Perth, and from an oil/gas rig nearby Christmas Island. That week in Scotland was magnificent!"
2.
Career progression (and poaching!)

"While doing some work on a wind-farm in Western Victoria, I was poached to work in leading a construction software sales firm (Cadgroup Australia)."

"There, I learnt the intricacies of software procurement for projects, plus service and support perspectives; whilst also tailoring solutions for various practitioners and projects."

"My time [with them] was brilliant."
3.
Progressing to graduate study

"I'd always had an inkling to learn more after my undergrad, and when the opportunity arose to attend Australia's best law school, I couldn't pass it up," Conrad shares of his current experience studying the JD (Juris Doctor) at The University of Melbourne.

"Today, I get to sit in with extremely talented students and remarkable teaching staff to challenge myself to extremes I'd never thought possible."

"The technical foundational skills learnt in [my] Applied Science degree still assist me today to help juggle the mental gymnastics required in this legal analytical field."
What would you say to students who are thinking about taking the leap into study, but feeling cautious?
1. Get comfortable being uncomfortable
"If you truly want to succeed, and push yourself to higher heights and learn and earn to your full potential, then get used to being flexible and amiable to change," Conrad says.
"Sure, set up dream boards, or visions of where you want to be; but don't let that constrain you. You can't make plans for something you didn't know existed, and that's what education is all about."
"How would you know you love pizza, sushi, dim sum, BBQ ribs or ice cream, until you tried it? Ditto education!"
2.
Keeping it under wraps may keep anxiety at bay

"Undertaking a single [subject through Open Universities Australia] and not telling [anyone] you're doing it can relax the stressors. Or if you're like me, don't tell anyone apart from maybe of close friends in your student cohort," Conrad shares.

"I undertook education for personal growth. [But] not everyone can understand giving up what society expects you to conform to, [in order to] to nurture your own experiences."

"Now in my graduate study, after a year I just stood up and owned it. How? By buying the university merch and wearing it so I didn't have to care about wardrobe. [It also] means I have to work harder to ensure I earn the right to wear it!" Conrad says.
If you could go back to the time before you completed your degree through Open Universities Australia and tell yourself about the life you've achieved now, what would you say? What advice would you give?
"Have a crack, you've nothing to lose. And ensure you enjoy the journey," Conrad shares
"Learning is a tremendous privilege and knowledge is something that is truly worth accumulating. Where and when you'll use the information attained is unknown, but it can all come in handy."
What are you goals for the future?
"I am enjoying the expedition of graduate study," Conrad shares.
"I hope to meld my undergraduate research in prefabrication and in-situ construction coordination with legal prospects to heighten the ability for construction processes," he continues.
"Delivering built environments that are sustainable, equitable, and optimise the use of mechanical and digital aids so that we can deliver better structures for society."
Conrad's pursuit of knowledge is contagious, and we couldn't be more proud. His continuous commitment to betterment, for his mind, career and society have got us thinking: what should we study next?
We're honoured to have been part of your journey, Conrad.
Browse  thousands of courses from leading Australian universities.
Or complete the form on this page to chat to an advisor about study options.
Explore courses