Living in a picturesque coastal neighbourhood, it's no wonder Loren has chosen to stay put and earn her dream degree online.
In the beachside town of Woonona, 10 minutes north of Wollongong, lives Loren – a budding writer with a passion for the arts. Loren began university study with a Bachelor of Music, but couldn't commit to studying on campus. Her partner is Canadian, so Loren spends a lot of time between the two countries. "I didn't like the fact that I had to tailor my life around the degree". Loren had always dreamt of writing a book, so in her search for a degree, she discovered Griffith University's Bachelor of Arts. She enrolled with a major in Creative Writing, and has been enjoying the life of an online student ever since.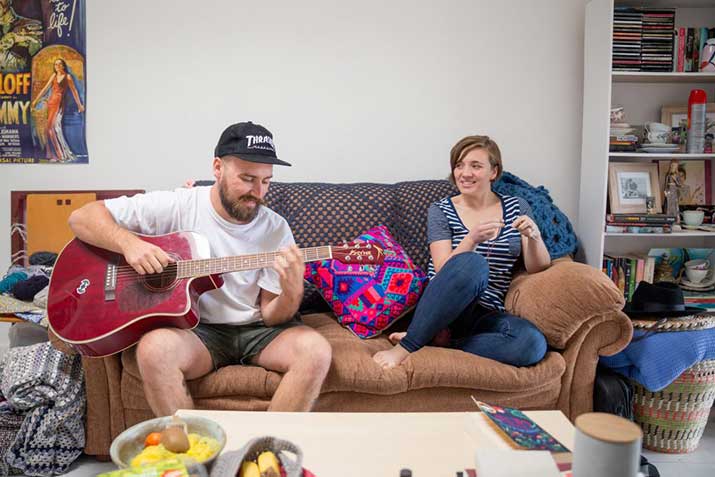 "I heard a lot of comments from people saying, you don't need to go to school to learn how to write" says Loren, "But I wholeheartedly disagree". Loren has learnt so much about writing technique, and has improved immensely by having her work critiqued. She's even started a casual job writing reports for a migration agency, in which she can apply principles she's learned, like writing structure, flow, editing and proofreading. "I'm working in my field and I haven't even officially graduated yet, so it's really cool".
Loren believes that success comes down to a number of things – one of the most important being downtime. "All work and no play makes Jack a dull boy", says Loren, grateful to have maintained her hobbies and lifestyle while studying. When flexibility is key, there's a lot for Loren to love about online learning.
Study somewhere inspiring
The great thing about online study is that you don't have to sit in a dusty classroom – the world is your study space! Through OUA, you'll have everything you need, provided in your university's online Learning Management System (LMS). You'll experience uni just like an on-campus student, except you'll have more flexibility to personalise your studies. While you'll be studying in your own time and space, you'll never be studying alone. OUA has a passionate community of online students, and a team of experts, who can help find the right study option for you, and help you manage your studies from start to finish.
Browse  thousands of courses from leading Australian universities.
Or complete the form on this page to chat to an advisor about study options.
Explore courses