Not everyone makes it home from work safely, and that's why skills in OHS&E will always be sought after.
Not everyone makes it home from work safely. Injuries, and at worst fatalities, make health and safety a major priority for workplaces. A Master of Occupational Health, Safety and Environmental Management at ACU will give you the skills to make a difference where it counts—creating safer workplaces. Nested within the School of Law and Business, this degree also gives you the management knowledge to work at executive and board level, and gain an understanding of today's legislative environment.
"Occupational Health and Safety is about making sure you get home in the same way you left," says Dr Kirsten Way, course coordinator of the Master, Graduate Diploma and Graduate Certificate. "It's a profession where you get to influence real outcomes for people and people's lives."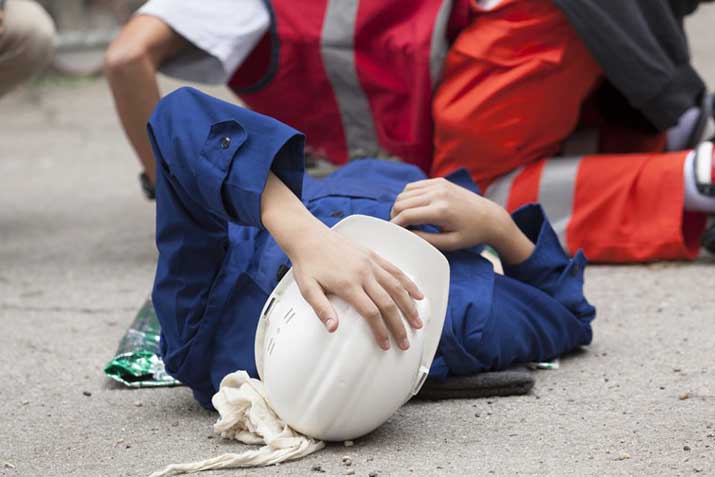 This masters degree, along with the Graduate Diploma of Occupational Health, Safety and Environmental Management, has been accredited by the Australian OHS Education Accreditation Board (AOHSEAB).
What you'll learn
You'll not only learn about compliance, you'll discover what truly motivates people to take action on safety. The topics within the Master degree are diverse, and cover introductory principles to workplace health and safety, legal requirements and contracts, and the individual, physical and psychological hazards that occur in an occupational environment. Experts in the field give lectures about hazard areas from hazardous chemicals like asbestos, to stress and bullying.
You will analyse real cases, confronting the terrible outcomes of industrial accidents, serious injuries or fatalities, learning about the impacts, not just on the workers involved in the accident, but on their families and the other people at the workplace.
Because the degree is run within the business school at ACU, you will gain technological knowledge matched with business know-how – becoming influential at board level and communicating with business stakeholders in a real and meaningful way. Units include: organisational change, project management, governance in organisations and sustainability.
Where Occupational Health and Safety, and Environmental Management will take you
Graduates may choose a dedicated health and safety role within an organisation. Many seek a promotion, choosing to specialise within their existing profession (whether that is physiotherapy or engineering). Opportunities exist in consultancy work, or roles in small or large businesses or the primary industries – mining, construction, defence, manufacturing, and health.
OUA is a great way to study
You'll join students from diverse backgrounds when you study online. You could study alongside a submariner from an oil rig, a miner living in a remote community or time poor students from any city in Australia trying to fit their studies in a time that suits them. You study the exact same degree as an on-campus student, but on your time, in your own unique way, with support from start to finish.
Browse  thousands of courses from leading Australian universities.
Or complete the form on this page to chat to an advisor about study options.
Explore courses