A career in tech presents many opportunities—but how do you know what's right for you? Let's break down the difference between two common positions: software developer and software engineer.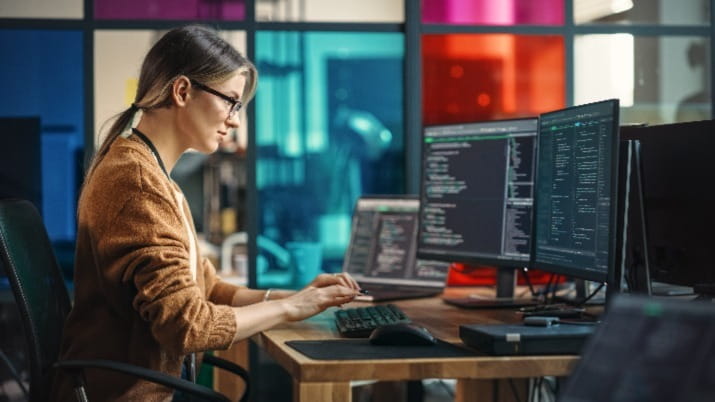 If you love to code and get a kick out of solving problems, a job working with software could be a great fit.
But, because there are plenty of career possibilities in tech, it can be hard to know what to aim for. Plus, there are many job titles and terms out there—such as web developer, coder, programmer, back-end engineer—which can make things confusing.
Let's consider two common ones—software development and software engineering. Some people say the terms can be used interchangeably, but others say they are distinct roles (often, this opinion comes down to the company you're working at).
So, how do some people describe the difference between a software engineer and software developer? Let's take a closer look.
What is software development?
Firstly, let's consider
what software developers do
. As a developer, you'll be responsible for creating, testing, and maintaining a wide range of software. This could be apps that help users solve problems in their lives or software that helps keep devices and networks running smoothly.
In terms of daily activities, you'll likely spend a lot of time writing and testing code, deploying your knowledge of programming languages like Python, Java, C++ or Scala.
You could work as part of a team within a large company—or strike out on your own as a freelancer and work with a range of different clients.
As you progress in your career, you may choose to specialise in a specific type of development like front-end, back-end, full-stack, or mobile, or choose to work across different types.
Software developer salary
As it involves a specialist skillset, working in software and tech can be a lucrative career path. So, how much do software developers make?
According to Payscale at the time of publishing, the average software development salary in Australia is $71,000. But, depending on where you work, you may be able to earn up to $102,000 or more.
Software development courses
If you're interested in working with software as a career, you probably still have some questions before taking the plunge, like: is a software developer degree hard?
While it can be challenging, there are plenty of courses that can help you find your footing in the field. You may like to start with an undergraduate degree, such as a Bachelor of Computer Science or Bachelor of Information Technology, or a technology-related diploma or certificate.
You'll likely take well to a software developer role if you enjoy problem-solving and working with code—even when problems and bugs occur! If this sounds like you, take a look at our specific tips on how to become a software developer.
What is software engineering?
Some people use the terms software 'developer' and 'engineer' interchangeably—but the role of a software engineer can sometimes be considered higher level than that of a developer.
While developers are focused on designing and debugging the software—and spending lots of time working with code—software engineers may work on a larger scale, overseeing projects and teams to deliver software projects.
To be successful as a software engineer, you'll probably also need to possess wider and more advanced knowledge of programming languages.
It can be a challenging role—but what is the hardest part of software engineering? For some, it may be coordinating communication between teams, managing client expectations, or the challenges that come with project management.
That said, it can also be a very rewarding job that gives you the opportunity to think big picture and bring exciting tech projects to life.
Software engineer salary
So, how much do software engineers make? According to
Payscale
at the time of publishing, software engineers in Australia can expect to earn an average salary of $80,000—although that could reach up to $115,000.
Software engineering courses
There are plenty of courses that can help you on the way to becoming a software engineer—but you'll probably want to start by building a broad knowledge base in tech.
Just like software development, an undergraduate degree such as a Bachelor of Computer Science or a Bachelor of Information Technology could be a great place to start for a career in software engineering. From there, you can choose to progress to postgraduate study, such as a Master of Information Technology.
Ultimately, though, if you're unsure about which tech role would suit you best, you don't have to lock in a career choice straight away. Getting a taste for the field in a general technology course tends to be a smart first step. You may also choose to study a short course or single subject to dip your toe in the water before moving onto a longer-term course.
Now that you know a little more about the difference between a software developer vs software engineer, why not explore the courses that could take you there?
Browse  thousands of courses from leading Australian universities.
Or complete the form on this page to chat to an advisor about study options.
Explore courses