The typical urban planning student is somebody who isn't satisfied with the status quo. Are you driven to improve the built environment that surrounds you?
Rarely do we question what has always been. Most of us were born into a city, a town, or some form of man-made settlement – yet we don't often think about how these environments came about. But if you are someone who stops to consider the environment around you, you might just make a standout urban or regional planner.
With a Master of Urban and Regional Planning from Curtin University, you'll gain a deep understanding of how a built environment comes together, and what factors influence the way it's built. "Urban planners are forward looking – they examine where infrastructure must go" explains Dr. Diana MacCallum, head of the Department of Planning and Geography. "They ask how we cater for the trends expected in the future, factoring in population growth and where people live, work and travel."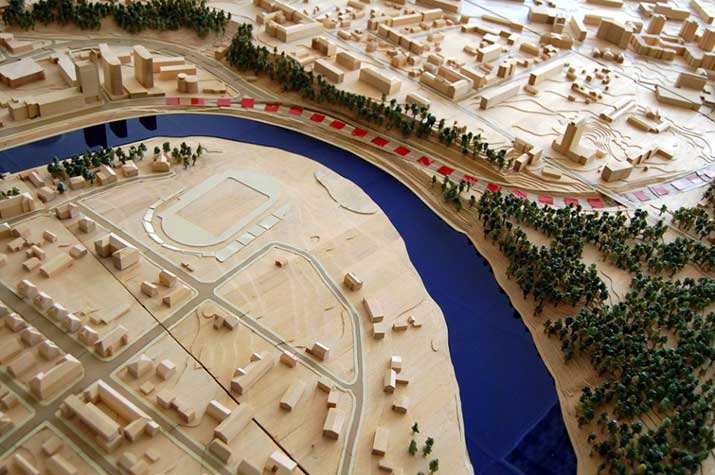 What it takes to be an urban planner
Dr. Shane Greive, a senior lecturer at Curtin, describes the typical urban planning student as somebody who isn't satisfied with the status quo. "I'd say our students are attracted to the idea of intervening, to make the world a better place".
A top urban planner is a strategic thinker, which helps them solve problems like limited land for housing a large number of people. They're also great at communication and negotiation. "As an urban planner, a big part of your job is influencing and persuading people who need to be part of the change you're trying to effect" says Shane. "The idea of progressive change is not going to come at the end of a nice suggestion. You need resilience to be able to keep your project moving along."
What you'll learn
As a student, you'll look at the theories and concepts of urban and regional planning. You'll become familiar with the factors that influence planning, like the environment, the economy, and the practices of the surrounding society.
Core units give you a strong foundation of knowledge – they include regional planning, integrated plan-making, development processes, and planning law. From there, you'll find a range of interesting elective topics to specialise in, such as site planning, urban design for sustainability, planning for housing, and international perspectives of planning.
"These skills are widely valued by government, non-government and private sectors – making our graduates very employable," Diana says.
Studying online through OUA
Through Open Universities Australia (OUA), you can study the Master or Urban and Regional Planning online, at your own pace. You'll benefit from the expert guidance of Curtin's online teaching staff, and the passionate community of online students.
"We have a really amazing group of tutors that work for us," says Tamara Palme, the online coordinator for Urban and Regional Planning. "Everyone is really passionate about what they do and they really want to impart their knowledge and experience."
Find out more about Curtin's Master of Urban and Regional Planning on the OUA website, or submit the form below to hear from a friendly student advisor.
Browse  thousands of courses from leading Australian universities.
Or complete the form on this page to chat to an advisor about study options.
Explore courses