Studying online for the first time? Here's what you'll need to get off on the right foot, and soar to success.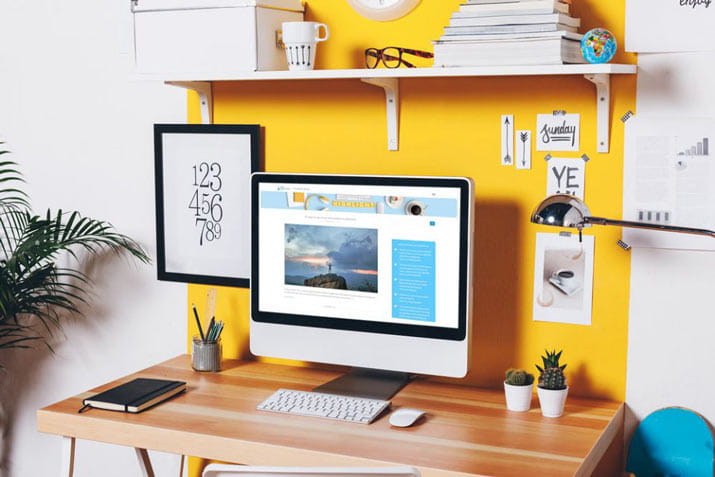 There's a first time for everything, and as with anything new, you may be feeling just a tad (or a ton) anxious about the prospect of studying online. You may be wondering whether you've got everything you need to start, let alone succeed. The good news is that you don't need much – just a few basics to arm you for the journey ahead. Let's jump in!
1. A computer device, and the world wide web
To study online, you'll need… drumroll… a computer device and an internet connection. While this section might feel like a salute to Captain Obvious, there's more to choosing a study device than you may think. First of all, you need to choose the right device for the activity you'll be engaging in. Online study is synonymous with studying from anywhere at anytime, and it's true that you can study on a laptop, a tablet, or even your phone. But while your tablet might be perfect for watching lectures on the train, you're not going to have an easy time writing an essay on a touchpad. It's about picking the appropriate device for the job, not just for the sake of ease, but to get you immersed in the material, and able to learn at your best. To make sure you've got everything you need, right down to the techy details like RAM and screen resolution, check out the full list of computer requirements.
2. A tidy email inbox
If you've already enrolled with OUA, you'll have used a personal email address to create an OUA account. Once enrolled in a course or units, your provider university will send you a university email address. It's important that you check both accounts, so you can receive important information from both OUA and your provider uni. If you're the unruly type who is okay with chaos, this may be the time to change your ways. It's not a wise idea to let your inbox build up to digital explosion point – it'll overwhelm you, and will likely be detrimental to your academic success. In an effort to check your emails daily, set your desktop mail client to open on computer start-up, and put aside some time at the start of every day to go through your emails. Be rigid with this – you'll thank us later when you're top of the class.
3. The bare bones software
There's no need to get fancy in order to study online, however, there are three essential programs that you'll need to succeed – a word processor, a spreadsheet program, and a slide presentation program. Many people will already be using the highly popular Microsoft Office Suite, which contains Word, Excel and Powerpoint. There are many alternatives out there, such Apple's version of MS Office called the 'iWork' suite, containing Pages, Numbers and Keynote. There are also a number of free applications – some of the notable ones include FreeOffice and LibreOffice.
Lastly, if you want your documents available to you wherever you go, try using a cloud office application, such as Google Docs. It has the same feel and function as your standard Microsoft Office programs, but your documents are stored online, so you can access them on any device with an internet connection. What's more, if you need to collaborate with classmates on an assignment, Google Docs will allow multiple people to edit a document from wherever they are, and changes will be tracked so you can stay on top of who has contributed what. It can take a few tries to get the hang of, but it's an immensely flexible option, especially for online students.
4. A darn great study space
You don't have to delve deep into the principles of Feng Shui to set up a great study space. Have a think about what inspires you, as well as what distracts and discourages you. These things can be quite obvious, like the presence of other people, noise levels and cleanliness, or they may be more subtle, like the quality of light, the temperature, or your view (is it a bare wall?). If classical music soothes you, play it, perhaps even on a vintage record player for double inspiration points. If you find fluorescent light unsettling, switch to a warmer lightbulb – nobody likes that dental centre feel. Do what you must to make your space inviting – you're going to spend a lot of time in there, so it's well worth the effort.
Browse  thousands of courses from leading Australian universities.
Or complete the form on this page to chat to an advisor about study options.
Explore courses