Nathan is defying physical borders – enjoying a New York City career, whilst gaining an Australian degree online.
To describe Nathan's life as ordinary would be quite an understatement. He's got a passion for music that he's actively pursuing, and has enjoyed a decade-long career as a voice-over artist. "It's a slightly left-of-centre career, but it's a lot of fun" admits Nathan. "I've been employed as the promo voice of Channel Eleven for five years, Nickelodeon for seven years, and over the years have voiced the on-air IDs for 2Day, Nova and KIIS."
Learning has always been important to Nathan, but after trying out the on-campus university experience for 6 months, he found that it was hard to dedicate himself. "I love music – I sing and play music, and write, so I just wanted to perform, and get inside people's heads" says Nathan. After visiting a therapist, which Nathan describes with good humour as "long overdue", he realised some similarities between music, and the exploration of human emotion through psychology. "It really fascinates me how lyrics and music come together to help us find ourselves" explains Nathan. "So I would love to merge both fields, and see if I can inject some psychology and deeper understanding into the music I create."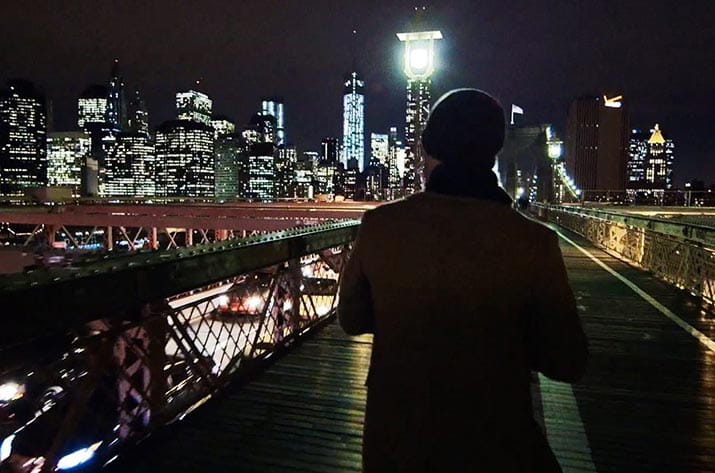 Reluctant to study on-campus again, Nathan spoke to some friends who had studied online through Open Universities Australia (OUA), and quickly realised that he'd be getting a degree from a real university – the same degree delivered to on-campus students, only, online. This was perfect for Nathan, as life had whisked him away to New York City, and work had become his main priority. With this in mind, he enrolled in Swinburne University's Bachelor of Behavioural Studies, with a major in Psychology.
"I did my final exam right here in New York City, and I love that the flexibility enabled me to actually finish my studies in a totally different country"
As Nathan progressed through his degree, his interest in psychology continued to burn. He developed a particular interest in social psychology, and how the concept of persuasion manifested in his career. "As a voice artist, I'm paid to read scripts, but this subject opened my eyes as to what I was doing when reading these carefully crafted words". With the freedom that online study afforded him, Nathan was able to continue working and developing his music skills. "I have a lot of clients that need work done at the drop of a hat, so it's really nice to press pause on a lecture, and head out to the other side of town without having to get out of a lecture on campus" he explains.
Now, Nathan has completed his degree, and is due to graduate in Australia. "I did my final exam right here in New York City, and I love that the flexibility enabled me to actually finish my studies in a totally different country" Nathan smiles. He's excited to tell his friends and family that he has a degree in psychology, which he laughs off as something too grandiose to attribute to himself. But he has certainly earned it, and advises others to start studying what they love today. "Today just might be the day that you look back on, and realise that you made a pretty good decision"
Study online with OUA from wherever you are
Studying through OUA puts you within reach of your dream degree, while never having to step foot on campus.
Find the right degree for you – We can guide you in your selection from hundreds of degrees and single subjects, from leading Australian unis.
No barriers to study – We offer single undergraduate subjects from full degrees without any entry requirements.
Gain credit towards your degree – Apply for credit for past study, or your work experience, and finish faster.
Graduate with a degree from a leading uni – Study through us, but graduate with exactly the same university degree as on-campus students.
Support from start to finish – Our Student Advisors can guide you in the right direction and help with your enrolment.
Browse  thousands of courses from leading Australian universities.
Or complete the form on this page to chat to an advisor about study options.
Explore courses