Thinking about booking a consultation with a student advisor, but unsure who'll greet you on the other end of the line? Meet Lucy.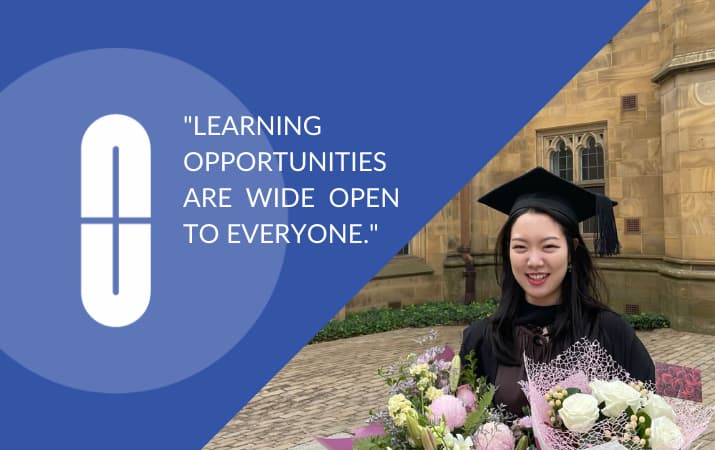 Student advisor Lucy is an advocate for access to education who would love to help you find the right course. With experience in two degrees herself, she knows a thing or two about how education can transform lives.
1.
What would you say if a student is thinking about calling, but is feeling nervous?

"Just give it a crack. University can sound overwhelming, but first-year students are expected to walk in with no prior knowledge, so everything will be set up from a very foundational level," Lucy explains.

"You can start as small as a single subject, and we can even help you choose your first subject if you're unsure where to begin. Most importantly, you'll never find out how it goes until you actually get involved!"
2.
What's your favourite part about helping students?

"Being involved in the very first step of their study journey and transforming their lives!" says Lucy. "Especially when my recommendation fits perfectly with the student's interest and learning needs."

"I also love to hear students' excitement towards the end of enrolment when I tell them they have officially become a university student. It's a such a rewarding moment hearing them realise how easy it is to get started with university through Open Universities Australia."
3.
At Open Universities Australia, we're all about encouraging students to take that leap into study so they can reach their goals. When have you taken a leap in your life, Lucy?

"Leaving my teaching career and joining Open Universities Australia would be the biggest decision I have made in the past few years," shares Lucy.

"I always felt bad for not 'using' my degree to become a teacher, but I am glad that I joined as a student advisor… I get to hear different study goals everyday that I can relate to myself. I get motivated by students coming from different backgrounds, sharing their goals and dreams!"
4.
What's the #1 thing you've learned while working at Open Universities Australia?

"I've realised that learning opportunities are wide-open to everyone! I have two degrees myself, and never realised that Open Universities Australia's Open Access option (sometimes called open enrolment) allows students to get into uni without entry requirements," Lucy explains.

"I always thought having a good ATAR was the only way to get in, which is obviously not true. Every day I speak to people who want to study, all with their own goal, and I'd just like to tell them that it's never too late or early to study. The sooner you start, the sooner you'll achieve your goal!"
5.
If you could study anything, what would it be?

"Learning another language would be interesting, probably

Japanese

or

Spanish

, as I grew up in a multilingual family. I'd love to upskill myself one day to the point where I can do translation and interpretation."
6.
What's the most popular course or area of study at the moment, based on your calls?

"Psychology and education are always on the top of the list of student interests, and these two are the exact degrees that I have, so I'm grateful to be able to share my experiences with students!" Lucy shares.

"Health is another big field. And while many health-related careers require face-to-face learning, students can still get started with foundational courses online through Open Universities Australia."
7.
Given we're a not-for-profit dedicated to helping Australians access quality education, what does access to education mean to you?

"Having access to education is the very first step in so many people's lifelong journey to achieve their goals," Lucy shares.

"As a student advisor, I help students find the right path to begin with, prepare them with their study plan, and show them where they're heading towards. I believe the access and learning has already begun at this point."

"If you don't end up finishing the course that's fine! You've done the hardest part (which is getting started) and you'll know what to expect whenever you want to study something new in the future."
8.
What's one fact about studying through Open Universities Australia that students don't usually know?

"That you can get into a university degree with no prior study experience, as long as you are 13 years or older!" Lucy says.

"Open Access (subjects that don't require prior study) are designed for people who want to start off small, have never studied before, or are unsure. It is actually one of the fastest ways to get into a degree, because you can get full credit for your Open Access subjects once you're ready to move into a full-length course."
9.
Open Universities Australia turns 30 this year. If you're past 30, what did you learn at that age? If you're not yet, what do you hope to have learned?

"I once saw this metaphor: if life was a 24-hour clock, at 30 years of age it's just after 9 o'clock in the morning—that's just start of the day!" says a beaming Lucy.

"When my clock ticks 9 AM, I wish to have learnt (or prepared) well enough skills to drive through my remaining day. This might look something like setting up a new life goal, personally and professionally. Given that there's so much time left on my 'clock', I guess I'll just wait and see!"

Book a consultation with a student advisor and you might just end up speaking with Lucy! Our student advisors can help you find the right path for your goals, choosing from thousands of courses offered by leading universities across Australia.
Browse  thousands of courses from leading Australian universities.
Or complete the form on this page to chat to an advisor about study options.
Explore courses