Welcome to our 30 Years Series, a chance to reflect on the achievements of students in the 30 years since Open Universities Australia began. Today, you'll hear from Executive MBA graduate, Louise Howard.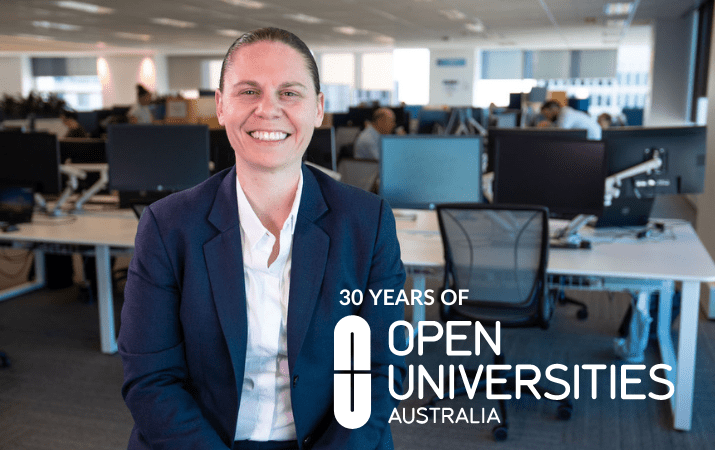 When we first contacted Louise to reflect on her achievements since graduating from the Executive MBA (RMIT University) through Open Universities Australia, we were expecting big things. Just not Premier's Award-and-billion-dollar-projects-kind-of-big.
But that's Louise for you. As we found out at the start of her studies, she is one driven individual.
You might be surprised to hear that Louise, now the Executive Director Engineering, Design & Assurance at Sydney Metro, only graduated in 2019. So without further ado, let's hear from Louise herself.
As Open Universities Australia turns 30 this year, we're reflecting on how far we've all come. What was life like when you started study, Louise?
"Busy. I didn't have clearly defined career goals; I was just interested in completing university and not being a poor university student in the process!"
From simply getting by to getting where you are today, what have been your major achievements since graduating?
"In June 2020, I was one of six people to be named as the Australian Financial Review's BOSS Young Executive. The award is designed to recognise outstanding executives (under 35) who can demonstrate leadership in the community as well as in business, and who have a strong track record in people and thought leadership."
"[I also received the] NSW Premier's Award Winner in 2022 for my contribution along with a team of wonderful people for our efforts in establishing a Construction Reopening Team to develop a pathway to safely reopen construction, following the pause due to COVID-19. This resulted in construction resuming quickly and the industry becoming an early leader in COVID-safe work practices and vaccination."
"[And in 2019, I was] part of the leadership team that delivered Australia's first autonomous customer carrying train on time and under budget ($7.3 billion—the Sydney Metro North West line), working with an incredible group of individuals for over three years."
[It was amazing] to experience the positivity around this project and how it provided a much-needed rail connection to a part of Sydney that had never experienced rail travel previously. Communities are now thriving, and suburbs have sprawled the entire rail line connecting people with greater opportunities in work, education, and social activities."
Those are some incredible career highlights, Louise. How would you describe your choices in your career since graduating?
"I've definitely have been attracted to roles, organisations and brands that have a significant and meaningful role to play that positively impacts society."
What is one benefit of study that you weren't expecting?
"An increase in connections from people in completely different sectors to what I was expecting. My confidence increased knowing I was in an executive program at a younger age than most students and I was able to really engage with the content and people in my classes."
"I had quite a few doubts initially, so much so I was only going to complete the graduate certificate. I completed two weeks of the course, including an in-person workshop and I came away deciding to commit to the entire masters."
What would you say to students who are thinking about taking the leap into study, but are feeling cautious?
"Stop thinking about it and jump into it! There is so much flexibility with studying these days. Do the required research to choose the best course for you, then just start!"
"Even if it is one subject a semester, time flies by and before you know it you will have a really valuable qualification. I felt cautious for too long and over-analysed courses for two years. Don't make this mistake and just get into it!"
Finally, if you could go back to the time before you completed your degree and tell yourself about the life you've achieved now, what would you say?
"Start everything earlier and don't let your fear hold you back. The only thing that was holding me back was me! I would also say to myself continue to be consistent and hardworking and you will be rewarded for your efforts, as life has turned out pretty good."
"One final point is to allow myself to be comfortable when my 'plan' wasn't going to plan, as long as I was working towards bettering myself most days then ultimately it will work out."
A Board Member of the Australian Institute of Health & Safety and Mindarma, as well as an Audit & Risk Committee Member, Louise shows no signs of slowing down.
She has goals to run her own consultancy business as well as add "a few more non-executive director roles to my current workload."
We're proud of you Louise, and feel honoured to have been part of your education journey.
Are you an Open Universities Australia graduate with a story to tell? We'd love to hear how far you've come as we celebrate 30 years of transforming lives through education.

Browse  thousands of courses from leading Australian universities.
Or complete the form on this page to chat to an advisor about study options.
Explore courses